---
November 27, 2017 11:39 AM
We are currently amid an industrial revolution which is transforming every sector, but uncertainty in the UK brought on by Brexit might mean the UK does not get a good share of the massive tech business opportunity.
Britain benefited from the Victorian industrial revolution in the 18th and 19th centuries, which was ironically fuelled by workers from other European countries, but could miss out on the current digital equivalent.
Artificial intelligence, IoT, cloud computing, big data and many more are technologies that every business needs to plan for. This means big business for those with the skills to support transformations,
But the UK could fall behind in the digital technology sector unless it gives businesses a clear idea of the post-Brexit relationship with the EU, and for that idea the rest of the world. Even when the UK government does have more idea of the post-Brexit business environment there is no guarantee the firms will hang around.
Tech firms, which are international by nature, will move to locations that support their growth.
There are Brexit fuelled uncertainties among tech firms about the loss of access to the biggest free trade area in the world as well as potential shortages of skilled staff, as EU citizens turn their backs on the UK.
Last week, ahead of the budget, TechUK called for some clarity. It warned that tech companies will not hang around indefinitely. The organisation, which represents UK tech companies, said: "Tech businesses are global by nature, and many won't simply wait around forever. Progress is needed on Brexit, and this budget is a golden opportunity for the government to show that it is truly able to prepare the UK for our future outside the EU."
I was at an event in June where startups from the fintech world were discussing Brexit. One told me at the event that the company, which he did not want me to name, already had plans in place to move from London to Dublin if the post-Brexit environment is unfavorable in the UK.
The digital industry is vital to all business sectors with companies either on digital transformation journeys or at least planning one. They will want to ensure they have access to the right skills and experience.
London has thrived from its position in the world as a centre for finance and a cosmopolitan business centre. But no country has a God given right to be a place for business, they have to earn it. According to a recent Economist Intelligence Unit study 48% of businesses will move country to access the right business ecosystems.
There is a lot to lose. In the study London was ranked Europe's top destination for digital transformation, currently at 9th position globally. The UK and London in particular will suddenly face a raft of revitalised competitors in Europe eager to attract tech companies from the UK or encourage their home grown talent to set up companies at home rather than being lured by streets paved with gold.
But there are lots of cities in Europe eager to pick up any stray startups that want to remain in the EU. Dublin, Stockholm and Amsterdam are just three examples.
Indian city Bangalore has the best environment for businesses to transform digitally, according to the research of 45 global cities. Mumbai and New Delhi were also in the top four.
Businesses today are setting up business services hubs across the world where they can access the right skills and investments. A place like Bangalore is home to some of the biggest companies in the world and a wealth of talent, particularly in IT. As it becomes more and more important in the age of digital transformation cities like Bangalore will become even more attractive to businesses.
Then you have Estonia which is offering entrepreneurs form anywhere the chance to set up companies in Estonia. The e-residency scheme has already had more applications than there have been births in the country so far this year. The e-Residency government programme aims to attract entrepreneurs from other countries to register EU businesses in the Baltic state by providing non-Estonian citizens with easy access to online government services.
For a small start-up it is probably easy to move at shorter notice unlike the big banks for example.
But the big banks are planning for the worst. Goldman Sachs CEO, Lloyd Blankfein, has set off a few alarm bells recently with his Twitter activity. In one he suggested he might be spending more time in Frankfurt soon, despite the building of a new European headquarters in London. He also stoked the fire a bit more when he said the company "hopes" to fill the new headquarters, suggesting not as many jobs as expected in London.
Or perhaps this is part of a cunning plan for the UK to leave the UK and give it carte blanche, if I can use the phrase post–Brexit, in terms of business environments. Maybe the UK government wants to offer tech firms incentives that it is currently not allowed to., in a bid to take more of the digital transformation  revenues on offer.
November 24, 2017 10:19 AM
The use of cash continues to increase in the world's economies apart from in the Nordic countries Norway and Sweden, according to a study by Federal Reserve Bank of San Francisco.
The ability to make small, quick payments to people and businesses such as retailers through contactless technology is reducing the need for cash. A recent Visa survey revealed that 59% of British millennials have made a peer-to-peer payment to somebody on their phone. This is on top of exploding use of contactless card and phone payments increasingly used to pay for low cost items.
Cash is reducing then, or so we thought.
I hardly ever have cash on me these days. I use my contactless bank card all the time. It also doubles up as my travel card, but I must admit I often really need cash for small unexpected things and it and have to go searching for a cash machine. Some people of course rely on cash and I am sure it will be a long time before fintech can fill all the gaps. And according to the Federal Reserve Bank of San Francisco study it seems fintech has some way to go before it kills cash off.
The study looked at 42 economies that account for 75% of global GDP.
Apart from Sweden and Norway, where the amount of currency in circulation (used as a measure of cash) has declined, in the other 40 economies it has either matched GDP growth or exceeded it.
Nearly two years ago I commissioned a journalist in the Nordic region to write an article about Sweden and its relationship with cash. Sweden is often cited as being the nation that might be first to go cashless. Swedish buses, for example, have not accepted cash for years, retailers have the right to refuse cash payments and even homeless street vendors take cards thanks to new digital payment systems. The Nordic region is also a hotbed for tech startups and citizens seem more open to trying new things than other economies. In the article Niklas Arvidsson, associate professor at Stockholm's Royal Institute of Technology said: "I think [Sweden] could have a cash-free society [where cash plays a marginal role] in something like 10 years from now, maybe even sooner."
Back to the Federal Reserve Bank of San Francisco study. Here is a graphic from the report showing the growth or decline in cash as a proportion of GDP in the 42 countries that make up 75% of Global GDP. The Green countries are those where the use of cash is growing faster or matching GDP growth and the two red countries, Norway and Sweden, where cash is reducing. The grey countries weren't included.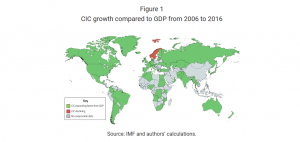 "While Norway has been moving away from cash, Sweden has garnered attention as the poster child of cashless countries. Since the 1960s, Swedish banks have encouraged digital bank transfers, charged for checks, and invested heavily in card payment systems. The banking system collaborated to create an automated clearing house, Bankgirot, and to launch a popular mobile payments app, Swish. Sweden also has a cultural stigma against cash, with some Swedes associating the payment method with crime. The 2009 Money Laundering and Terrorist Financing Prevention Act required police reports be filed for large cash transactions, and high-profile cash robberies have contributed to public wariness of cash," said the study report.
In the UK the British Retail Consortium recently released a study that found that cash is no longer the most used payment method at retailers, with debit card payments taking the lead.
Payment providers are encouraging people to go cashless. For example in the US Visa is offering 50 small US businesses a share of a $500,000 pot of money if they go totally cashless. The Visa Cashless Challenge is aimed at restaurants, cafés and food truck owners to describe what cashless means for them, their employees and customers. Visa will award up to $500,000 to 50 eligible US-based small business food service owners who commit to joining the 100% cashless quest.
---
November 22, 2017 11:06 AM
The search for the Holy Grail that is Google bank, has been going on ever since digital banking took hold.
It makes sense: a company that processes millions of transactions on a daily basis whose bread and butter is making online services user friendly. And it seems consumers want it too. The Google's and Amazon's of this world have great reputations. In fact a fifth of European consumers said they would buy insurance and banking services from technology companies such as Facebook and Google, according to a survey of 7,000 people carried out last year by Fujitsu.
Consumers also want online and mobile banking services that offer similar service levels to the apps they use in their everyday lives. Easy to use, reliable with built in ability to personalise services.
A few years ago in its Why Google Bank Won't Happen report, Forrester said the high costs and strict regulation of setting up a traditional bank – alongside advertising revenue coming from banks – will push internet firms into roles that support the relationship between banks and their customers. These include transactional payment services, financial advice, money management and product comparisons. "[Google] will be by integrating digital assets such as its search engine, Google Maps, Gmail, Google Play, and Google Now that Google could redefine financial services. Thanks to these capabilities, Google is well positioned to disrupt four interlinked areas, disintermediating incumbents in the process," said the research.
There are different ways of fighting competition and avoiding the disruption experienced by companies in other sectors and one of those is to become like your competitors so their advantages reduce. If Google can design more reliable and user friendly apps and web services, find out how. One way of doing this is poaching its staff.
HSBC has just recruited a Google engineer as CIO of retail banking and wealth management. Mark Warriner has joined HSBC retail from Google UK, where he worked for almost six years reaching the role of director of engineering. He was also chairman of Google Payments. Although he is not the head of IT at HSBC, that role remains with Darryl West as the overall CIO. Then there is Ganesh Balasubramanian, global retail banking and wealth management CIO, who Warriner reports to. Yes lots of CIOs at banks, and for good reason.
A contact of mine who has spent time in HSBC's IT department told me HSBC's overall CIO Darryl West has been attending lots of Google events recently. "The firm has been learning from Google in the last couple of years," he said.
It looks like they are going beyond learning from them to acquiring there talent.
Through Warriner HSBC will have access to experience in creating the kind of digital services that consumers want.
Beyond the internet giants the other competition to banks comes in the form of digital challengers. Unlike Google these companies are banks first and foremost but are also tech startups. They are gradually building customer bases and unless banks improve their digital services they will take more ground. II met up with the CIO at one of these challengers recently. John Mountain CIO at Starling Bank, who has a software development background told me that the company makes sure that all department have tech savvy people in them. It doesn't even have an IT department, but rather integrates technology into everything it does. "We don't run a technology function here because the whole business is a tech function," he told me. So a bit like the perception Google Bank then?
Banks need to up their game in digital. Competition to traditional banks will also increase when the latest EU Payment Services Directive (PSD2) becomes law. It will enable third parties to access the customer data held by banks via application programming interfaces, if given permission, and offer services using this information. Payments could be initiated by third party supplier and account information viewed via them, or both. This will mean a third-party can build services on top of an account and allow the consumer to use these rather than those offered by the bank. Banks would still hold the money but would not be the main banking interface. A consumer could have multiple accounts from various banks put together in a single mobile app for example.
---
November 21, 2017 12:28 PM
It's all very well fully embracing fintech and offering customers access to services wherever they are, but the problem is even the shortest bit of online or mobile service downtime  becomes a potential PR disaster.
NatWest  is the latest to have problems with its online banking service down for some customers. Customers are converging on Twitter to air their displeasure
NatWest itself tweeted: "We're aware of some issues on our Online Banking service and are working hard to fix them. Sorry and thank you for your patience.
Customer comments on Twitter include:
"Not just an online problem, my bank card is not working now as well for online payments! People have bills to pay, how much longer?"
"You were acknowledging this problem over an hour ago but only to those that tweeted you directly. Why has it taken so long for a public tweet?"
"It's the first time I am directly affected by NW's technical issues so I'm not gonna bash this time, but please fix this ASAP!"
"Hi I need to transfer money it freezes after login"
The NatWest social media team was trying to keep people happy but it is not easy reassuring people that can't access their own money.
I contacted the press office and they told me they didn't have any statement on the matter yet.
NatWest is not alone. Only last week online services at Lloyds Bank and its Halifax and TSB divisions which went down and hit the headlines.
People have become so reliant on using mobile phones and online services that when they do go down it is highly disruptive. You have to be quick sometimes to get a story done about an outage as more often than not they are fixed before the articles are complete. Although in the summer of 2012 there was a major problem that left customers of RBS, NatWest and Ulster Bank locked out of their accounts for days as a result of a glitch in the CA-7 batch process scheduler, freezing 12 million accounts.
Outages no matter how small add up and can do harm to a banks reputation due to the speed at which new of a problem spreads across social media. Even people that weren't trying to use a banking app or online banking service will join in with the complaining.
With banks reducing the number of branches and support staff, mobile apps are becoming more important for customer services. Figures from the European Banking Federation (EBF), which include the UK, revealed more than 9,000 bank branches were closed in 2016, and more than 50,000 people working at those banks lost their jobs. So banks have to minimise outages as in the future downtime might be a reason for a consumer to switch banks. There are many on offer and it is easier than ever to change current account provider.
---
November 21, 2017 7:44 AM
When technologies known as disruptive are introduced to any industry one thing is usually certain: humans will be replaced.
Workers quite rightly worry when their jobs can be done by machines. Employers do little to alleviate these worries with many of them salivating over the huge savings they can make by cutting staff. No matter what anybody says businesses are not particularly interested if up-skilling people in the same numbers as they are laying people off.
It is not a new thing. The term Luddites, which described the textile workers that destroyed the weaving machines that were replacing them, dates back to the beginning of the 19th Century. The manufacturing industry was transformed by the industrial revolution as modern machinery meant an acceleration of production and a reduction of human input.
Today we have another industrial revolution driven by technologies like artificial intelligence, Internet of Things and 3D printing which are shaking up every business sector. The pace of change today is of the likes never seen before. A self-driving car is a thing now and an unpiloted taxi drones are almost things.
Just yesterday I wrote a short news article about NatWest bank announcing the availability of its automated investment services. Software robots offer customers advice on how much money to invest and where to invest based on them answering a few questions. This might have seemed a thing of science fiction a few years ago, I mean who would trust their money with a robot? But now it wouldn't shock your grandparents. Human financial advisors for people investing small amounts have a script to read to customers anyway, so what is the difference if a software robot does it.
But let's look at manufacturing, which along with transport was transformed by the first industrial revolution which began in the 18th Century. Surprisingly a recent report form Barclays bank not only paints a picture of a lack of IT investment in the manufacturing sector, but also reckons that the adoption of technology like AI, IoT and big data will create 101,000 jobs in the UK manufacturing sector in the next 10 years. Although iot doesn't say how many will be cut.
The bank said its research also found that of the manufacturers that have already invested, 32% of said it freed up staff to concentrate on more highly skilled work.
The report said technologies like sensors, big data, energy self-generation and machine learning, will lead to a big hike in employment in the industrial heartlands including the North West, Yorkshire & Humber, and the Midlands.
And as if by magic I was sent another report recently which looked at the number of jobs in different industries. Manufacturing was second bottom with a 46% drop in manufacturing jobs in the UK in the last 30 years (1987 to 2017). The number has fallen from 4.95 million to 2.66 million in that period. You can see the 30 Years of Jobs report from RS Components here.
Only mining and quarrying fared worse with a 69% drop in employees. Not surprising with heavy machinery controlled by computers doing the heavy work and self-driving trucks already moving earth around.
So a jobs boost in the sector would certainly be welcomed by manufacturers, who will hopefully still have a good market to aim at when the UK leaves the EU single market which is the biggest free trade area in the world.
Below is the graphic provided to me with that particular report.
The sectors that have seen the biggest percentage growth rates in employment levels since 1987 are the real estate industry (142% increase), science and technology (130% increase) and administrative sector (120% increase).
There are other interested figures here which all face their own kind of disruption. Tech innovators can take a look at the industries with high employment as sectors where disruptive digital technologies might be able to replace manual tasks, but at what cost to society? Technology is replacing jobs at a much higher rate than it is creating them or is replacing traditional full time work with freelance or gig work which offers less security to people.

---
November 15, 2017 9:41 AM
If Arnie's Terminator walked into a Canary Wharf bar late at night and demanded the job of a back office worker there would be reason to panic.
The use of the word robot rather than software creates a bad guy, but software has been replacing people for a long time.
There is a trend at present for IT companies to carry out research about people's fears of robots taking their jobs.
For example here are a few recent articles:
AI and robots will 'create political instability' until humans find new occupations
Thousands of Deutsche Bank employees will be replaced by robots
Workers at least mentally prepared for robots to take over some of their work
Brexit could mean more robots doing jobs in UK businesses
AI poses no threat to IT careers
Automation 'will put 28% of young workers' jobs at risk'
This is just a few examples from Computer Weekly but I could list hundreds. These articles make for good headlines. Who wouldn't want to find out more if the CEO at Deutsche bank says "a large number of people" at the bank will be replaced by robots?
The image of a terminator-like robot sitting at your desk while you look for a new career stokes fear, but it is just software and it is not as if software hasn't been replacing people for many years.
It's great that people start thinking about the roles of the future to help prepare young people for it. Perhaps we should be looking closer at the skills people are going to need to get the most out of these robots
This brings me on to the latest press release I received. This comes from IT and BPO services firm Genpact. It says that only 10% of people think that AI threatens their current jobs. But about 60% fear AI's impact on their children's and future generations' career opportunities, and almost all the people interviewed (90%) said younger generations need new skills to succeed as AI becomes more prevalent.
When it comes to preparing humans for the future the Genpact research said: "When considering new skills people think they will need, and where they will get them, few survey respondents look to advanced degrees. They cite relevant primary and secondary education in subjects that will prepare younger generations for a future AI-focused workplace as more important than higher education. In addition, almost half (45 percent) of those surveyed believe future generations will need more on-the-job training via human-machine interactions.
Half of all respondents said the ability to adapt to change as the top quality necessary to succeed in an environment with an increasing AI presence. Most people valued critical thinking, problem solving, and creativity more than technical skills like coding, statistics, and math. Here is the full report if you want to have a look.
But AI is being developed and improved so fast that who knows what is around the corner. While the current chatbots might not be a huge threat, what follows could be.
I recently interviewed Chetan Dube who is CEO at AI software maker IPSoft. We were discussing IPSoft's latest product launched which you can read about here.
He was explaining to me that IPSoft's cognitive agent, known as Amelia, is more than a Chabot.
He referred me to some serious research about the capabilities of cognitive agents. He talked about the IQ levels of humans compared to cognitive agents (chatbots). He said 18 year olds have an average IQ of 97, for an average 12 year old it is 84, and a six year olds are 55.2 on average. He said the smartest chatbot in the market is from Google and its equivalent IQ is 47.1, Siri meanwhile is 21,2. "How do you expect to get good customer service from a five year old? That is the fundemental issue today. Chatbots are great for telling the weather and other administrative secretarial tasks which is only a small percent of a company's outlay." He said in contrast 35% of a businesses outlay comes from knowledge workers. So mayde fears are somewhat overblown.
But there are huge challenges – rapid technological advancement means less human resources are required yet the world population keeps expanding.
The pace of technological advancement is what makes the current period so challenging, according to Author Douglas Coupland, who wrote the novel Generation X: Tales for an accelerated culture, which tells the stories of a group of people born between the early 1960s and early 1980s.
I interviewed him in March at an IT event, and he told there was likely to be a period of uncertainty caused by the pace of change.
"People always say, 'Don't worry, we will invent new job categories', and in the past this has been more or less the case. But we are dealing with algorithmic technologies that have no historical or ontological precedence," he said.
"We are at this hyper-accelerated pace now. We are going to lose jobs faster than we create them, and during that different zone it is going to be very politically unstable. I hope governments have a plan B."
There have also been problems highlighted by the World Economic Forum (WEF). The WEF's Global Risks 2017 report included the fact that, as a result of AI and other disruptive technologies, long-term jobs were giving way to self-employment in the "gig" economy, leaving individuals to shoulder more responsibility for the costs of unemployment, sickness and old age.
Unless there is a concerted effort from governments and the private sector, this will put pressure on economies and may lead to social unrest, said Cecilia Reyes, chief risk officer of Zurich Insurance Group. "Without proper governance and reskilling of workers, technology will eliminate jobs faster than it creates them," she said. "Governments can no longer provide historic levels of social protection, and an anti-establishment narrative has gained traction, with new political leaders blaming globalisation for society's challenges."
---
November 13, 2017 1:31 PM
With all the articles being published about robots taking over repetitive tasks and transforming the operations in businesses across sectors I find it hard believe that any IT leader is unaware of the robotic process automation (RPA) technology, yet it seems to be the case.
I was having a conversation with Paul Taplin, managing director at Voyager Solutions, which is a specialist in supporting the adoption of RPA in business and he told me: "There is a lot of confusion in the market and a lot of CIOs I am meeting don't really understand what RPA is."
To add to my surprise, he told me these are CIOs at FTSE 100 to FTSE 350 companies so not small businesses.
And it goes beyond a lack of understanding to CIOs actually admitting that they have never seen the technology. "I have had some meetings with FTSE 350's and the CIOs haven't seen RPA and don't know what it is," Taplin told me.
I first met Paul in earlier this year when I interviewed some apprentices at the company who were being trained up on RPA.
I am surprised some CIOs aren't aware of it because companies in sectors with large back-office operations are flocking to technologies that can automate repetitive tasks.
For example, a report from financial services management consultancy Opimas predicted that in 2017 – discounting acquisitions of startups – finance firms in the investment sector would spend $1.5bn on RPA, machine learning, deep learning and cognitive analytics, increasing by 75% to $2.8bn in 2021.
I am even more surprised because It's not new. Back in March 2012 I wrote about how mobile operator O2 was saving millions of pounds and reducing its reliance on offshore staff through automation software. I must admit at the time it was only just arriving on my radar. So over 5 years later I would have thought anyone in a senior IT role would know all about the technology.
Part of the problem is that RPA is being sold to businesses as part of their digital transformation rather than separate projects to automate business processes. As a result people see it as a pillar of a digital transformation strategy rather than a stand alone project. "I think with RPA some of the messages are being lost because you can use RPA more tactically. People think RPA has to be a massive thing because it's being sold as part of a digital strategy when actually some companies are only paying £100,000 a year for it and getting loads of benefit."
"RPA doesn't have to be part of a massive project. You can get a small number of software robots to replace headcount on a small scale."
Taplin reckons about 40% of the IT people he is meeting are likely to still have fundamental questions about what RPA is.
There is a big opportunity for automation at most companies. Taplin told me wherever something is outsourced it probably means RPA could be introduced as it has similar characteristics. "High volume, transactional and rules based."
He said many of the big outsourcing service providers have probably been using RPA for quite a while now.
---
November 10, 2017 7:38 AM
I must admit I have found the application of virtual reality to real life situations in the enterprise space difficult to imagine.
It all seems to be around gaming or at least gamification and fully virtual reality is, for me at least, difficult to put into use beyond entertainment.
But reality or virtual reality doesn't have to be a binary choice. SITA, an IT supplier focused on air transport is applying mixed reality technology to the air travel industry.
Wearing computers on their heads, users can blend reality with holograms using a drop down visor.
I had a conversation with Kevin O'Sullivan, who is lead engineer at SITA Lab. He told me how up to now the company has been doing a lot of work around wearable tech for the air transport sector. This includes trying out things like giving Google Glass to agents to scan boarding passes and automating the process as a result, and providing connected watches to airport staff so they can access information on the move.
These he said are experiments to "understand the impact of tech and whether it is useful." You can see these small improvements put together could add up to a big difference in a busy airport.
But nothing compared to what mixed reality could do. Yes not virtual reality or reality but a mix of the two. Sounds crazy but it could have some huge benefits as experiments in the air travel industry show.
The technology SITA is working with is HoloLens. It runs on Windows 10 and enables users to place holograms in their field of vison and interact with them.
"HoloLens, is a new angle on mixed realities," O'Sullivan told me. Virtual reality in comparison closes you off and you can't see anything else. So while you are immersed in virtual reality you can't interact in the real world. And with augmented reality you are looking through a device screen so you are not immersed in it.
O'Sullivan said: "HoloLens recognises your surroundings and detects walls, floors and furniture."
"When you are looking through the lens you can see everything in the real world and can add 3D object in the room," he told me.
You can start an application, for example the Microsoft browser and you can place it on the wall. You can move around the office placing different applications on different walls. Users can use different gestures to interact with the applications such as dragging things up and down and can also interact with them by voice.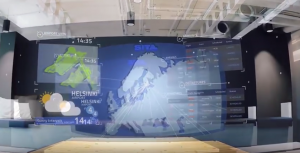 SITA Lab has worked with Fracture Reality – a mixed reality developer – to create a functional, interactive visualisation, using real data, showing how Helsinki Airport's operational control centre in a mixed reality environment. Fracture Reality used Microsoft HoloLens to deliver the 3D application, content and user interface .
O'Sullivan gave another example of an airline that had a 3D model of an aircraft engine which could be placed in the middle of the office. "You could walk all the way around it and examine it." Instead of having to take trainee engineers to a stripped down aircraft to train you can do it virtually
"This is similar to computer based training but instead of looking at it on a 2D screen you have got a 3D model which you can walk around," he added.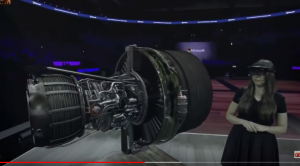 Watch it in action here with this video of HoloLens mixed reality. Enterprise and developer editions of HoloLens are available.
O'Sullivan said it is early stages for the technology its uses and where it will "find its sweet spots" are still to be determined
He gave an example of where they are testing out the technology. "If you imagine an airport control room with a bank of screens pulling in data from all over the airport and monitored in one room. This is where we are today and it requires a big digital infrastructure in the airport. We are now looking to see if we can build a replica in a virtual 3D model and project that anywhere we want through HoloLens."
So the airport command centre could be in your living room.
Helsinki airport has already carried out tests of the technology, said O'Sullivan. The pilot saw them build a 3D virtual model of the whole airport and made a virtual copy of the control room dashboard. "This is to find out if you can you use it as a replacement of the existing bank of screens in the operations or whether you can interact with it. We also want to know if it bring anything new, and what are the drawbacks."
O'Sullivan said the trial went well in the limited pilot that was run.
He said there is a lot more interest than he had expected and next year SITA plans to start putting some of these ideas into production. It is currently looking at how it can get people interacting in the virtual world.
For example if a person walks around the airport and sees overcrowding, the staff in the control room would also see it and could open another gate via an app in the digital model.
---
November 7, 2017 4:24 PM
Artificial intelligence technology could help banks retain the important link with customers when open banking arrives in Europe early next year.
The more I hear from banks about fintech the more I think they don't expect to face huge disruption from new companies or from others currently outside their sector, although they do acknowledge they have to up their game. Are there  big development in progress in the background that nobody is talking about?
Disruption is slower in banking, compared the taxi sector with Uber, due to customer caution and banking complexity, but the Payment Services Directive II (PSD2) might inject a bit of adrenalin
Every bank is developing a digital offering to ensure they remain relevant. But with the EU's PSD2 regulation coming into force in January we could see how differentiated their offerings really are.
PSD2 will enable third parties to access the customer data held by banks via application programming interfaces, if given permission, and offer services using this information. Payments could be initiated by third party supplier and account information viewed via them, or both.
This will mean a third-party can build services on top of an account and allow the consumer to use these rather than those offered by the bank. The core competencies of third party fintech firms is developing these services, and they are pretty good at it.
Banks would still hold the money but would not be the main banking interface. A consumer could have multiple accounts from various banks put together in a single mobile app for example.
I was at a fintech event this week, looking at PSD2, and heard from a couple of the high street financial services firms. They appeared excited about the opportunities brought by PSD2. They are probably a bit worried about the threats too, although they didn't let on.
But you can't help thinking that companies like Google and Amazon are much better at providing the services the digital generation demand, and while they probably don't want to be banks, they will want to add access to financial services to their platforms
A couple of years ago I did a simple web search which showed the scale of customer bases of banks and their challengers. This was to get an idea of the amount of customer data held on the huge processing engines of the big internet companies, in comparison to banks.
To save time I will re-use the same figures as it gets my point across, although I imagine the first set of figures are bigger now. At the time in 2015 PayPal had 157 million active users, which was more than most banks, while Facebook had more than a billion users with a lot of sensitive data held. Amazon boasted more than 244 million users. I am sure these have increased significantly. In comparison, at the time Lloyds Bank had 30 million customers, HSBC had 52 million customers and Barclays has 48 million customers.
If the Amazon and Google's of this world become the consumers' access point to financial services banks could be cut out part of the value chain.
When I asked one bank executive at the event if some banks will inevitable fail he said "there are lots of car companies". This was a claim that there is room for many banks. But as many as now, I am not sure.
The car industry analogy doesn't really work anyway. In the banking sector in the UK the competition is only just beginning with the emergence of challenger banks. Many have been approved by regulators and are now looking for customers.
Meanwhile changing current account suppliers is easier than ever following the introduction of the government initiated current account switching service which reduced the time taken to switch accounts from 30 days to seven. One executive at a current account provider at the event didn't seem worried by this due to slow take up so far. But the service is there and with the right marketing and other triggers take up rates could increase.
So I asked the panel 'what will a bank need to do to be one of the winners'. The panel seemed to think that they could all be winners and that PSD2 would offer them the opportunity to get even closer to, not further away from, their customers.
But after the presentation I spoke to another financial services executive who said: "whoever uses artificial intelligence in the best way will win."
Maybe the banks have been working away developing a PSD2 killer app or service?
If tech giants become the platforms to bring together financial services for consumers banks might just become highly secure vaults for customers'  money.
---
November 6, 2017 10:18 AM
Even parents at the morning drop-off are talking about blockchain, but for banks it is really not that exciting.
I was really surprised to end up talking about blockchain with another parent when dropping the kids off at school. The said parent was neither IT journalist, IT professional or financial services worker. If it gets to the school drop off it is in the mainstream.
But blockchain was something he wanted to talk about.
And why not? The technology is being used in all kinds of businesses and government departments in many places. Like cloud a few years ago most large organisations have a blockchain story to tell. Perhaps I see more than most as PRs force blockchain angles into every press release possible, because it's the latest buzzword.
So blockchain excites the world but is just another part of the engine for banks. In fact according to the latest Gartner research blockchain was only 20th most important differentiator technology, according to the financial services CIOs.
This is probably why banks are working together on blockchain using the consortium model or are buying from fintech suppliers. They can all benefit from it by cutting costs and improving security for example but it is not going to have hordes of Millennials knocking at your door for your service. In contrast digital transformation was seen as the most important differentiator, partly because millennials love it.
Blockchain has its roots in financial services as the technology that underpins Bitcoin so it might surprise some that financial services CIOs don't really see it as much of a differentiator. That does not mean they aren't spending on it. According to research from recruitment firm Robert Half Financial Services the take up of blockchain technology at financial services firms has in fact reached a stage where 96% of business leaders have invested in blockchain, plan to invest in it or realise they should be.
But like cloud computing blockchain is really making a difference in all kinds of business and public sector settings.
Here are some examples:
-The London Stock Exchange is currently testing out IBM's blockchain technology in a platform to help small and medium-sized enterprises become more transparent so they can attract more investment.
-Food industry giants including Nestlé, Unilever and Walmart are working with the supplier to apply the technology to the global food supply chain in an attempt to improve food safety. The diversity of its application will inevitably lead to more experimentation.
-Maersk and IBM are working on the application of blockchain technology to track and manage the paper trail of shipping containers around the world.
-Food industry giants including Nestlé, Unilever and Walmart are working with the supplier to apply the technology to the global food supply chain in an attempt to improve food safety. The diversity of its application will inevitably lead to more experimentation.
-The National Bank of Abu Dhabi is to use blockchain-based technology to offer cross-border payments service to its customers.
-Swedish land registry is trying out blockchain as a means of proving ownership
Confused? If you want a description of what Blockchain is to make your own decision about how exciting it is, here is one in the words of Nic Carey co-founder of a company called Blockchain. I wouldn't recommend reciting this at school pick up if you want the other parents to continue talking to you.
"Blockchain is a peer-to-peer network that allows multiple parties to transfer value in a secure and transparent way. The technology allows us to create a system in which: no one can corrupt, sabotage or control the system; trust between participants is not necessary because it is embedded in the system itself; access to all relevant information is available to participants; and activity in the system is held to account through transparency.
The record of transactions on a blockchain is immutable, which means once a transaction is added, it cannot be altered or deleted. Moreover, the blockchain is maintained and validated by everyone who uses it, thus eliminating the need to trust a single central administrator. These features guarantee the integrity of the system. With a few thousand lines of code, users can download apps on their phones that allow them to effortlessly make transactions with anyone else, as easily as sending an email."
---