---
September 14, 2018 9:08 AM
A study commissioned by Stripe has revealed that the Singapore economy has the potential to grow by S$1.6bn each year, if companies harness developer resources more effectively.
Conducted by Nielsen, it found that 90% of businesses in Singapore rely on software to launch products, demonstrating that most companies today are increasingly technology companies.
Presumably, this software refers to in-house applications built by internal development teams, given that over two-fifths of senior executives in Singapore said the lack of qualified software engineers and developers was one of their greatest challenges, more so than a lack of capital (34%).
At the same time, Stripe noted that businesses in Singapore are counting the cost of not using existing developer talent effectively enough, noting that "bad code" is costing local companies S$232m annually.
"Crucially, about a third of developers (32%) say that they're spending at least half of their time reactively tackling "bad code" rather than working on strategic issues," it said.
Out of all the countries surveyed, Singapore also had the highest number of developers (70%) reporting that the amount of time they spend on bad code was excessive.
In a statement on the release of the study, Stripe advocated the use APIs to automate peripheral business functions, speed up development time and improve developer productivity.
However, some companies like financial services firms may still need to fix the bad code on legacy systems, especially if these are systems of record, before they can implement an API strategy.
Unless a company is ready to rip everything apart and start building new applications from scratch, tackling "bad code" isn't always counterproductive.
August 29, 2018 5:23 AM
From Huawei's Kirin 970 system-on-chip (SoC) that packs in a neural processing unit to Google's new Edge TPU that performs machine learning tasks on IoT devices, the use of dedicated chips to speed up artificial intelligence (AI) tasks has been in vogue in recent years.
But not all chips are built the same way. Google's Edge TPU, for instance, is a purpose-built ASIC (application-specific integrated circuit) processor designed to perform AI inferencing, while GPUs (graphics processing units) – a type of ASIC chip – are more apt at training AI models where massive parallel processing is used to run matrix multiplications.
Then there are also FGPAs (field programmable gate arrays) which can be programmed for different use cases but are typically less powerful than ASIC chips.
The choice of chips depends on the types of AI workloads. For image recognition and analysis, which typically involve high workloads with strict requirements on service quality, Alibaba claims that GPUs are unable to balance low latency and high performance requirements at the same time.
In response, the Chinese cloud supplier has developed a FGPA-based ultra-low latency and high performance deep learning processor (DLP).
Alibaba said its DLP can support sparse convolution and low precision data computing at the same time, while a customised ISA (instruction set architecture) was defined to meet the requirements for flexibility and user experience.
Latency test results with Resnet18 – a convolutional neural network architecture – showed that Alibaba's DLP has a delay of only 0.174ms.
Here's a look at how Alibaba thinking behind its DLP design:
Architecture
The DLP has four types of modules, classified based on their functions:
Computing: Convolution, batch normalisation, activation and other calculations
Data path: Data storage, movement and reshaping
Parameter: Storage weight and other parameters, decoding
Instruction: Instruction unit and global control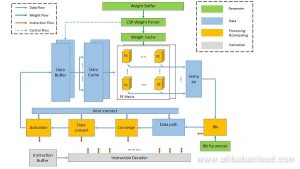 The Protocal Engine (PE) in the DLP can support:
Int4 data type input.
Int32 data type output.
Int16 quantisation
This PE also offers over 90% efficiency. Furthermore, the DLP's weight loading supports CSR Decoder and data pre-fetching.
Training
Re-training is needed to develop an accurate model. There are four main steps illustrated below to achieve both sparse weight and low precision data feature map.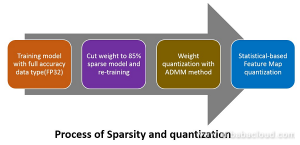 Alibaba used an effective method to train the Resnet18 model to sparse and low precision (1707.09870). The key component in its method is discretisation. It focused on compressing and accelerating deep models with network weights represented by very small numbers of bits, referred to as extremely low bit neural network. Then, it modeled this problem as a discretely constrained optimisation problem.
Borrowing the idea from Alternating Direction Method of Multipliers (ADMM), Alibaba decoupled the continuous parameters from the discrete constraints of the network, and cast the original hard problem into several sub-problems. Alibaba solved these sub-problems using extragradient and iterative quantisation algorithms, which led to considerably faster convergence compared to conventional optimisation methods.
Extensive experiments on image recognition and object detection showed that Alibaba's algorithm is more effective than other approaches when working with extremely low bit neural network.

ISA/Compiler
Having low latency is not enough for most online services and usage scenarios since the algorithm model changes frequently. As FPGA development can take weeks or months, Alibaba designed an industry standard architecture (ISA) and compiler to reduce model upgrade time to just a few minutes.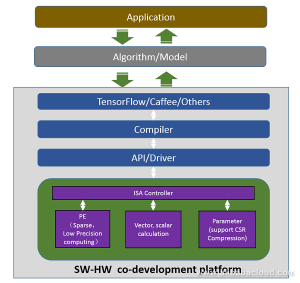 The software-hardware co-development platform comprises the following items:
Compiler: model graph analysis and instruction generation
API/driver: CPU-FPGA DMA picture reshape, weight compression
ISA controller: instruction decoding, task scheduling, multi-thread pipeline management
Hardware card
The DLP was implemented on an Alibaba-designed FPGA card, which has PCIe and DDR4 memory. The DLP, combined with this FPGA card, can benefit applications such as online image searches.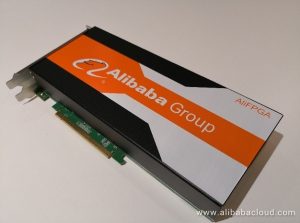 Results

FPGA test results with Resnet18 showed that Alibaba's design had achieved ultra-low level latency while maintaining very high performance with less than 70W chip power.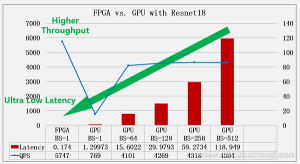 ---
August 17, 2018 7:52 AM
Australia's eCorner has signed a deal with Macquarie Cloud Services to help it use public cloud services to fend off growing competition from larger US providers.
The Sydney-based e-commerce technology and hosting provider was founded in 2003 as the master distributor for ePages, a European e-commerce platform. Realising the e-commerce market in Australia was reasonably immature in those early days, eCorner evolved to become a one-stop-shop for local SMEs that needed guidance on selling online.
With its previous co-location datacentre, eCorner couldn't scale its offering in the same way as its cloud-dependent competitors and meet the fluctuating demands of its customers. At any given time, data and resource usage could change dramatically, making it difficult to accurately predict what resources were needed to meet merchant and consumer demand.
eCorner made the decision to take a page out of its US rivals' books and invest in public cloud services, making the company scalable and helping it to stay competitive at a time when Australians are spending more than A$21bn annually online.
The company has found success among Australia's SME community, providing secure hosting services to fintech start-ups such as Lodex.co, Australia's first auction-style loans and deposits marketplace, in addition to a range of tailored e-commerce offerings across a variety of industries.
The new cloud environment eCorner and Macquarie provide helps Lodex.co and others manage and simplify areas such as PCI DSS compliance to allow them to handle transactions and compete against big banks and other lenders.
"Large-scale e-commerce owes a lot of its success to the cloud," said Jae Debrincat, general manager of eCorner. "We needed to adapt a similar model to be flexible and survive in an increasingly-competitive industry."
"With Macquarie, we know where our technical support and data are, a guarantee larger cloud providers couldn't give – that's vital, particularly with GDPR and mandatory breach disclosure. Our customers' primary data is in Sydney CBD, and it backs up to a datacentre up the road in Macquarie Park. Local hosting also makes our services faster because there's no reliance on international pipes."
Macquarie Telecom Group CEO, David Tudehope, sees this as an example of the often-elusive generational start-up ecosystem working together in Australia.
"If you look at Macquarie, eCorner and Lodex.co – it's three generations of former and current start-ups in Australia working together and challenging large competitors," said Tudehope.
"Smaller businesses often believe the cloud is made for large enterprises and not something they can use to their advantage. It's quite the opposite; there might just be a different, local approach to cloud that matches their business goals. eCorner has found that mix and can use the cloud to help start-ups and SMEs tap into the fast-growing eCommerce market in Australia."
---
August 2, 2018 9:14 AM
On 20 July, the Singapore government revealed that the non-medical personal details of about 1.5 million patients who had visited SingHealth's specialist outpatient clinics and polyclinics between 1 May 2015 and 4 July 2018 had been illegally accessed and copied in a deliberate, targeted and well-planned cyber attack.
Data taken included names, national identity card numbers, addresses and dates of birth. Information on the outpatient dispensed medicines of about 160,000 patients was also exfiltrated through an initial breach on a front-end workstation.
The unprecedented attack on Singapore's public healthcare IT systems has since raised questions about who should bear responsibility in a medical cyber attack.
One might think that IT workers and their suppliers should be blamed, but doctors, at least in Singapore, are also "statutorily responsible for any system instituted within his practice for the management (storage, access and integrity) of medical data."
This was pointed out by Quan Heng Lim, director of cyber operations at Horangi Cyber Security, who noted that with increasing digitisation of healthcare records and new regulations on contributions to Singapore's National Electronic Health Record system, doctors should ideally possess baseline knowledge on information security, whether by training or otherwise.
Lim added that the legal entity of the affected clinics and hospitals – or SingHealth in this case – may be liable as well. Although SingHealth operates public healthcare services, it is in fact a corporate entity and hence is bound by the Personal Data Protection Act (PDPA).
Under Section 24 of the PDPA, organisations must protect personal data in their possession or control by making reasonable security arrangements to prevent unauthorised access, collection, use, disclosure, copying, modification, disposal or similar risks. These include technical measures such as network security, strength of access controls, and the regularity and extent of patching and vulnerability fixing.
Lim said more obligations could also apply, depending on the nature of the computer systems in question. Under Singapore's newly-passed Cybersecurity Act, acute hospital care services and services relating to disease surveillance and response are considered "essential services".
"If designated as critical information infrastructure by the Cyber Security Agency of Singapore (CSA), computer systems owners would be subject to various obligations, such as bi-annual audits, annual risk assessments, as well as compliance with specific codes and standards.
"It is possible for such owners to be IT vendors, corporate legal entities, or even doctors themselves," he added.
Faced with liabilities on several fronts, what can those parties do? Even though there's no surefire way to stop all cyber attacks, IT suppliers and software developers, for one, should strive for zero defects in their systems. This has been lost today amid the rush to put out new software releases quickly.
Besides implementing air gap measures, which seem to be the favoured solution of the Singapore government when confronted with threats targeted at critical systems, a holistic approach towards cyber security that involves people, processes and technology is necessary.
"In relation to people, doctors and IT vendors should be aware that they could be targets for phishing and impersonation. The risk of phishing is not unique to the healthcare industry, and affects other industries (e.g. financial services, legal services) which deal with sensitive data, but have no guidance dealing with cyber security or understand the risks they must deal with," Lim said.
As for processes and technology, Lim said doctors and IT vendors strive to build and maintain a secure technology environment. This could include vulnerability and threat assessments and setting up multi-factor authentication – just ask Google, which hadn't had any of its employees phished on their work e-mail accounts since it mandated the use of Universal 2nd Factor (U2F) security keys in early 2017.
---
July 27, 2018 12:24 AM
By Kimberly Chua
Mobile app users in developing Asia-Pacific (APAC) countries prefer convenience over security, signaling a potential rift between companies and users, a new F5 Networks study has found.
The study revealed that while mobile app adoption in developing APAC countries is growing, only 50% of consumers in India, Indonesia and the Philippines had regard for the security of their applications. In contrast, over 60% of consumers in developed countries such as Singapore and Australia prioritised security over convenience.
Kuna Nallappan, F5 Network's vice-president of marketing in APAC and Japan, attributed the reticence towards security in developing APAC countries to the higher number of millennials in those places.
"Countries like the Philippines and Indonesia have similar demographics – a large concentration of millennials who are used to instant gratification," said Nallappan, adding that users in those countries often download applications without much thought.
He elaborated further that millennials took security more lightly than older generations as they were more comfortable with technology, being born in the digital age.
Other than having a high population of millennials, an absence of law enforcement in developing countries also resulted in a lack of awareness on cyber security, said Nallappan.
"The notion of privacy in these countries is still nascent and privacy laws are still at the development stage with ongoing debates," he added.
Nallappan said that governments play a critical role in establishing a strong data protection regime.
An example was the introduction of Singapore's Personal Data Protection Act (PDPA) which established data protection guidelines that enterprises such as DBS have since integrated into their business processes, Nallappan said.
The study also indicated that seven out of 10 Singaporean respondents will stop using or delete mobile applications that are found to be hacked.
Noting contrasting attitudes towards convenience and security among users across the APAC region, Nallappan said enterprises can grant users access to application functions based on who they are, thus improving cyber security without bringing about inconvenience.
Biometric checks like fingerprint and facial recognition are other examples that enterprises can include in their applications to verify user information without disrupting user experience, he added.
Kimberly Chua is an APAC intern at Computer Weekly.
---
July 20, 2018 6:44 AM
Singapore-based Global eTrade Services (Gets) has launched an open trade blockchain (OTB) network to boost cross-border trade between China and the rest of Asia.
Aligned with China's Belt Road Initiative (BRI) and the Southern Transport Corridor, the permissioned blockchain network is run by trusted nodes hosted by accredited trade compliance companies.
By enhancing the security of trading documents, such as certificates of origin and commercial invoices, the blockchain network is expected to promote transparency and trust between shippers, freight-forwarders and customers.
Gets said the OTB will also offer application programming interfaces (APIs) that trading partners can use to hook up their legacy systems.
So far, it has roped in partners such as China-ASEAN Information Harbour, Suzhou Cross-E-commerce and the Commodities Intelligence Centre – all of which will be setting up blockchain nodes progressively.
Other partners in Korea, Indonesia and Taiwan are also coming onboard, creating an extensive blockchain network across Asia.
With OTB linking China to the rest of the region, ASEAN businesses looking to participate in China's BRI and connect to its Digital Silk Road will be able to do so more easily.
In 2017, bilateral trade between China and ASEAN hit $514.8bn, up 13.8% from 2016 – the fastest pace of growth in trade between China and a major trading partner.
Gets is already benefiting from this growth, having facilitated over 10 million transactions in its first year of operation in 2017. In the first six months of this year, it recorded a gross merchandise value of over $400bn.
"We continue to capitalise on our deep domain knowledge and expertise in creating a global electronic single window environment to make global cross-border trade more accessible, predictable and easier," said Gets CEO Chong Kok Keong.
"We are now linked up to 24 customs nodes across the world, with more than 175,000 connected parties, continuing to improve time savings by 60% and increase productivity by 1.5 times for our customers," he added.
---
July 6, 2018 5:56 AM
By Kimberly Chua
In recent years, airlines have been able to trying to lower operating costs by taking advantage of internet-of-things (IoT) devices and satellite connectivity to gather real-time data to support aircraft maintenance and anticipate weather disruptions. Here's a quick look at these benefits which were showcased by Honeywell during a test flight in Singapore last week:
Better weather predictions
According to Honeywell, airlines can improve flight safety and cut flight planning time by half with better flight management, which includes anticipating weather changes during a given flight.
With IoT sensors placed at the nose of an aircraft to capture real-time weather and terrain data that will be transmitted to an electronic flight bag datalink application, flight crews will be able to make better decisions related route safety, according to Garrett Sheets, flight test engineer at Honeywell.
Through faster in-flight Ka-band broadband connectivity ranging from 15 to 40Mbps, this data can also be transmitted to other aircraft for better route management, said Sheets.
Reducing flight delays
Keeping aircraft equipment in tiptop condition is key to reducing the number of flight delays. With onboard IoT devices, airlines will be able to pick up potential faults and address them accordingly before an actual problem arises, Sheets said
This includes problems with auxiliary power units, which are used to spin up an aircraft's main engines. Honeywell claims its IoT capabilities will reduce APU-related flight delays by 35% and obtain 99% accuracy when predicting part failures.
"With the massive potential for cost savings and improved operations, predictive maintenance is the number one area in which airlines are looking to invest," said Kristin Slyker, vice-president for connected aircraft at Honeywell Aerospace.
Early adopters
Cathay Pacific is one of the airlines that have started working with Honeywell to achieve predictive maintenance for their aircraft.
During a technology trial, Honeywell was able to help Cathay Pacific save several hundred thousand dollars in operational and reactive maintenance costs per aircraft. The airline had also reduced APU-related delay minutes by 51%, said Brian Davis, vice-president of for APAC airlines at Honeywell Aerospace.
Separately, Singapore Airlines Group has also signed three contracts with Honeywell to improve the operational capabilities of Singapore Airlines, SilkAir and Scoot.
Kimberly Chua is an APAC intern at Computer Weekly.
---
June 22, 2018 3:44 AM
As a veteran in Singapore's IT industry, Kwong Yuk Wah has played a part in major IT initiatives over two decades, starting with the government's computerisation programme that paved the way for Singapore's standing as the world leader in e-government initiatives today.
According to the 2017 e-government rankings by Waseda University and the International Academy of CIOs, Singapore maintained its pole position followed by Denmark, the United States and Japan.
Following her success in the public sector, Kwong moved on to the private sector before landing her current role as CIO of the National Trades Union Congress (NTUC), Singapore's labour movement that has been instrumental in improving the lot and competitiveness of Singapore workers since the 1960s.
Besides her day job, Kwong also serves as an adjunct professor at the department of information systems at the National University of Singapore's school of computing.
In an exclusive interview, Kwong, a founding member of Computer Weekly's Asia-Pacific CIO Advisory Panel, shared more insights on her career, including her challenges in juggling work and family commitments and how she keeps up with the fast-changing IT landscape.
Q: How did you get started in IT? Was it a conscious or serendipitous decision to enter the field?
Kwong: I studied computer science during my undergraduate days. Joining the IT industry after graduation was the obvious choice. My first job was a programmer of offshore oil-rig algorithms in the private sector. After less than three months into the job, the Singapore government offered me a new role and an IT career. I spent over 20 years in the public sector before I moved to private sector, and I'm now working in NTUC, a people sector.
Q: What were the key highlights in your IT career?
Kwong: Being part of the Singapore Civil Service Computerisation Programme (CSCP), and the eGovernment Action Plans I and II, as well as the NTUC transformation journey were the key highlights in my IT career.
Q: What is your approach towards IT at NTUC, especially in making sure that IT continues to be a source of competitive advantage for the organisation?
Kwong: My goal is to exploit ICT as a strategic enabler that will take the labour movement to new heights. I am also a strong believer of being an early adopter of new technologies to gain the first-mover advantage. However, I can't exploit technologies alone. I have been getting very strong top management support which is very critical, but not enough. Our strong partnership with business units and the willingness of business users to exploit new technologies to gain a competitive advantage are very crucial.
Q: What were your biggest challenges throughout your career and how did you overcome them?
Kwong: My biggest challenge was to maintain a work-life balance when my children were young. It was extremely stressful to be a competent mother and yet build a successful career in a field where things evolve so quickly. I had to make a choice to slow down my career for a few years so I could focus on my children and family.
Q: How big is your IT team? How do you make sure everyone is aligned with the goals of the organisation?
Kwong: If the IT team refers to my own staff, I don't really have a big team. That's because our approach is IT outsourcing. So if the IT team includes service providers, our staff strength is at least 80 to 150 professionals, depending on project needs. Communication is key to keep everyone aligned.
Q:  With technology evolving so quickly, how do you keep up with what's going on in the industry and – perhaps more crucially – decide which technologies to implement for your organisation?
Kwong: I continue to learn by reading and attending seminars and conferences. Teaching part-time requires me to read widely and do my own research. I have been learning from my students at the Masters level too. Technology is always an enabler, and the decision to adopt any technology must always be business focused and customer centric.
Q: What keeps you up at night?
Kwong: I don't have anything that keeps me up at night. I have a good team – both my own staff and service providers. I have very supportive bosses, very understanding business users, and very collaborative partners in both the government and private sector. They have been helping me to do my job well!
---
June 14, 2018 6:19 AM
Fans of Cirque du Soleil's highly-anticipated Toruk – The First Flight were encouraged to whip out their smartphones during the performance in Singapore recently – with full blessings from the production team.
You heard that right – instead of putting their personal devices away during the show, the spectators used the Toruk mobile app enter the world of Pandora, learn more about the show and view special effects on their mobile screens during key moments.
Developed in about three months, the app is powered by SAP's Hana platform, which facilitates communication between spectators and the show's visual effects control system, creating a personalised experience delivered directly to mobile devices based on the viewers' interaction with the app and location in the theatre.
This is accomplished through native spatial processing capabilities in SAP Hana that analyse and process geospatial information in real time. After the show, spectators can continue to engage with the show through interactive images, videos and content that extends their experience.
That Cirque was able to synchronise the events on stage with the special effects delivered to the mobile app was critical to the audience experience. Even a delay of second or two would have messed things up.
The development team also did extensive testing, to ascertain the best time to deliver the mobile effects, and when to notify spectators about them, according to Marc Van Oordt, program director for IT at Cirque du Soleil. This has helped to ensure that the app would not become a hindrance, and one that spectaculars wouldn't need to constantly look at.
Now, that's an important consideration, given how easy it is to fall into the trap of implementing newfangled technology for its own sake. To be sure, not all Toruk spectators used the app (just a third of them did), but one thing is clear: amid the call for digital transformation, do something that is truly useful and transformational, lest you end up with white elephants waiting to be buried in the graveyards of technology.
---
June 1, 2018 6:17 AM
Amid the growing arms race between the US and China to dominate the burgeoning field of artificial intelligence (AI), it is industry players and markets that will really drive adoption of the technology, according to a senior Gartner analyst.
Bern Elliot, vice-president and distinguished analyst at Gartner, says while he expects to see "continued parity" in AI research undertaken by research institutions in the US and China, the work of webscale players such as Alibaba, Tencent, Baidu, Amazon, Facebook and Google will determine how pervasive the technology will be.
Elliot notes that governments which have set national AI agendas, especially in emerging countries, have also spurred AI adoption – though some of that may be because leaders have claimed to be using AI in surveys that reflect opinions, not facts.
Despite the hype around AI, adoption of the technology is still nascent. A Gartner survey of global CIOs revealed that just 4% of organisations have AI projects in place, while 46% are planning to roll out projects over the next two years.
Elliot advises CIOs who are just getting started on AI to invest in application platforms – such as H2O.ai and Salesforce.com – with built-in AI capabilities that can be readily consumed by business users.
At the same time, as they build up their AI skills, they can get started on using AI tools from the likes of Google to build their own AI models or algorithms.
Where CIOs choose to invest in the AI value chain – from AI research to tools and platforms – would depend on their business objectives, risk appetite and AI skills. For example, investing more in research could produce more strategic advantage, but also comes with greater risk.
Elliot likens the AI value chain to that of the steel industry, where iron ore is mined before it can be turned into steel and eventually into steel products.
"It's important for CIOs to understand that they don't need to do all of AI to get value out of AI, just like you don't have to mine iron to manufacture steel components," he says.
---