Feb 25 2009 3:37PM GMT

Profile: Shayna Garlick
The recession — which, unfortunately, includes the need to downsize — has been on everyone's minds these days. So, while Oracle professionals scramble to cut hardware costs and keep their jobs, what about the man who's in charge of it all?
Oracle CEO Larry Ellison made plans to downsize before the recession even began — though not quite in the same way or for the same reasons.
Ellison supposedly has a new yacht in production that is set to be finished sometime after 2010. But why does the billionaire, who already owns a 454-foot, five-story, 82-room yacht (called the Rising Sun) need another one?
According to Ellison, the Rising Sun is impractical, too big, and "lacks intimate space."
"Too big" may be an understatement. While on a recent cruise, SearchSAP.com News Editor Courtney Bjorlin saw the Rising Sun for herself, when the boat was docked on the island of St. Thomas. This is the picture she took: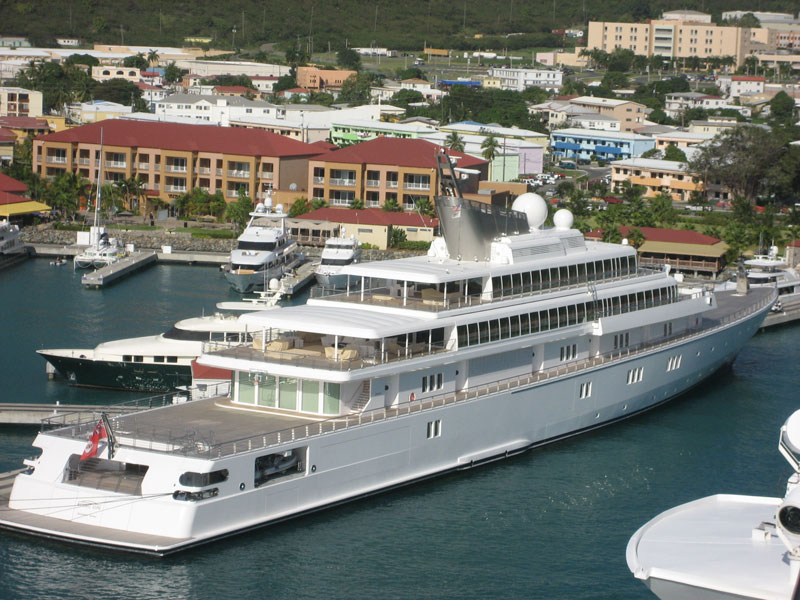 As you can see, this is one of the largest yachts in the world. But it's also not Ellison's first. Oracle's CEO has been in the yacht business for quite some time, and consequently has some interesting stories. Here are a couple:
Ellison has claimed that SAP co-founder Hasso Plattner mooned him and his crew during the 1996 Kenwood Cup off Hawaii. Plattner went on the record in Sailing World in 2003, saying he "never mooned Larry Ellison." However, even though he says the act wasn't direct at Ellison specifically, he did admit that he "lowered his pants" when his boat was having serious trouble and Ellison's boat, the 80-foot Sayonara, failed to help.
In 1998, Ellison had a near-death experience on the Sayonara. During the 1998 Sydney to Hobart Yacht Race in Australia, a typhoon struck, bringing 40-foot high waves. Six sailors from other boats died, but the Sayonara crew managed nothing worse than broken bones. Ellison told Business Week they "certainly thought it was possible we wouldn't make it." But Sayonara did more than "make it" — it won the race.
Despite the recession and its subsequent layoffs, it still appears difficult to be a billionaire playboy.