---
September 26, 2011 1:46 PM
Oracle will announce a new Sparc T4-based SuperCluster on Monday in an effort to fight for share of the multibillion-dollar Unix server market.
The SuperCluster T4-4, as it is called, will run Solaris on top of the new Sparc T4 processor. The T4 is a 40-nanometer, eight-core CPU that is expected to run at 3 GHz and higher and built for end users running large workloads such as Oracle Database. Monday will be the chip's official coming-out party.
Oracle first introduced the SuperCluster last December, when it rolled one out based on the Sparc T3 chips. That original SuperCluster included up to 16 processors, 1.5 TB of flash memory and 144 TB of disk space.
A major difference between the Sparc T3 and T4 is that the eight-core T4 actually has fewer cores than its predecessor, which had up to 16 cores. The move may be an indication that rapid growth of cores within processors has a limit to its benefits, at least when trying to run large workloads that require power over parallelism.
In anticipation of the release of the chip, Oracle earlier this month updated its processor core factor, which left some scratching their heads over Oracle's licensing policies.
On a small sidenote, the absorption of Sun Microsystems into Oracle is pretty much complete, at least in the front-end. Despite the fact that the announcement today will include Sparc and Solaris – two trademark products from Sun – the word "Sun" doesn't appear anywhere in the invite to the event.
August 30, 2011 6:51 PM
Wikileaks published a document last week revealing that the U.S. government assisted Oracle with the Sun acquisition, mainly by approving it themselves and then pressuring the European Union to do the same.
The 2009 document is a cable from Christopher W. Murray, who was then deputy chief of the U.S. Mission to the European Union. The mission is an office meant to maintain diplomatic relations between the U.S. and the E.U.
In the cable, sent to various other federal agencies such as the Department of Justice, Murray states that the U.S. wanted to "prevent a divergent outcome" in regards to the DOJ's and EU's reviews of the Oracle-Sun merger. The DOJ had approved the merger in August 2009. Two months later, in October, the EU was still examining the merger. The EU's major concern was that Oracle's acquisition of MySQL through the Sun merger would quash competition in the database market. According to the cable:
Oracle stated that the (European) Commission is pressuring it to divest MySQL as a condition for approval of the merger. Oracle claims such a divestiture will destroy the merger for two reasons: 1) Oracle's business case for the merger depends on keeping MySQL to make the merger economically viable, since Oracle plans to expand the market for MySQL and its associated support contracts; and (2) Oracle would be forced to take a huge accounting loss if it sold MySQL, since it believes that Sun overpaid in paying nearly $1 billion for MySQL in 2008, and it would only be able to sell it for a fraction of this sum.
As a result:
DOJ/Antitrust views this matter as a high priority. Its senior officials and investigative staff are currently engaging productively and intensely with their (EU) counterparts, and are in close touch with Oracle and Sun, in the hopes of preventing a divergent outcome.
It appears from the summary of the cable that the feds had self-interest involved, mainly because of the potential of job losses or gains depending on whether the merger went through, and also the DOJ's desire to have its merger approvals not contradicted by another global agency.
Oracle says it is unwilling or unable to make certain divestitures to satisfy the Commission's concerns, and that merger failure will cause Sun to go bankrupt. Sun announced October 20 that it is cutting 3000 jobs over the next year, as a result of delays in receiving merger clearance from the Commission.
It's another question whether Oracle helped pressure the feds into helping their cause. The DOJ likely did not want a merger that it approved failing to go through and then causing further job losses and the bankruptcy of a multibillion dollar company in Sun. Needless to say, three months after this cable went out, the European Commission approved the merger without conditions.
---
August 25, 2011 12:57 PM
The New York Post reported recently that HP's acquisition of Autonomy and its recent steep stock price drop might make it a takeover target for Oracle. Really?
First, the story. The Post cited several unnamed sources who said that if HP's stock continues to drop, Oracle might pounce on it. HP spinning off its PC business would presumably make it a more attractive takeover target for Oracle, which isn't interested in the consumer space.
But what else is there? Oracle has shown that it's not interested in the low-margin x86 server business. HP sells more low-margin x86 servers than anyone. Oracle is interested in high-margin big-box servers. HP recently announced that its Itanium-based server sales – which are its big-box servers – are suffering, at least in part due to Oracle's decision to no longer support Oracle software on Itanium servers.
Would Oracle be interested in HP's enterprise software? Probably, but there would be a lot of duplication, as Oracle already sells plenty of its own enterprise software.
Maybe Oracle would just be interested in capturing HP customers and pulling them into Oracle support contracts, which make up a large chunk of Oracle's revenue. But I just can't imagine that there would be enough there to offset having to buy a huge low-margin server business, a decreasing Unix server business and a somewhat duplicative software business to go with it.
---
August 22, 2011 2:01 PM
Oracle
The latest battle in the Oracle vs. Google "lawsuit between behemoths" is over whether application programming interfaces (APIs) should be considered copyrightable.
When Google developed the Android platform, it copied a lot of the Java APIs that Sun – now Oracle – had developed. Google is arguing that those APIs aren't protected under copyright law, and therefore that the judge should dismiss the lawsuit. In a document that filed on Saturday, Oracle argues otherwise. According to the Oracle motion:
Over a period of many months, Google employees and contractors sat down and duplicated, line by line, the specifications for Oracle's application programming interfaces ("APIs") for Java. When they were finished, they had reproduced specifications for 37 APIs from Java's core libraries that were identical, or nearly identical to Oracle's, and they had copied those specifications into Android code.
Oracle adds this as well: "Google, in fact, claims copyright protection for its own APIs."
If the above line is true, it would expose the hypocrisy of Google saying that APIs aren't copyrightable and yet trying to legally protect its own APIs.
For a more thorough examination of Google's motion for dismissal and Oracle's opposition, check out Florian Mueller's great rundown of Oracle defending the APIs. You can also take a look at the Oracle motion for yourself.
---
August 9, 2011 3:34 PM
Oracle will give a presentation on its upcoming Sparc T-4 processor at Hot Chips in Palo Alto, Calif. next week.
The eight-core processor is scheduled to be released sometime this year, with the scuttlebutt going around that Oracle will reveal it at OpenWorld in October. The presentation, scheduled for Friday, is called "T-4: A Highly Threaded, Server-on-a-Chip with Native Support for Heterogeneous Computing."
T-4 servers are slated to ship this year, and there was a call-out in June by Oracle to end users interested in testing them:
Development of the SPARC T4 server is well underway and represents the next major milestone in the five-year roadmap Oracle has laid out for releasing new innovations for the SPARC platform. Oracle's T4 server is a breakthrough product, providing single thread capability to enable optimized performance for a wider range of enterprise applications.

The new systems use "critical thread API", or the ability of the Solaris operating system to recognize critical threads in applications and assign them, by themselves, to a single processor core. This allows the critical threads to run at the very highest performance levels without competing with other less critical threads. This delivers faster overall performance by accelerating the more critical components in threaded applications.
In a Q&A on Oracle's website, the company's VP of hardware development gave some more information on Sparc T-4 features:
We wanted to get more single thread performance into the SPARC T-series systems sooner rather than later. So we developed a new core for the SPARC T4 that brings together the combination of throughput performance through threading as well as really high-speed single thread performance. It's really breakthrough technology for us. Referring back to the timeline for development that we have, we developed that core and that technology back in 2006/2007 and we'll be delivering that to the market in 2011.
---
July 25, 2011 1:28 PM
In the ongoing legal battle between Oracle and Google – the lawsuit between two bullies – the judge in the case has ordered Oracle to reduce its damages claims by about 95%.
Last month we reported that Oracle was looking for billions of dollars in damages in the case, in which Oracle claims Google infringed on its Java patents by promoting its Android mobile devices. Oracle's damages expert in the case claimed that the fairest negotiation would bring about a result of "about $2.6 billion," according to court papers.
Nay, nay, said the judge, who ordered the damages claim reduced. Instead, U.S. District Judge William Alsup said that the starting point for Oracle's damages claims should be $100 million, just a fraction of what Oracle was looking for. The starting point is based on the last offer in 2006 by Sun Microsystems in its negotiations with Google over Java licensing, which went nowhere. That starting point can then go up or down depending on various factors. The most recent court filing spells it all out it plenty of legalese detail, if you're so inclined.
---
July 15, 2011 6:08 PM
This week we wrote about the Oracle Exadata storage expansion racks, which are basically just the storage cells from Exadata without any database servers. Like the Exadata itself, the storage racks come in quarter-rack, half-rack and full-rack configurations.
After publishing the story, consultant Kerry Osborne from Enkitec wrote back with his thoughts on the announcement. Here are a couple excerpts from his email to me:
The storage expansion rack is interesting. You could already buy individual storage cells ($55K), so presumably you could put these together on your own already. But it's now packaged and there appears to be a slight discount as you buy larger configs (full rack storage is slightly less per cell than half rack). We have a customer that has run out of both storage and processing (CPU) capability on the storage cells, but the DB servers are fine. So adding additional storage is the way to go for them.
Oracle salespeople, however, might not be too excited about the storage racks:
Oracle sales people have been hesitant to recommend (just adding additional storage) because they have been trained to push the "balanced config" story saying that the ratio of DB servers to storage cells is somehow magic. So they tend to want customers to buy another quarter rack Exadata. This announcement will make it easier for customers to tell sales guys they just need more storage.
---
June 30, 2011 2:38 PM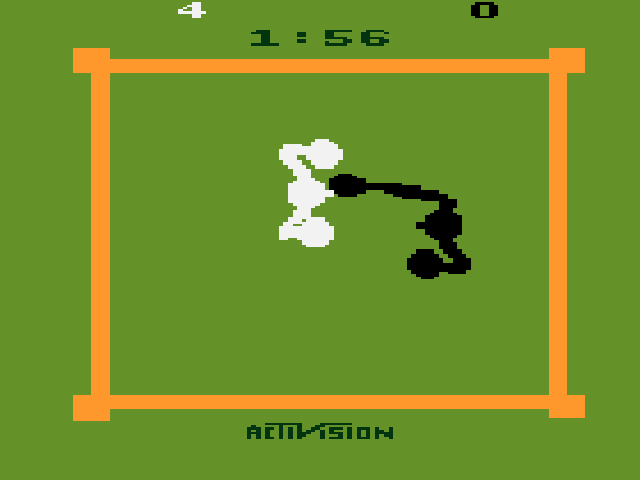 Oracle has filed an opposition to HP's motion to seal the records in the lawsuit between the two. Whew, that's a mouthful.
The lawsuit stems over Oracle's decision earlier this year to stop software development on Intel Itanium-based platforms. HP, the largest seller of Itanium systems, has sued Oracle over the decision.
However, the suit is just the latest salvo in a heated battle between the two that started when Oracle bought Sun Microsystems.
Remember Atari Boxing? Old-school, furious pace, pushing that red button so fast it almost left blisters? It was practically violent to play. That's what HP vs. Oracle is like.
In its motion, filed in California state court, Oracle calls the lawsuit a "publicity stunt in a broader campaign to lay the blame on Oracle for the disruption that will occur when HP's Itanium-based server business inevitably comes to an end."
Oracle is basically saying that Intel is planning on phasing out the Itanium chip, but that HP is denying it. This despite public statements from Intel and HP saying Itanium is still in development.
HP, meanwhile, is claiming that there is an "implied" contract between Oracle and HP for the two to continue development on Integrity platforms together. HP claims that contract was broken when Oracle announced it would stop development on the platform.
Oracle is far from the only company that has pulled away from Itanium. Both Red Hat and Microsoft have announced in the past couple years that they will no longer support development on Itanium. On the other hand, with Oracle's strong push of its own "stack" computing – that is, everything Oracle from the chip to the application – there is the question of whether Oracle is trying to force its customers off other platforms. As an example, Oracle's support of Red Hat Enterprise Linux has recently been questioned. In the past, its support for VMware – at least on the sales side – has also been an issue.
Ever since Oracle acquired Sun Microsystems and entered into HP's main line of business – computer hardware – the relationship between the two has deteriorated. Remember, Exadata Version 1 was a joint Oracle-HP venture. Then this happened:
---
June 23, 2011 9:56 PM
Oracle announced its fourth-quarter earnings today, with every division reporting increased revenue except for hardware systems.
Oracle tried to put a positive spin on Oracle Sun hardware, saying there are now more than 1,000 Oracle Exadata machines installed. Among them are big companies like PG&E and Apple. Oracle executives said the company hopes to triple that in the next year. They also said Exalogic is selling well but didn't say how many of those Oracle has sold.
It's no mystery that hardware sales have struggled since Oracle took over Sun Microsystems last year, and Oracle knows it. But the company's apparent plan to almost completely abandon the commodity server market has sliced deep gashes in its hardware revenue. To give you an idea of which way revenue streams within Oracle are going, total Oracle revenue in the fourth quarter was up 13%. Software licenses up 19%. Software license updates and product support revenues up 15%.
Wow, looks great, right? And then hardware: down 6%.
Here's the thing: Oracle doesn't care that much about total revenue. It certainly doesn't care about server shipment numbers, which have dropped steeply over the past year. That is especially the case when those shipments and revenue come from low-margin commodity server hardware. What it cares about most of all is profit margins, and with the high-priced Exadata and Exalogic, profit margins they have.
"We are selling fewer units at higher prices and higher margins with higher attach rates," Co-President Mark Hurd said. "These are the signs of a solid hardware business."
Oracle remains bullish – or at least acts bullish – on Oracle Sun server hardware. Co-President Safra Catz said sales of Exadata and Exalogic "sold extremely well," though neither she nor anyone at Oracle has yet said how well exactly Exalogic is selling. Co-President Mark Hurd said "the ramp" for Exalogic, whatever that means, looks better than "the ramp" in the early days of Exadata.
Catz added that "later this year I expect the growth of the Sun hardware business to be quite obvious."
CEO Larry Ellison added that Oracle plans announcements around Exadata and Exalogic this fall, presumably at Oracle OpenWorld. It seemed like Ellison couldn't wait to spill some of the details. He said the company plans on announcing some kind of in-memory accelerator for Exadata in the fall, as well as a big data accelerator for Exalogic. From how Ellison was speaking, it seemed like the big data accelerator will have something to do with Hadoop, and the in-memory accelerator will have something to do with TimesTen.
---
June 21, 2011 2:45 PM
Oracle announced this morning that it will buy FatWire Software to bolster its enterprise content management portfolio.
FatWire calls itself a "Web Experience Management" (WEM) company, the idea being that companies' connections with their customers are increasingly online. In an announcement, Oracle said FatWire technology would work together with Oracle Fusion Middleware and Enterprise Content Management software products, among other things.
Oracle also said that technology from FatWire – based in Mineola, N.Y. – will help Oracle customers "seeking to build a unified customer experience across channels."
Oracle did not disclose terms of the deal, which is expected to close in the middle of this year.
Last year FatWire signed a reseller agreement with EMC, so it will be interesting to watch how that relationship develops once Oracle completes the acquisition. There has been some tension recently between Oracle and EMC over Oracle's support of and competition with VMware, which is majority owned by EMC.
---