---
April 20, 2012 3:07 PM
This week the software version of the Trial of the Century took off in a San Francisco courtroom as Oracle and Google went to duke out their intellectual property lawsuit. If you've been too busy with other things to follow the case, here's a cheat sheet.
Many philosophical questions are being asked in this trial; Can you copyright a programing language?  Does copyright law protect original works of creative expression, or does its reach also cover the tools used to create those works? The outcome of this trial (and the extrapolated answers to these questions) may go on to shape intellectual property law, as well as the tech industry, for decades to come.
Many revelations have already come out of the trial — first, that Steve Jobs' dying wish was apparently to avenge his beloved iPhone by punishing the people who created what he saw as a cheap knock-off. Perhaps it's ironic that Jobs' good friend Larry Ellison gets to be the one to bring Google to trial, even if not overtly to posthumously avenge his friend, but rather his righteous moral indignation at this flagrant flouting of intellectual property. Another scintillating revelation is that Oracle once considered buying Canadian company RIM in order to break into the mobile phone industry; this disclosure has promoted some to imagine what Oracle and RIM would look like had this deal actually been brokered.
Wednesday was dubbed "CEO Day," with both Larrys — Page, CEO of Google, and Ellison, CEO of Oracle — taking the stand. Both had flaws in their testimony — Larry Page was evasive with Oracle's lawyer to the point where Judge Alsup eventually told him, "You've got to say 'yes,' 'no' or 'I don't know…You must do that." Larry Ellison announced that he didn't know if Java was free and contradicted his statements.
Additionally, Oracle has been pointing to a "smoking gun" memo sent by Google exec Andy Rubin to Larry Page stating that they ought to "pay Sun for their technology."
This trial has been every bit the roller coaster ride we all assumed it would be, complete with vengeance from beyond the grave, secret incriminating memos and philosophical reflection. But, with both Oracle and Google involved, did we really expect anything less?
April 17, 2012 2:57 PM
Oracle is scheduled to release its quarterly critical patch update today, with some 88 fixes across all its product lines.
The most critical issues are in Fusion Middleware, followed by Oracle Database and Sun products. This patch is larger than the last one in January, which had 78 fixes. There are six fixes withing Oracle Database Server, including three that could remotely exploited without authentication. Components affected include Application Express and Oracle Spatial. There are 11 fixes for Fusion Middleware, nine of which could be remotely exploited without authentication. Components affected include BI Publisher, Identity Manager and Oracle JDeveloper. There are 15 fixes for Sun products, including five which could be remotely exploited without authentication. Components affected include Solaris, Sparc M-series servers, and GlassFish.
6 for Oracle Enterprise Manager Grid Control
4 for Oracle E-Business Suite
5 for Oracle Supply Chain products
15 for PeopleSoft
2 for Oracle Industry Applications
17 for Oracle financial services software
1 for Primavera
6 for MySQL
But does it matter? Do you bother to implement patches as soon as they come out, or are there other steps involved before you do that? Let us know in the comments.
---
April 13, 2012 5:39 PM
On March 29, Oracle announced that it had entered into an agreement to acquire ClearTrial, provider of cloud-based clinical trials operations applications. The likely fate of ClearTrial is to be folded into Oracle's Health Sciences suite (there are worse fates), rounding out Oracle's current Health Sciences offerings. Those include LabPas (which helps researchers find human guinea pigs for studies), Oracle IRT (which helps researchers manage things like patient randomization and patient diary data), and other applications.
This move on Oracle's part has raised a few eyebrows, as Oracle seems to be moving into the realm of big pharma. It would make perfect sense for Oracle to do so – it's a field that meshes well with Oracle's expertise in big data, is always in demand, and has a multitude of big name, stable clients. ClearTrial's customers include Allergan (maker of Botox), Sanofi (producer of Allegra) and AstraZeneca, the seventh-largest pharmaceutical company in the world.
Indeed, with this acquisition, Oracle has established a vertical market for itself in the field of health IT. Oracle can now be your one-stop -shop for everything you need for your clinical trial, from finding volunteers to analyzing your data. The folks at Oracle are generally fans of this business strategy – another example of this would be their recent activity in the CRM field, where they also seem very interested in establishing a vertical market. This is consistent with their acquisition strategy across the board. They've been eyeing industry specific software acquisitions, particularly in an effort to continue competing with boutique software firms to be the best in each industry.
Oracle itself states quite clearly on their website the benefits of working within a vertical industry: "The vertical analytic applications are specific industry extensions or flavors of BI Applications that enable organizations to realize the value of a packaged analytic application, such as rapid deployment, lower TCO, and built-in best practices, while also being able to very easily extend those solutions to meet their specific needs in that industry – all on one common BI architecture."
What are Oracle's long-term plans in health sciences? Only time will tell… Oracle can be a bit of a wild card, and it's hard to guess their next move, but this blogger wouldn't be shocked to see them begin making the baby steps to move deeper into the pharmaceutical industry.
---
April 12, 2012 2:36 PM
Gartner numbers released late last month show that Oracle has almost half the relational database management system (RDBMS) market in terms of revenue, far outpacing rivals IBM, Microsoft and SAP.
Oracle had 48.8% of the market in 2011, according to Gartner. That was up from 48.2% in 2010. IBM with its DB2 database and Microsoft with its SQL Server databases were 20.2% and 17%, respectively. Thanks to Colleen Graham, a research director at Gartner, I have the rundown: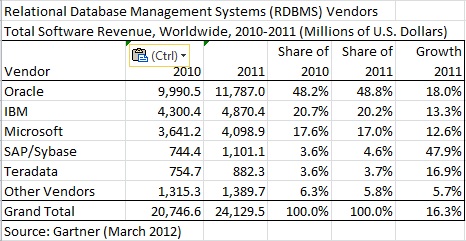 As you can see, Oracle's growth was the largest in terms of raw dollars, and second largest in terms of percentage. The largest percentage growth went to SAP/Sybase, which already has Sybase databases and is trying to ramp up its database business further with the SAP HANA in-memory appliance. But its percentage growth is largely because it was starting from a smaller base. Can SAP really be the #2 database vendor by 2015, as it hopes to be? For that to happen, it would have to at least quadruple its database business in the next four years.
---
April 5, 2012 7:43 PM
Things don't always go the way we plan them to.
In the case of the ill-fated Itanium chip, multiple companies, including HP and Intel, got a lesson in failure. The now famous debacle has been coined "the joke of the chip industry" by tech blogger Ashlee Vance and the phrase Itanic gets bandied about from time to time. Much of the computing world has more or less decided to move on and, as of March 23, 2011, Oracle made it clear that they would no longer be developing products that would be supported by Itanium. HP responded by suing Oracle. Oracle being Oracle, countersued. The rest, as they say, is history. Oracle hiring many HP alumni for high-level positions exacerbates the bad blood between the two companies as well.
The two were set to go to trial on May 31st, but are now asking a federal judge to settle the matter out of court. No one really seems to know why, but my suspicion is that HP realized they really have no court case to speak of — while Oracle was being their usual mind-game playing selves, they weren't doing anything illegal.
What is there to learn from this?
What I came away with is that the business world really is a lot like elementary school. Kid A (HP) gets mad because Kid B (Oracle) won't be their best friend (continue using their famously bad Itanium chips). So, Kid A tells the teacher (sues in court) that Kid B is guilty of various classroom infractions (breach of contract, etc). Everyone gets all up in arms, and it looks for a bit like Kid B might really be in trouble. Kid B tells the teacher that Kid A is actually the bad kid (countersues), and then starts hanging out with a bunch of Kid A's former friends (hires former employees), making fun of Kid A the whole time. In the end, though, it turns out that Kid B, while being a generally jerky kid, hasn't actually done anything against the rules. Both kids ask the hall monitor (federal court judge) to sort the whole thing out. Within a few weeks, both parties will probably be going to each other's birthday parties (signing new contracts for different products) and picking on other kids (suing other companies).
---
March 29, 2012 8:53 PM
Despite less than stellar performance in a few areas, Oracle's performance as discussed on their March 20th earnings call was generally held to be a solid quarter. Indeed, Oracle has all the elements of a successful stock option – a diversified portfolio, continued growth, and higher than expected earnings.
So, why isn't its stock price increasing?
For the last five years, Oracle has outpaced the Dow by quite a bit. They have had amazing growth and exceeded market expectations. Then, last quarter, they hit a few widely publicized road blocks. While Oracle has never been a company that generated a lot of love, loyalty or fans, suddenly, everyone predicted the beginning of the end for Oracle.
With the results of last quarter in, it looks like those predictions may have been a bit premature.
So – why is Wall Street so quick to call Oracle out on one bad quarter?
Well, there are a lot of reasons. The often bombastic attitude of Oracle's leadership doesn't help Oracle's case – there are many on Wall Street and in other industries who would love to see Oracle fail based on the prickly personalities at its helm alone, and drama just doesn't do much for investor confidence.
A few analysts have begun to notice that Oracle's stock seems to be undervalued. Oracle's cash flow is strong; they do not specialize in any technologies on the verge of going obsolete; there are no current financial scandals to speak of; they have a solid, 4-star Morningstar rating and A1 rating from Moody's; and, above all, Oracle's growth has been remarkable- all the earmarks of a company whose stock should be shooting through the roof.
Should Oracle continue to have successful quarters, Wall Street will likely come around. But, given Oracle's reputation for being bombastic, unpredictable and arrogant, it probably will never become an investor favorite like Apple or Google.
---
March 23, 2012 6:12 PM
Most people have hobbies of some sort. Some people build model cars. Others enjoy knitting. But Larry Ellison owns a very expensive milling machine in New Zealand and uses it to build ships.
On March 22, the Poseidon, a $1 million milling machine (New Zealand's largest), cut through a red ribbon in celebration of its official opening.
While only recently officially christened, the machine has actually been in use for the last six months. It will be used to construct all the major components of Oracle Racing's AC72 for the 2013 America's Cup except for the hull, which, by the rules of the race, must be constructed in the team's home country (Oracle Racing's will be constructed in San Francisco). Ellison apparently has plans to keep the machine, which is owned by Ellison's Core Builders Composites company, running long after the America's Cup is over. Those close to Ellison have said he's "pretty passionate" about this manufacturing business and is likely to keep it operating in New Zealand.
Amid pointed comments about Oracle's earnings call last week, it's refreshing to see another side of Oracle we rarely encounter.
---
March 15, 2012 8:14 PM
By now, you probably know that Oracle is in the middle of a multi-billion dollar lawsuit against Google for patent infringement regarding Google's use of patents Oracle feels are related to the Java programing language.
Earlier this month, San Francisco Judge William Alsup requested that Oracle withdraw three of the patents from the suit. He seems to be hoping for a quick and easy trial — something you unfortunately don't see much of when Oracle is involved. In any case, it looks like Oracle's big day in court is going to be April 16th. It doesn't, however, look like this will be a smooth lawsuit like Oracle had been hoping, though, as they've been forced to drop charges on several patents, others are expiring soon, and it appears that they greatly overestimated the amount of money to be gained from this suit.
Indeed, the suit has slowly been whittled down from a major, $6 billion legal extravaganza it originally appeared to be to what is swiftly approaching a nuisance suit — the corporate, Silicon Valley version of your neighbor suing over your dog defecating on their lawn.
There are many theories as to the "real reason" why Oracle is suing Google, from wanting a share of profits from the wildly popular Android phones to speculations involving Larry Ellison's personal devotion to The Art of War. I'm going to go out on a limb and suggest that Oracle's executives and lawyers honestly believed they had much more to gain from this lawsuit than they actually do. If I'm correct, it's kind of a pity for Oracle – the miscalculation not only wastes their time but makes them look pretty nasty. I mean, really… Who wants to be the guy who sues the company whose motto is "Don't be evil?"
---
March 13, 2012 4:20 PM
As consultant Eric Guyer puts it, "it's not enough to buy one Exadata box." And so the price point for many customers – especially those SMBs – may be out of reach.
That may explain why only 6% of respondents in SearchOracle.com's recent survey have Exadata installed or plan to install it this year. A typical Exadata deal will easily set you back seven figures. From Guyer:
You kind of need three (Exadatas): one for production, another for standby and a third for development activities. This is because Oracle Exadata does not offer array mirroring and best practices dictate that development/test/QA be identical to–but not reside on–production servers.
But Guyer said a new report from NetApp may provide a way out of that. The report details how Exadata users can use NetApp technology to back up their Exadata. Guyer nicknamed the report Exadata for Less. Guyer details how a company can save money by avoiding licensing costs for RAC and Exadata Storage software on secondary and tertiary machines.
Could this development open up Exadata to the masses? Furthermore, is this Oracle's way of opening up the platform so it can grab more users?
---
March 8, 2012 4:32 PM
Bad news for Larry Ellison- He's no longer among the top five richest people on earth, and will have to settle for the slightly less luxurious position of number seven, according to Bloomberg's most recent list of billionaires.
Unfortunately for Ellison, Ingvar Kamprad, Swedish business magnate and founder of IKEA, suddenly moved from 126th wealthiest person on earth to 4th, and Amancio Ortega (Spanish fashion entrepreneur best known for the clothing chain Zara) nosed out Ellison for 6th position, with French luxury goods magnate Bernard Arnault taking the 5th slot.
Oh Larry… We know this must be very, very tough for you. There goes that new ivory back scratcher you were planning to buy. On the bright side, Ellison is still worth 38.2 billion, and is still the third richest American, after Bill Gates and Warren Buffett.
---