---
June 18, 2012 11:47 PM
Not long after Oracle agreed to acquire Sun Microsystems in 2009, its hardware story went something like this: Commodity servers have low profit margins, while big servers that Oracle took to calling "engineered" systems have high profit margins. So if you want to make hardware a profitable business, you must sell the big boys.
After setting this thesis in place, Oracle set out to make it reality. It stripped down its commodity server hardware business, with executives freely acknowledging that they didn't care about commodity boxes anymore. It has since introduced a series of big server appliances – Exadata, Exalogic, Exalytics, Sparc Supercluster, and the Big Data Appliance – in the hopes of getting customers to buy their big servers that integrate Oracle hardware with Oracle software.
Has the story panned out?
Oracle executives seem to think so. At the quarterly earnings call on Monday, they all gushed about Oracle systems.
"Another great quarter for engineered systems," CEO Larry Ellison said.
Well, we took a look at federal financial statements from Oracle over the past two fiscal years. The first fiscal quarter came about a year after Oracle introduced Exadata Version 2, the first big Oracle-Sun joint server hardware venture. The last quarter came this year, finishing at the end of May. Take a look (the markers at the bottom are for Oracle's fiscal quarters, which are approximately 6 months ahead of the calendar quarters):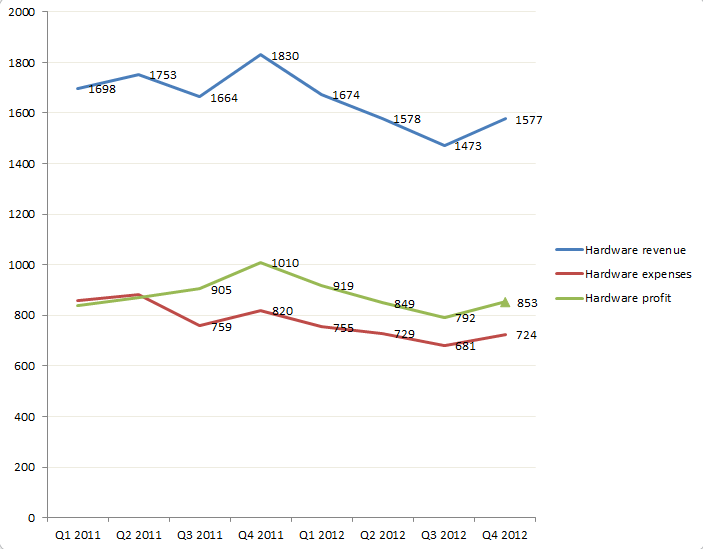 If you take a look at the general trend, everything is going down. Revenue is down, expenses are down, and profit is down. Well actually, profit is up $13 million since about September of 2010.
Maybe I'm missing something here, but it seems to me that Oracle's strategy of ditching commodity server in favor of engineered systems has yet to really pay off, at least on the balance sheet. Let me know if you disagree.
Oracle President Safra Catz did say she expected hardware numbers to be up year-over-year in fiscal 2013, so maybe profits will begin to rise. Who knows.
The flipside of the hardware numbers is revealed on the software side of the business, where Oracle is doing extraordinarily well. Overall net income for Oracle has increased by a factor of 2.5 since two years ago. Software license revenue is up big. So is hardware the anchor holding Oracle back?
June 14, 2012 5:00 PM
Oracle issued an urgent bulletin yesterday afternoon warning Oracle E-Business Suite (EBS) users to stay on Java 6 as Java 7 is not yet certified in EBS.
"Until EBS is certified with (Java Runtime Engine) JRE 7, EBS users should not rely on the windows auto-update mechanism for their client machines and should manually keep the JRE up to date with the latest versions of 6 on an ongoing basis," wrote Steven Chan, Oracle senior applications director.
Client desktops will automatically update to JRE 7 unless EBS administrators disable the option. Chan's blog details how to revert back to JRE 6 if that happens, mainly by uninstalling JRE 7 and re-installing JRE 6. EBS customers should be running JRE 1.6, otherwise known as JRE 6, on their Windows end-user desktops, and Java Development Kit (JDK) 6 on their EBS servers.
"Our current testing shows that there are known incompatibilities between JRE 1.7 and the Forms-invocation process in EBS environments," the blog reads.
The Oracle Support note is even more direct: " At time of this announcement, Oracle Forms is not compatible with JRE 7. JRE 7 has not been certified with Oracle E-Business Suite. Oracle E-Business Suite functionality based on Forms — e.g. Financials — will stop working if you upgrade to JRE 7."
The support note said this automatic update to Java 7 could happen as early as July 3, thus the reason for the urgent bulletin.
Chan wrote that Oracle plans on certifying JRE 7 on EBS, but provided no timetable as to when that would happen.
---
June 7, 2012 5:06 PM
Ready for a new version of the Oracle Database? You might not have to wait too long.
At last week's AllThingsD conference, D10, Larry Ellison let it slip that Oracle may be releasing the newest version of their database in December or January. This is interesting news, especially since this will be the first database product Oracle won't port to Itanium chips (Who knows why they wouldn't want to do that…).
Also, word on the street is that the product will be called Oracle Database 12c – c as in "cloud." Indeed, once certifiable Nephophobes, Ellison and Oracle seem to have accepted that the cloud is here to stay. They seem to acknowledge that, in order to be competitive with rivals like SAP and Salesforce.com, Oracle must not only adopt cloud technology, but also make the cloud a major focus for the direction of the company.
Bearing this in mind, no one should be shocked at the announcement on June 5 that Oracle will be purchasing cloud-based social CRM firm Collective Intellect, apparently attempting to strengthen their expanding portfolio of cloud services.
Bearing these developments in mind, what kinds of features will the new Oracle database have? Will it be easily integratable with Oracle's newly acquired cloud tools? Will it have more Software-as-a-Service options? It will be exciting to find out when the new release happens early this winter. In the meantime, if anyone would like to speculate or share any inside information you might have, feel free to email your thoughts to editor@searchoracle.com
---
May 31, 2012 5:19 PM
Have you ever had the experience of going through someone's email or chat logs and seeing something you later wished you hadn't?
There's a legal version of this. It's called electronic discovery (or ediscovery). During litigation, each side gets to see the other's private communications. Lawyers from each side get to identify sensitive data and get it extracted using digital forensic procedures, then tag it with "Exhibit A" or (or B. Or C. Or… well, you get the idea) in a courtroom.
Of course, you can also do what Oracle did and release the worst of what you find in a public letter.
Ouch.
But, turnabout is fair play. Earlier this week, Arik Hesseldahl of AllthingsD posted a series of documents to be used on HP's side of the Oracle-HP case. Basically, they're embarrassing. Like an inappropriate chat with an attractive friend you wouldn't want your spouse or romantic partner to see, they are cringe-worthy at best. They feature Oracle's North America sales and consulting VP Keith Block insulting the newly acquired Sun Hardware products to Anje Dodson, Oracle's VP of HR. "We bought a dog… Mark [Hurd] wants us to sell the dog," he says. He goes on to say that no one wants to sell Sun, as "it baaaallllloooooooows." He also bizarrely negotiates an employee named Linda's bonus (you kind of have to see it to believe it), and says someone named Janet Lewis should "[expletive] off" and rejoice over her recent resignation.
Yes, all stuff no one would want released to the public—were it me, I'd be more mortified about the discussion of the bonus (Linda, if you're out there, this is your queue to demand a raise) and I'm sure Janet Lewis is unfriending Keith and Anje on Facebook as we speak. Of course, though, the legal point is that Oracle talks about as badly about Sun's hardware– which is now their own- as HP does Itanium.
What we should all take away from this, however, is to be careful what you put in writing, even if it's just a chat with a trusted coworker. Embarrassing emails and instant messages have an odd way of resurfacing at the worst possible time- and believe me, no one wants to be Exhibit A.
---
May 24, 2012 3:48 PM
Oracle does a lot of things very well – databases, easy BI for SMBs and orchestrating corporate takeovers. Something they do not do well, however, is social media. In fact, when they first floated the idea of a "social tool like Facebook on steroids" (more correctly known as the Oracle Social Network) for businesses at Oracle OpenWorld last year, no one really knew quite what to think (except that the video seemed to be slapped together at the last minute).
Being laughed at has never stopped Larry Ellison before, and it didn't this time, either. One thing Ellison understands is a simple principal everyone should figure out early on—If you can't beat 'em, join 'em. If you can't join 'em, buy 'em.
While this week had already been a somewhat turbulent week in the world of social media and networking, Oracle decided to shake things up even more by buying social marketing company Virtue, whose impressive client list includes McDonald's, Proctor & Gamble and ClearChannel Communications— all of whom they made marketable to the Facebook generation. According to Virtue's website, their publishing app "consolidates publishing activities for Facebook, Twitter and Google+ into one convenient, integrated dashboard for streamlined internal management and aggregated reporting.  Build your brand by engaging in two-way conversations with fans and followers using the most feature-rich, efficient method available."
Why now? This acquisition was likely influenced by SAP's purchase of Ariba and Oracle's ongoing rivalry with Salesforce.com – and just maybe to push the memories of that hokey Oracle Social Network video as far into the back of people's minds as possible.
---
May 16, 2012 8:28 PM
Admitting you're wrong is never easy. For someone like Larry Ellison, who more or less thinks he's God (anyone ever tell you the difference between Larry Ellison and God?), this is even more true. And yet, it's unavoidable- everyone is, at some point in their lives, wrong (some more often than others).
In the case of Ellison, he seems to have been wrong about cloud computing, having made it the subject of a now fairly well-known rant. Oracle really dragged their feet on cloud for a while, promoting both Exalogic systems (which is kind of like a cloud-in-a-box) and private clouds first.
Three years post-rant, Ellison seems to finally have changed his mind about the cloud, while attempting to hint that his hesitance was all for show in the first place. Oracle has recently acquired several firms that use cloud technology, including RightNow, Taleo and ClearTrial. What caused this change?
While we could point to petty rivalries between CEOs, I think it's really more that it's becoming increasingly apparent that the cloud isn't going away. The folks at Oracle being sharp business people, they know it's better to jump on the cloud bandwagon late than never – and doing that Oracle-style means buying up a few companies and folding their technology into your own (like they did with Sun when they decided to get into hardware a few years ago).
We'll have to see how this develops, but the general consensus seems to be that Oracle is in fairly good position to succeed in this new field, if only due to their acquisitions. It will be interesting to watch how Oracle's adoption of this technology plays out.
---
May 10, 2012 3:09 PM
You may have missed it among the flutter and buzz of the Oracle-Google verdict, but Oracle just released an exciting new app. For once, I'm not being sarcastic. It's actually kind of interesting looking. The New Oracle Business Accelerators for Oracle Business Intelligence (BI) Applications are designed to provide chief financial officers and other executive decision makers with rapid access to critical information. It's geared toward midsize companies, and works with Oracle E-Business Suite and JD Edwards EnterpriseOne.
They're designed to be super-easy to implement and set up (they're wizard-based). They allow for the connection of recent releases of Oracle E-Business Suite and JD Edwards EnterpriseOne transaction systems to the Oracle Business Intelligence dashboards, which is really pretty nifty. They also allow you to configure your data warehouse based on your company's industry leading business flows.
They're only available through Oracle's Partner Network, and sometimes Oracle Consulting. So far, it doesn't work with any other vendor's products, but I'll be curious to see if they eventually branch out and make it interoperable with other products on the market, as Oracle is known to sometimes do.
The intention seems to be to bring big-business data analysis benefits to midsize IT shops. Many have remarked in recent years that business intelligence is becoming a commodity. Oracle, long having had the reputation of database of the 1%, is now attempting to position itself as bringer of BI to the masses.
How's that working out for them? Well, we'll see — does anyone in our audience use Oracle Business Accelerators for Oracle Business Intelligence? If so, how's it working out for you? Send us an email at editor@searchoracle.com – We promise to keep your identify a secret, but we'd love to know what you think.
---
May 3, 2012 3:07 PM
Are Oracle and SAP friends again? Well, maybe not friends (in fact, this article goes so far as to suggest they kind of still hate each other), but they seem to have accepted that end-users are going to want to integrate their products from time to time, and are willing to work together when that needs to happen.
A few months ago, the buzz was that SAP might just do the unthinkable and license certain applications for use to Oracle. Since Oracle and SAP are kind of sort of kind of mortal enemies at this point, it seemed pretty shocking at the time.
Well, no more wondering when and if such a thing is going to happen for real, since it just did.
As of Monday, April 30, Oracle announced that SAP applications are now certified for use with Oracle SPARC SuperCluster T4-4, and SAP infrastructure and applications based on the SAP NetWeaver technology platform 6.4 and above and certified with Oracle Database 11g Release 2, such as the SAP ERP application and SAP NetWeaver Business Warehouse, can now be deployed using the SPARC SuperCluster T4 4. Oracle also made sure to point out that "…the SPARC SuperCluster T4-4 provides an optimized platform for SAP environments that can reduce configuration times by up to 75 percent (1), reduce operating costs up to 50 percent(2), can improve query performance by up to 10x(3), and can improve daily data loading up to 4x(4)."
Long story short- While SAP and Oracle might not be BFFs just yet, they do seem to realize that their software has the potential to integrate very well. It will be interesting to whether this ushers is a new era of cooperation between Oracle and SAP… or not.
---
April 25, 2012 4:55 PM
The Collaborate show floor is always a fun one to check out. The Oracle users groups conference, taking place in Las Vegas, always has a few interesting things in the exhibit hall worth checking out. Here are a few of them:
Elephant cake. Yep, a cake made in the shape of an elephant. I didn't try any, but I heard it was pretty good.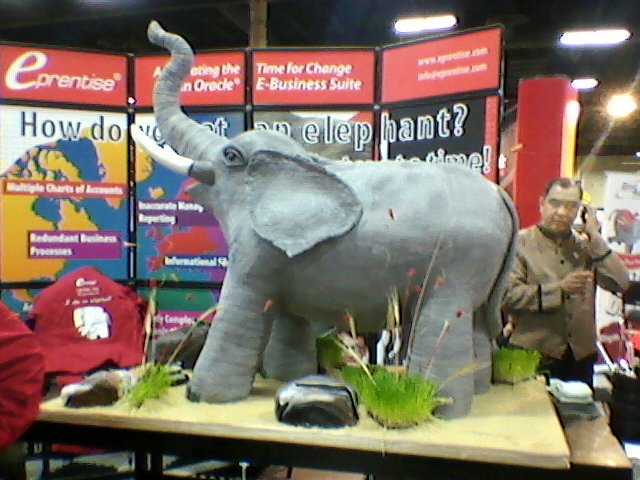 A big bin of Legos. Nice. Too bad my 3-year-old son isn't a conference attendee. I played with this for about five minutes. People building things with the Legos got a free T-shirt from the Independent Oracle Users Group (IOUG). Or you could get an apron too, if you wanted.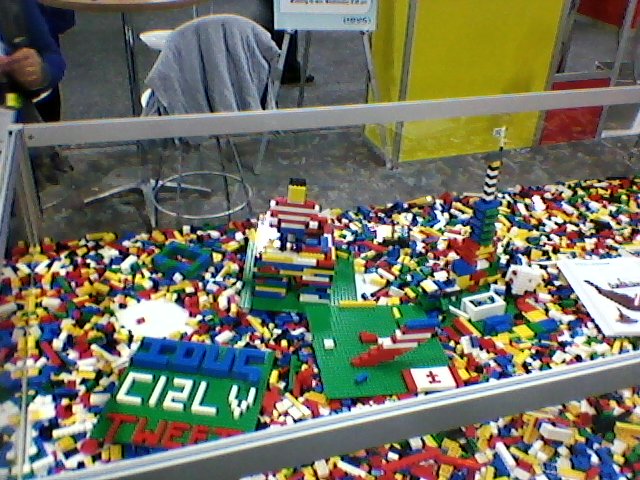 Some mini-golf. Most of these people were better putters than Tiger Woods has been lately.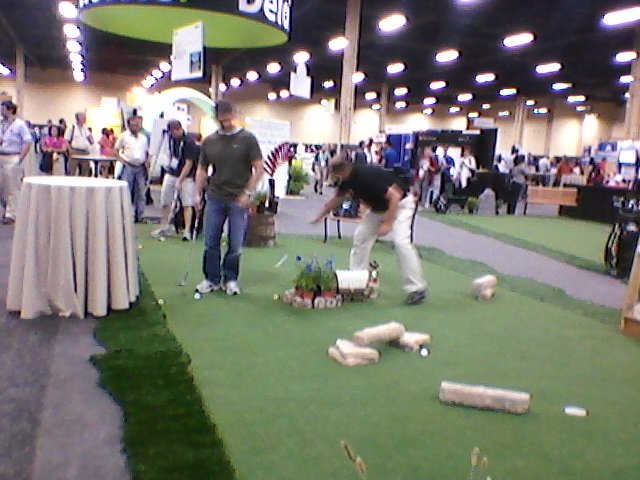 A little skee ball never hurt anyone. Too bad they didn't have the little ticket dispenser at the bottom though.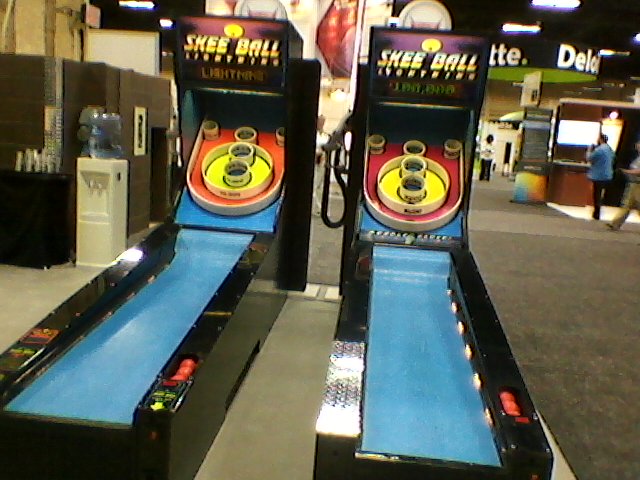 Want a tattoo? This guy was doing temporary tattoos that last five days. They have like 100 different designs.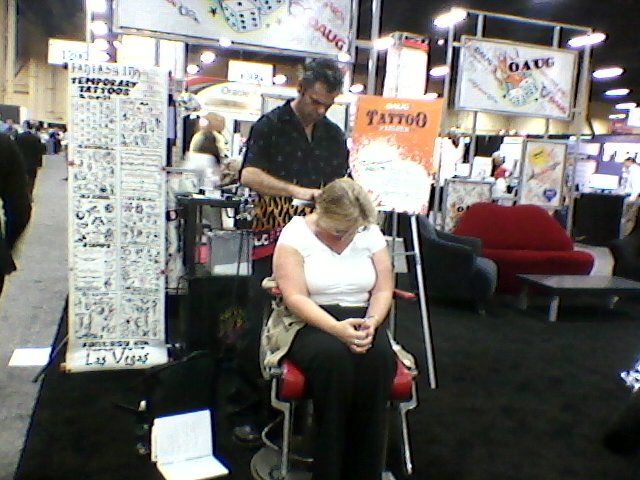 And yep, I got a tattoo. Can't wait until I show my wife. Let's just say I'm not going to tell her it's temporary right away. Looking forward the expression on her face.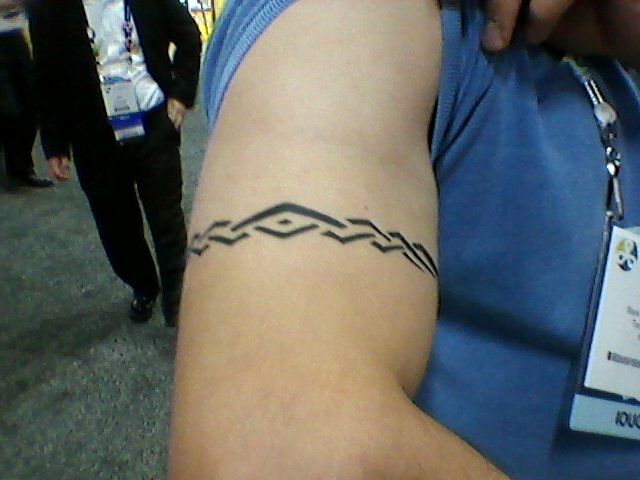 ---
April 24, 2012 5:31 PM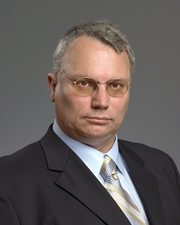 Mark Townsend, VP of product management for Oracle Database and a well-known figure in the Oracle Database user community, died suddenly April 13. He was 48.
Townsend had been with Oracle since 1991, and was known for having tight connections with Oracle Database end users. He was supportive of the Oracle ACE program and, according to some, was instrumental in helping Oracle Database Express Edition see the light of day.
I first heard about Townsend's death while sitting in on a session at Collaborate, the Oracle user group conference in Las Vegas this week. The session was "Oracle Database – Engineered for Innovation" and was scheduled to be given by Townsend. Independent Oracle Users Group (IOUG) President Andy Flower took the mic and told the audience that Townsend had died. Michael Timpanaro-Perrotta, director of product management for Oracle Database Cloud, gave the presentation in Townsend's place.
The night before, Townsend was honored by the IOUG during the user group's welcome session and social gathering. The IOUG had planned on presenting Townsend with the Ken Jacobs Award, given to one Oracle employee each year for their dedication to the user group community. Flower said that Townsend was "instrumental in nurturing the positive relationship" between the IOUG and Oracle. Jacobs received the award on behalf of Townsend and his family.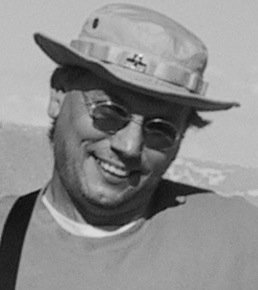 Townsend did know that he would receive the award before he died. In an email he sent to Flower, he wrote:
Wow – thanks very much. Not sure I can measure up to the great example set by Ken but genuinely very happy to receive thanks. Please send my thanks to the board – it is a pleasure to work with all of them. …we at Oracle appreciate all the hard work you all do on behalf of the Oracle users.
Townsend was involved with the Relay for Life within the American Cancer Society, and you can still donate to his cause.
---