---
May 24, 2007 8:46 AM
As a way of staking its leadership in the area, Oracle announced yesterday that over 100 commercial and open source applications are using its semantic Web technology. (Click here for a semantic Web tutorial.)
Here's how it works: developers build Java extensions to their applications, which use the Resource Description Framework (RDF) format to store data in Oracle Database 10g. RDF is natively supported by 10g.
It makes sense that Oracle would lay claim to the semantic Web — according to an article in Computerworld, "The Semantic Web is about giving users the ability to manipulate, connect and associate Web resources in new and powerful ways. It's a capability similar to that of the corporate workhorse, the relational database. The Semantic Web is about taking the relational database and 'webbing it.'" According to Oracle's own "Semantic Technology Center" Web page, "Semantic Technologies are designed to extend the capabilities of information on the Web and enterprise systems to be networked in meaningful ways."
It may be up for debate whether the Oracle DBMS is truly "relational," but clearly, Oracle's party line is that it is, so naturally the company feels fit to apply these same principles to the Internet, bringing us a little closer to the vision of Web 2.0.
Click here to listen to a podcast interview with Jim Murphy of AMR Research about Oracle's Web 2.0 aspirations. Oracle is betting that blogs, wikis and related emerging technologies will profoundly change the enterprise. Murphy talks about the new WebCenter Suite, how SAP and IBM are approaching Web 2.0 and more.
-Elisa
May 23, 2007 8:35 AM
Business Day is reporting that the early exit of BMW Oracle from the America's Cup could be good news for Alinghi, the defending champions from Switzerland.
Although Larry Ellison's team had been considered a favorite, BMW Oracle lost to Italian team Luna Rossa 5-1 this past Sunday in the Louis Vuitton Cup semifinals. As a result, Alinghi won't have to face Ellison's team in next month's final.
According to the report, BMW Oracle's performance against the Italians was "flat," despite the team's strong desire to bring the Cup back to the U.S. and it's strong financial backing of about $270 million.
Better luck next time guys.
— Mark Brunelli
---
May 22, 2007 10:44 AM
We have a new expert on SearchOracle.com: Michael J. Hillenbrand has just joined our "Ask the Expert" team and will be answering questions in the new category "Managing an Oracle shop." We've never had an expert taking management-level questions before (and most other Oracle forums on the Web focus on technical topics), so we're excited to be able to offer his expertise, and he's excited about providing content. If you've had questions about Oracle management on your mind – for instance, about outsourcing, compliance, market analysis or data center management – hit us with those questions now!
A little more about Michael: He directs and manages the AES Select Outsourcing group at Access Enterprise Solutions. AES is an information technology services organization providing its national client base with ERP functional expertise (Oracle and PeopleSoft), business and technology consulting, remote database support and select IT staff augmentation services. As director, Michael is responsible for defining processes and procedures, assisting with sales and marketing efforts, defining and governing service levels, and ensuring continued quality and success for AES Select customers.
Michael began his career as a DBA with US Steel and then moved on to manage the corporate Oracle DBA team at Alcoa. For the last 10 years Michael has been leading remote support efforts. Having been in a leadership role throughout most of his 20+ year career, Michael has hired and managed over 50 DBAs and supported well over 100 clients. Michael's specialties include best practices (ITIL Foundations Certified), quality improvement and daily operations. Michael also has a strong background in database support, including Oracle (OCP Certified), SQL Server and DB2.
Send Michael your toughest management questions and we'll post them on SearchOracle.com.
Thanks,
Elisa
---
May 21, 2007 11:08 AM
In recent months, Oracle has been bragging about its thirty years of innovation, beginning with its debut in 1977 as the "first SQL relational database management system. The time-line begins like this:
1977 – Software Development Laboratories, the precursor to Oracle, is founded by Larry Ellison, Bob Miner, and Ed Oates.
1978 – Oracle Version 1, written in assembly language, runs on PDP-11 under RSX, in 128K of memory.
1979 – Oracle Version 2, the first commercial SQL relational database management system, is released. The company changes its name to Relational Software Inc.
. . . and so on. At last month's Collaborate show, Oracle's "Dr. DBA" Ken Jacobs acknowledged Oracle's debt to the relational model pioneer Ted Codd.
However, some commentators have always argued that the Oracle DBMS doesn't really conform very well to the relational model or standard SQL at all. I recently came across an old — but still relevant — thread rant by "striebs" that outlined some Oracle violations:
"ROWID and ROWNUM extensions: ROWID is a transient identifier of a row of a base table, which happens to correspond to the address of the physical representation of the row (storage). So what does Oracle hope to achieve (other than performance) by exposing an implementation detail from the physical data model through the logical data model? . . . Now here is the key point: is it better to provide extensions to allow processing of individual duplicated rows or would it have been better to outlaw duplicate rows by insisting each table has a key? The features that provide row-level processing just do not incentivise people to elevate their thinking to consider sets of data rather than individual objects and this is holding data management back.
"Constraint support: Did you know that a constraint is any condition you can think of which must evaluate to true (in binary logic) in order for an update of the database to be plausible? . . . [Does anybody really] think that Oracle constraint support is adequate as it stands?
"Data types and domain support: In Oracle, user-defined datatypes are difficult to define and use. Wouldn't you like to be able to do rudimentary things simply like define a datatype of country_code based on a built-in datatype such as varchar2(2) and then add a column to a table — like ADD (nationality TYPE country_code NOT NULL) — and be able to deal with it as conveniently as if it has been defined as VARCHAR2(2)?"
Don Burleson wrote an interesting article about how Oracle departs from the relational model, citing the debate about Codd and Date's "omission of physical storage in their relational model." He writes:
Oracle officially changed their data definition language (DDL) in the 1990's to allow the Oracle DBA to physically sequence table rows (to improve runtime SQL performance) by allowing "create table as select" syntax to include the "order by" clause. Since then, Oracle has incorporated many physical storage features into their object-relational model, introducing cluster tables, the index-organized table (IOT), and the Oracle 10g sorted hash cluster table structure.
Of course, Don notes that the relational model says nothing about physical storage on purpose, since it is specifically designed to separate the logical from the physical. 
Indeed, Date and his colleagues would call Oracle an "SQL DBMS," not a relational DBMS. What do you think? Does Oracle deserve its reputation as a relational model innovator? Or was it never meant to be a "pure" RDBMS, but rather an object-relational DBMS?
 Cheers, Tim
---
May 16, 2007 9:42 AM
A news story we posted last week about Oracle's new Audit Vault software generated a strongly worded response from Cliff Pollan, the CEO of Lumigent, one of Oracle's competitors in the governance, risk and compliance (GRC) market.  Thankfully, the response was directed at Oracle, rather than yours truly, as I'm very fragile.
Here's what Pollan had to say:
"The release of Oracle Audit Vault comes as no surprise to the database auditing and compliance marketplace as Oracle has been discussing this project for almost a year. But this offering is quite limited in both features and scope. Audit Vault is a 1.0 release in a mature market and can only be used for a subset of Oracle databases. It does not address the number one concern of enterprise customers – the need to audit in a multi-vendor environment. Strategic applications span a variety of database systems including not only Oracle but also IBM, Microsoft and Sybase. Sophisticated customers have moved well past these basics and are now implementing solutions that leverage the audit repositories to build a sustainable compliance process. Most feel a high degree of urgency and I am not sure they have time to wait until Oracle can provide the depth of functionality that is needed now."
Now, back on my middle school playground, those were fighting words. But what really jumped out at me about this quote had to do with the fact that we reported that Oracle plans to widen Audit Vault's support for non-Oracle systems sometime within the next year. So I brought this to Pollan's attention and he had this to add:
"For over five years, Lumigent has been hearing from our installed base of more than 500 clients of the critical need for multi-vendor support in their auditing, compliance and security. Users appreciate an independent vendor who has made the flexibility of multi-vendor support a priority. Oracle's Audit Vault does not provide this today, and Oracle has not been clear on exactly how they plan to support non-Oracle databases on their own in the future."
Does Pollan have a point? Let us know.
 — Mark Brunelli, News Editor 
---
May 15, 2007 12:04 PM
The topic of SQL development tools is consistently a hugely popular one both here on the blog and on SearchOracle.com. (See "Oracle unveils free SQL Developer: Has Toad met its match?" and "Oracle SQL Developer vs. Toad: Users speak out" for examples.)
For yet another take on this issue, check out Patrick Wolf's blog entry titled "What is your favorite PL/SQL development environment?"
Patrick's is PL/SQL Developer from Allround Automtations. Why does he prefer this editor to Toad or SQL Developer? Because, he says, it's focused on PL/SQL development. What makes it different from the other tools is "the code complete/code insight/auto complete" capability. While Toad and SQL Developer also have this feature, it's basic and only works for tables and views, whereas PL/SQL Developer's equivalent works for local variables, packages, procedures, parameters and so on, a big time-saver.
Patrick concedes that DBAs will probably always prefer Toad/SQL Developer, but he urges PL/SQL developers to try out this tool.
Developers, what are your thoughts on SQL Developer vs. PL/SQL Developer?
-Elisa
---
May 10, 2007 8:21 AM
Larry Ellison was not always a billionaire yachtsman and playboy, living life in the database fast lane. He was once a geek! This photo offers proof. (Is that actually a pocket protector?)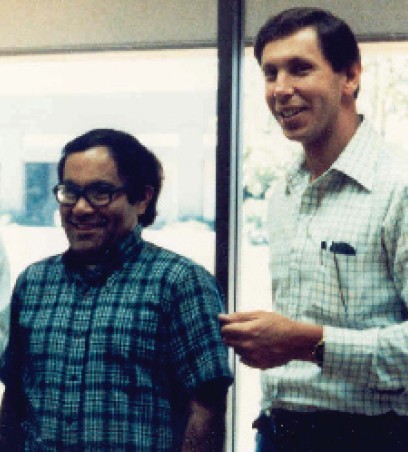 If you're wondering, the even geekier guy on the left is Bob Miner, one of Oracle's founders in 1977. 
Cheers, Tim
---
May 9, 2007 9:20 AM
Oracle last month released a bunch of patches — 36 to be exact — for security problems dating all the way back to 2002. But according to David Litchfield of NGS Software, there are 39 more issues, many of which are high risk, that still need to be addressed.
In a white paper on NGS's Web site, Litchfield wrote:
"This brief discusses the database flaws and EM01 which relates to the Intelligent Agent. Many of the flaws being patched are old issues. For example, DB01 relates to an issue first reported to Oracle in 2002 and another in June 2004. This may indicate that Oracle are now in a position where they can "clear the backlog" indicating that most of the more important flaws have been found and patched. If this is correct then we should see smaller patches being released in future CPUs."
A blogger on IT Security had this to say:
"Last Fall, Oracle began assigning risk ratings to its vulnerabilities. Those reported by Lichtfield and his colleagues rate no higher than 4.2 on a scale based at 7.0. Four of the flaws are rated 0.0, and the company says these are not exploitable in a default database environment."
Oracle's next critical patch update is slated for July 17th.
 — Mark Brunelli
---
May 9, 2007 8:52 AM
Over at SearchOracle.com, we've been going over a lot of reader feedback lately, looking for ways to improve the site and better meet our readers' needs. Many of you have identified upgrades as one of your biggest job challenges—keeping up with the latest database and applications versions and patches takes a lot of time and effort. Our installation, upgrades and patches expert Maria Anderson answers dozens of questions every month on this topic. We're also working on compiling a learning guide to further help you through the upgrade process.
For those of you considering an Oracle Application Server upgrade, check out Steven Chan's Oracle 10g AS upgrade paths. Chan provides his personal "cheatsheet diagrams" to help you distinguish between the various AS releases, along with a key on how to read them.
Enjoy,
Elisa
p.s. Another update on the OTN blogs—the network now has a semantic web feature allowing for better navigation. Blogs are now organized by topic, date and author. One design snag: the button that takes you to the next page of recent entries is above the most recent 10 instead of below them. Makes for unnecessary scrolling.
---
May 8, 2007 1:57 PM
The Oracle job market has always been ridiculously competitive, but now there is some good news — at least for those who already have a job. 
Information Week recently did a detailed survey of IT salaries and found some interesting trends.
First, base salaries are edging up for the first time in three years, and non-managerial data management pros are at the top of the list. For example, the median data mining and data warehousing salary is up to $93,000, and the median enterprise application integration salary is $114,000. ERP, security and database development specialists are also in the top 10. Raises are up 3.6% and bonuses rose as well, to 5%.
Not bad, but back in the dot-com bubble days the average manager got a whopping 18% bonus. Beggars can't be choosers, however!
Would you like some advice about how to get one of these lucrative Oracle jobs? Our guide to finding and keeping an Oracle job provides tips and advice to help you stand out from the hundreds of other Oracle job seekers.
Of course, finding a job and collecting the paycheck is one thing; becoming a competent Oracle DBA that deserves a raise is quite another! That's a topic for another post, however.
Tim
---