---
August 2, 2012 4:31 PM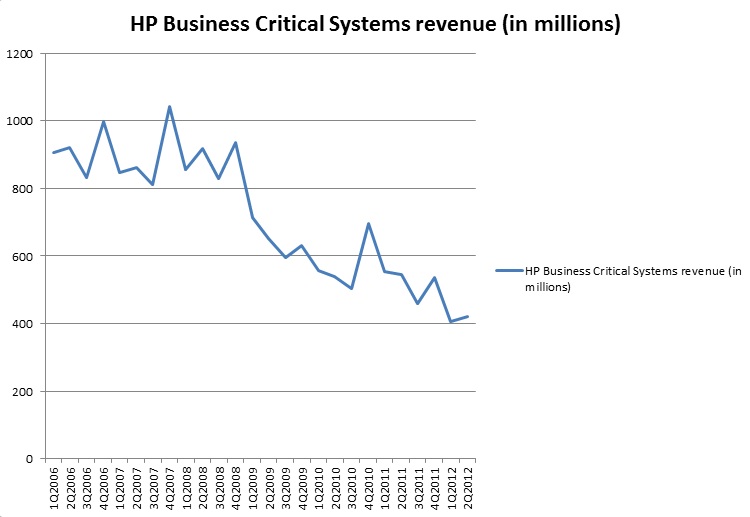 By now you have probably heard that a judge ruled in favor of HP in the HP v. Oracle lawsuit. HP sued Oracle for pulling software support for Intel's Itanium platform. HP is by far the largest maker of Itanium-based servers, and claimed that it had an agreement with Oracle to continue support. The judge agreed.
Both companies issued statements on the decision. First, what HP said:
Today's proposed ruling is a tremendous win for HP and its customers. The Superior Court of the State of California, Santa Clara County, has confirmed the existence of a contract between HP and Oracle that requires Oracle to port its software products to HP's Itanium-based servers. We expect Oracle to comply with its contractual obligation as ordered by the Court.
Oracle's response, in stating that it would appeal the decision:
Last March, Oracle made an engineering decision to stop future software development on the Itanium chip.  We made the decision as we became convinced that Itanium was approaching its end of life and we explained our rationale to customers here:  www.oracle.com/itanium.  Nothing in the Court's preliminary opinion changes that fact.  We know that Oracle did not give up its fundamental right to make platform engineering decisions in the 27 words HP cites from the settlement of an unrelated employment agreement.  HP's argument turns the concept of Silicon Valley 'partnerships' upside down.   We plan to appeal the Court's ruling while fully litigating our cross claims that HP misled both its partners and customers.
According to the decision, Oracle now must start supporting Itanium servers again, or face the consequences. What those consequences might be in terms of dollar values will likely be a hot topic of debate, especially with HP demanding $4 billion. HP claims that Oracle's decision stripped HP of potential revenue, scaring customers away from the Itanium platform.
The real question here is whether Oracle's announcement hastened the demise of Itanium. Itanium-based servers, as well as other RISC/Unix-based servers, have long been on a slow decline as x86 servers have become the standard. HP's Itanium servers are under its Business Critical Systems unit. In its federal Securities and Exchange Commission (SEC) filings, HP breaks out its Business Critical Systems revenue. The decline has been trending down for some time now, and it doesn't look like it's any steeper of a drop after Oracle made its announcement in March 2011 that it would stop support of Itanium.
July 25, 2012 12:37 PM
A division of the Better Business Bureau has recommended that Oracle pull an ad suggesting that its Exadata Database  Machine is 20 times faster than IBM Power-based servers.
IBM filed a complaint with the National Advertising Division (NAD) over the ad, which detailed a European retailer's move from IBM Power to Oracle Exadata. Oracle claimed that the ad was meant to highlight one particular customer's results, but NAD found that it was reasonable to infer that it referred to Exadata and IBM Power more broadly. A cached version of the page that the ad was on detailed the retailer's database consolidation project onto a single Exadata machine. The ad itself is to the right (courtesy of Wired).
A full-page version of the ad ran in The Wall Street Journal with big lettering at the top that said "Exadata 20x faster replaces IBM again." That was the main issue IBM and NAD had with the ad.
Oracle plans on appealing the decision to the National Advertising Review Board, according to NAD. According to a statement, Oracle said it was "disappointed with the NAD's decision in this matter, which it believes is unduly broad and will severely limit the ability to run truthful comparative advertising, not only for Oracle but for others in the commercial hardware and software industry."
This isn't the only time Oracle has been chided by NAD. Back in April, due to yet another complaint from IBM, NAD recommended that Oracle pull an ad related to its Sparc servers. The ad, which also ran in The Wall Street Journal as well as other publications such as The Economist, compared the Sparc Supercluster to a big IBM Power server. NAD found that claims in the ad – which included better performance and cheaper price – were not supported well enough in the information provided in the disclosure.
Does this mean that publications such as The Wall Street Journal should do more due diligence in determing the veracity of advertiser's claims, especially when they are competitive claims?
---
July 21, 2012 10:33 AM
Oracle will retire the My Oracle Support Flash interface on Aug. 10.
The company made the announcement to Support customers on Friday afternoon in a note from Dennis Reno, VP, Customer Portal Experience. Oracle has been updating the HTML user interface of Oracle Support, and advising customers to move over there as soon as possible.
Oracle launched the Flash interface three years ago, but it was soon met with dismay from many Oracle Support customers, who said it was clunky and buggy. Shortly after Oracle began offering Flash and HTML interfaces side-by-side. But now, much like Apple on the consumer side, Oracle is moving away from Flash.
Reno wrote in his note that there will be a countdown banner on the My Oracle Support login page indicating when the Flash interface will go out of service. There is no need to re-register, as Oracle Support users' names and passwords will remain the same, and they will be automatically redirected to the HTML site on Aug. 10.
One important note is that the HTML interface will only support Internet Explorer 7 or newer versions — Internet Explorer 6 will not be supported. Other supported browsers include Mozilla Firefox 3 and newer, Safari 3.1.2 and newer and Chrome 5 and newer. An Oracle Support note has more details.
---
July 19, 2012 3:34 PM
Oracle's having a busy week. Instead of their usual legal fracases, they seem to actually be getting some work done.
First, they announced their first scalable, entry level tape library, the Oracle StorageTek SL150. It's targeted at small-to-medium sized businesses with remote offices, and will be replacing SL24, SL48 (which were both entry-level libraries) and the SL500 (which was midrange). The tape hardware is StorageTek, but the SL150 runs on Oracle's Fusion Middleware Software. It's also designed so end users can install it themselves. This is an exciting development in both the midmarket and storage parts of Oracle's business.
In other news, Oracle released 78 security patches as a part of its Critical Patch Update (CPU) advisory for July, and the general consensus seems to be that it was about time. Of one of the vulnerabilities in Oracle JRockit, Marcus Carey, security researcher at Rapid7, said, "This is like a perfect storm… You can access it over multiple protocols, and it opens you up to remote exploits without a password. It can be accessed across the network unless there is an access controller in the middle to block the attempt. And, the attacker can get control over the full range of data. So this would, in essence, be 'game over.'"
So, you heard it here- If you don't want your game to be over, download those security patches! Oracle usually deploys its security patch updates every three months; the next one is expected in October.
Also, Oracle published the results of a study they did where they found most organizations are woefully unprepared for the deluge of big data many companies are experiencing. The study was based on a survey of 333 American and Canadian C-Level execs from 11 different industries. On a whole, the public sector, utilities and healthcare were the least prepared, while communications, manufacturing and retail leaders generally reported feeling fairly prepared.
Well, it's been another exciting week, with mostly good, upbeat news for once. Don't worry, folks- This is Oracle, it can't last for long.
---
July 11, 2012 8:06 PM
Ever go on a shopping binge?
One day, you're totally cool just owning a PC and a boring, regular old flip phone. The next day, you simply must have the latest MacBook Pro (the one with retina display!), an iPad, and an iPhone. Along with that, you decide to throw in iWork to help your productivity (even though this isn't a work computer, you tell yourself you'll start doing monthly household budget spreadsheets to justify the purchase), an Apple Magic Mouse and some badass $500 speakers while we're at it. Before you know it, you have a home tech suite that's the envy of all your friends overnight, but are wondering if you made good purchasing choices. Yeah, you can afford it and you work hard and deserve to treat yourself- But did you really need all that stuff?
I used tech supplies as an example (this being ostensibly a tech blog, after all), but this can happen with just about any sort of product- kitchen tools, pet accessories, Swedish furniture. My personal weaknesses are vintage books and Lush bath products- If I even walk into a shop that sells either, it's pretty much a given that I won't leave without dropping at least $50.
Oracle seems to be doing the corporate, big business version of this. It was announced yesterday that they purchased Involver, yet another social media firm.  Including Involver, Oracle will have purchased three social media firms this year (Virtue and Collective Intellect being the other two). We can speculate that their motivation is to acquire the skills and technologies necessary to move into the social media game (something even well-established, otherwise successful firms have found difficult to do)- But at the end of Oracle's shopping spree, will Oracle be like me getting home from a trip to the used book store, wondering just what they'll do with all the stuff they just bought (did I really need that 19th century French copy of The Count of Monte Cristo? I can hardly read French…)? Or will they find clever uses for all their acquisitions? Stay tuned…
---
July 5, 2012 4:53 PM
Another day, another court ruling not in Oracle's favor when it comes to intellectual property laws. This time, Europe's highest court has decided that Oracle cannot prevent a German retailer, UsedSoft, from reselling used licenses and software the original buyer no longer wants. "Even if the license agreement prohibits a further transfer the rightholder can no longer oppose the resale of that copy," said the Luxembourg court. While the matter still has to be resolved by judges in UsedSoft's native Germany, they will very likely follow Luxembourg's ruling.
Apparently, there is no such thing as used software (or so says the EU).
This comes very soon after Oracle's loss against Google regarding whether or not you can copyright an API
.
Do courts just not like Oracle? Have the planets aligned in just the wrong way to start messing with Larry Ellison's mojo?
In my opinion, Oracle has finally overreached its infamously legalistic policies and is getting bitten for their miscalculations. Their salad days of suing people may be over… On the IP front, anyway.
---
July 2, 2012 1:04 PM
Dell sent out an advisory this morning saying that it intends to buy Quest Software, the maker of the popular third-party Oracle database development tool called Toad.
As it turns out, the "strategic bidder" referenced to in recent Quest financial filings with the federal government is indeed Dell. Those papers, filed with the Security and Exchange Commission, said the bidder planned on buying Quest for $27.50 per share, or more than $2 billion total. Quest provides database tools for other platforms as well, such as IBM DB2 and MySQL.
Dell will hold a conference call at 11 a.m. Eastern this morning. In on the call will be Dave Johnson, Dell senior vice president of corporate strategy; John Swainson, president of Dell software; and Scott Davidson, chief financial officer of Quest. In its advisory, Dell referred to Quest as "an award-winning IT management software provider offering a broad selection of solutions that solve the most common and most challenging IT problems."
Dell is most well-known for selling consumer desktops and laptops, as well as small x86 servers for the data center. But it has reached into its pockets several times in the past few years to acquire software companies known for their work with enterprise customers. The streak began with its purchase of Perot Systems for almost $4 billion back in 2009. Perot was known for applications development and systems integration. Other purchases have included systems management company KACE Networks, storage/backup companies Compellent and AppAssure, security company SonicWall, thin-client company Wyse Technologies, and Clerity Solutions, known for its mainframe migration and application rehosting.
---
June 29, 2012 2:38 PM
Remember the old "You Will" ad campaign of 1993-1994 from AT&T? "Have you ever driven across the continent without asking directions? Put your kid to bed from a phone booth? Attended a corporate meeting from the beach while buried in the sand? You will."
In a move eerily reminiscent of ye olde marketing campaign of yore, Oracle's most recent Oracle Partner Event was completely virtual.  A series of webcasts Oracle partners could watch from the comfort of their bedrooms, living rooms, toilets or yes, the beach, Oracle compared it to a summer blockbuster and encouraged the audience to "grab a box of candy" to kick back with while taking in the info.
As anyone who regularly works from home can tell you, there's something about working from your bedroom that inherently makes it feel less formal. Time was, you whispered softly your questionable comments to your nearest coworkers- In the day of the virtual peanut gallery, however, you tweet them loud and proud for everyone to see. While there was a fairly consistent cast of twittering characters, the most prolific seemed to be Oracle partner Albert Peng, @apprunstheworld.
Maybe I'm alone on this, but this seems like a very odd "the future is now" moment to me. There's something very meta about the idea of hundreds of Oracle partners worldwide sitting at home, (possibly in shorts and T-shirts) watching the broadcast "together," tweeting their thoughts and IMing each other their snarky comments. One way or the other, I've got to hand it to Oracle- it's a great way to save money (no need for hotels or flights) while ensuring maximum attendance by their partners. This is a great way to ensure that Oracle has enough resources to focus on what really matters.
---
June 26, 2012 1:57 PM
Many Oracle database administrators know Quest Software as the company that produces Toad, the popular third-party Oracle Database management tool. So how does it make sense that Dell, maker of desktops and laptops and pizza-box servers, might acquire it?
Those DBAs might feel a little better to know that if Dell were to acquire Quest, it wouldn't be a one-off purchase. Dell is focused on boosting its enterprise software portfolio, and getting Quest would be part of that strategy. However, it's still too early to tell whether that strategy by Dell is working, or will work in the future.
Quest Software filed papers with the federal Securities and Exchange Commission this week stating that a "strategic bidder" has proposed to buy Quest for $27.50 per share, or more than $2 billion total. Reuters, citing an unnamed source, reported that Dell was that strategic bidder. Neither Quest nor Dell would confirm the Reuters report, with a Quest spokesperson saying the company wouldn't comment for now beyond the SEC filings, and a Dell spokesperson writing in an email that Dell would not comment on "speculation."
Dell is most well-known for selling consumer desktops and laptops, as well as small x86 servers for the data center. But it has reached into its pockets several times in the past few years to acquire software companies known for their work with enterprise customers. The streak began with its purchase of Perot Systems for almost $4 billion back in 2009. Perot was known for applications development and systems integration. Other purchases have included systems management company KACE Networks, storage/backup companies Compellent and AppAssure, security company SonicWall, thin-client company Wyse Technologies, and Clerity Solutions, known for its mainframe migration and application rehosting.
 "Our commitment to build a broader set of end-to-end solutions and shift the mix of our business continues to be our top priority, and we're making progress," Dell Chief Financial Officer Brian Gladden said during the company's most recent quarterly earnings call. "Our mix of enterprise solutions and services is now 50 percent of our margin, and 31 percent of our revenue."
That's a pretty significant cut of the company, and a marker that Dell really is focused on the enterprise. Dell is one of the top volume sellers of servers, so it already has its foot in the door of many enterprise data centers. The question is whether it can transform its own reputation enough so that customers will move beyond hardware and buy enterprise software from Dell.
---
June 21, 2012 2:49 PM
Hewlett-Packard was scared. Terrified. Trembling. And why shouldn't they have been, after seeing what happened to Sun only months before?
That was the corporate reaction, apparently, when Hewlett-Packard leaders heard of Oracle hiring Mark Hurd. They immediately assumed the worst- a hostile takeover in the works, with Oracle being hostile and them being taken over. Oracle's reaction?
"I said, 'Are you kidding me?'" says Dorian Daley, Oracle's senior vice president, general counsel and secretary, who had been a key player in the negotiations with HP. In the immediate wake of this, both HP and Oracle sought to make a quick agreement to preserve the peace, generally called the Hurd Agreement. The most important piece of the agreement? That Oracle could not move forward with any takeover bids for a certain period of time. Apparently thrown in there as well was that Oracle would continue supporting HP's Itanium chips. And that, my friends, is the core of the HP and Oracle trial.
On the other hand, Oracle co-President Safra Catz claims she was "shocked" when she heard about the HP suit. After her conversation with then-Hewlett Packard Vice President Ann Livermore, she'd thought the agreement between the corporations was crystal clear, and the Itanium topic was "out of place" with the business they were discussing.
This all has been revealed during the ongoing HP-Oracle trial, which is scheduled for completion on June 25.  And thank goodness. The suspense is killing us. Seriously, can this get any more melodramatic?
---