---
June 30, 2010 5:03 PM
New research findings from Rimini Street help validate something that Oracle will not be happy to hear: Oracle customers who use third-party support experience ongoing savings, both in terms of material cost and organizational efficiency.
The third-party support provider recently conducted an independent research project with Nucleus Research that compared Rimini Street support to software vendor annual support.  The resulting report, "Benefits from Third-Party Support: Rimini Street," highlighted how Rimini Street gives customers benefits such as improved support and reduced upgrade costs.
This seems to be something the majority of customers already know. In March, a report from analyst Ray Wang revealed a 113.8% increase in interest in third-party support from Q3 2009 to Q1 2010, with Oracle users expressing the most interest in it.
The Rimini Street study, however, included specific candid responses from Rimini Street customers about their experiences with third-party support, such as:
""We were paying $2,750,000 and now we're paying $750,000, so we save about $2 million."
But if Oracle is worried about losing its customers to third-party support, could they simply lower their 22% annual fees?  This is something many users wonder — especially when they don't feel they are getting what they pay for — but with Oracle reporting a 90% profit margin on maintenance services, it seems unlikely.
Oracle's support policies are not changing with the Sun acquisition, either.  The software giant announced in March that it was clamping down on Sun support contracts, requiring Sun customers to get their contracts in order with Oracle for their hardware.  One customer admitted that Sun's service pricing model was "horrible," but wasn't sure if Oracle's would be any better.
In his view, Oracle's approach looks to be easier to administer but (and this is a big, bad but), customers may not care how easy it is if their support costs go through the roof.
How far will Oracle continue to go to weed out third-party support providers? And how far will customers go to continue to seek them out?
June 23, 2010 4:27 PM
Web-based application development is continuing to grow in popularity as developers search for cheaper ways to build apps and tools to help them.  At SearchOracle.com we recently examined four emerging Web development tools — Toad V10, Alpha Five V10, Oracle Application Express (APEX) and RAD Studio 2010 – and looked at their strengths and weaknesses.
Today, an update was announced on one of these tools. Oracle is giving APEX a Web 2.0 Boost, allowing developers to add some flash to their Web 2.0 applications in what one Oracle executive calls "the most significant release to date."
APEX, which we touted for its ease of use and depth of features, now includes a new tool called Dyanmic Actions.  Developers can use this library of AJAX functionality to make their Web pages more interactive, with show/hide and type-ahead capabilities.
Oracle APEX 4.0 will also include a wizard to communicate with REST (representational state transfer) data sources from within an application, and improved themes and interfaces that work with XHTML and CSS standards.
According to Oracle's press release on Oracle APEX 4.0, other new features and capabilities include plug-ins that will allow developers to incorporate custom components; Websheets that help share content and data on the Web; and the ability of developers to build and deploy applications using only a Web browser.
Which Web development tools do you use, and what do you think about them?
---
June 22, 2010 1:58 PM
The era of running Solaris on alternative x86 platforms looks like it's slowly coming to an end.
HP recently sent a letter to customers saying that Oracle was yanking HP's Solaris support agreement. In addition, HP announced that it would not certify or support Solaris on its newest x86 ProLiant servers, the G7 line. Both bits of news indicate that the days of running Solaris on x86 gear that isn't Oracle/Sun will become more rare as the years go by.
Back when Sun Microsystems was its own company, it made a serious push to run Solaris and OpenSolaris on as many platforms as possible – other x86 server hardware, for instance, and even on the mainframe. But now that Oracle has control of Sun, it seems as if Oracle wants Solaris to run on its own hardware, or not at all. At the very least, Oracle doesn't want HP gaining profits by providing technical support for Solaris.
According to the letter HP sent to customers and which The Register got a copy of from a reader, HP support renewals for Solaris on ProLiant hardware will be allowed until July 1.
"As you may have heard, Oracle has exercised its right to terminate HP's Solaris technical support agreement," the letter reads. "If you have purchased Solaris 10 Subscriptions and Software Technical Support for HP ProLiant servers from HP, then you will continue to receive subscription support from Oracle and technical support from HP for the period of your contract. You will be able to purchase 1 and 3 year Solaris 10 Subscriptions and Support from HP until July1, 2010. No renewals will be accepted after this date. HP will deliver technical support through June 30, 2013. After that date, HP will no longer be in a position to provide Solaris technical support."
A few years ago when Sun announced an agreement with IBM to run and support Solaris on x86 and the mainframe, Sun CEO Jonathan Schwartz did say their relationship with HP was at "arm's length." So perhaps support for Solaris will only die a quick death on HP x86 gear. The Register story did discover that Dell's OEM support agreement remains intact, but there is no word on the situation with IBM and Fujitsu.
---
June 16, 2010 3:45 PM
The last person who would want to hear 'Sun acquisition' and 'fail' in the same sentence is Larry Ellison.  But if revelations continue to emerge about the possibility of the Sun merger not being the success Ellison had planned for, it may be hard for him to avoid.
Larry is no newcomer to acquisitions — or successful ones either.  But the way that Oracle's CEO gauges an acquisition's success is likely in many ways different than how his employees and customers see it.
Last week, Oracle announced that Oracle would be cutting more Sun jobs than it had originally stated in its Sun restructuring plan back in February.  The fact that Larry is going against his original claims now puts his credibility – and his purposes for the Sun acquisition – into question.
Blogger Rob Enderle thinks that Larry's miscalculation about layoffs is signifying a larger problem. "It speaks to how difficult the Sun acquisition is proving to be and raises the specter that it might actually visibly fail" he writes in his recent post, "Is Snorkel (Sun and Oracle) sinking?"
But just like Larry, Enderle knows a thing or two about acquisitions. He used to run a post-merger clean up team for IBM, and has seen what causes most mergers to fail (the majority of which do, he writes).  Enderle discusses three key merger problems that are contributing to the downfall of Sun and Oracle: due diligence, inadequate merger plan and image maintenance.
When it comes to image maintenance, Enderle says that organizations and executives often cover up problems with the merger to protect their image. At some point, however, the problems emerge, and usually at the point when they are much worse than they were to begin with.
This is what happened with the recent layoffs, Enderle writes. After making an initial announcement that Sun employees would not have to worry about layoffs, this layoff announcement and subsequent actions were delayed, incurring extra costs.
According to Enderle, this is only the beginning:
If this is happening in one area, it is likely happening in others as well. Layoffs of this scale typically have a lagging impact on the performance of a firm as processes and relationships that depend on these ex-Sun employees degrade across the firm. This suggests that the Sun-Oracle merger is in deep trouble.
What do you think about the current state of Oracle/Sun? Do you agree with Enderle and think there are existing problems that have not yet emerged? Any predictions?
---
June 9, 2010 2:23 PM
Eric Guyer with Forsythe Solutions Group writes about Oracle's biggest science experiment to date — the acquisition of Sun Microsystems. And he doesn't consider that to be a good thing for Oracle.
"First of all, hardware maintenance isn't as lucrative or perpetual, so the economics will break Oracle's profitability model," he wrote. "On the front end of build and sell, Oracle will have to out-Dell Dell—the industry leader in building commodity servers—by multiples upon multiples to consider any hardware line successful in comparison to traditional software."
Considering Oracle's push into Sparc-based hardware rather than x86 commodity servers, I don't see the company being able to out-Dell Dell at any point. Rather, it seems as if Oracle will pare down Sun to profitability and push high-margin hardware such as Exadata and other big Sparc boxes.
Guyer says that Oracle's profit model for software includes online downloads and trials, followed by pricey charges when key features go into production. As Guyer notes, hardware cannot be downloaded and so Oracle must adjust its sales model to accommodate the Sun acquisition.
Back when Sun was on its own, it offered a plethora of "try and buy" offers where customers could play with the hardware for 60-90 days to see if they liked it. If they did, they bought it. If not, they returned it. Sun paid shipping costs both ways. That program ended Dec. 18, according to the Sun Try and Buy website.
"The not-so-funny joke over the last several months has been that Oracle offers a buy-and-try on Exadata, direct-only to customers, including a strict no-return policy," Guyer wrote. "Oracle claims that demand has outpaced production, resulting in a $1B pipeline and inability to ship units without signed purchase orders."
We'll see how that works. Is there anyone out there who has bought hardware from Oracle and wants to tell us about it? Comment here or drop me a line.
---
June 3, 2010 2:19 PM

New Independent Oracle Users Group (IOUG) President Andrew Flower just took the reins this spring at the group's Collaborate conference. Flower, a vice president at data consultancy Logan Britton, takes over for Ian Abramson and will lead the 20,000-member IOUG for at least a year. Here's what he had to say about the future of IOUG and Oracle.

What is something the IOUG needs to do in the next three years?
We need to continue to embrace and coalesce around the expanding Oracle community. Oracle is growing in a number of directions and our expertise is database professionals, so we need to continue to represent our core constituency and continue to advance.
So with Oracle constantly expanding, how does the IOUG decide on what areas to cover?
It starts with our core membership which is technology and database professionals. We don't really pursue those application acquisitions. Hyperion, for example, some components were database specific, like Essbase. With the Sun acquisition one of the things that is important to our membership is MySQL, because many of our members are already MySQL customers in addition to being Oracle customers. MySQL is a focus for us over the next year. We are interested in getting that community integrated into our community.
What is something Oracle gets right when it comes to serving customers?
Oracle has done a good job over the last 5-6 years in trying to help align customers with representatives from the user community. We think it's valuable because we find that people who are attached or involved in communities are better customers. They're active, they're interested.
And what is one of the major complaints you hear from members about Oracle?
To some extent, some of the acquisitions have been disruptive in a number of ways, in contracts and licensing. When a big company gets acquired, that customer is part of the Oracle sphere. How contracts get negotiated is different than with a smaller vendor. You're going to have folks that liked the terms with the previous vendor, but now that they're part of Oracle, that has changed.
---
June 2, 2010 2:12 PM
One of the largest Oracle user groups — and co-hosts of the recent Collaborate conference – has now unveiled a new website featuring a more user-friendly navigation and design.
The Oracle Applications User Group's new website, which includes bold graphics and a slide reel of the latest OAUG news and events, is just one of the group's big changes this year. In April, the OAUG announced experienced business process manager Dave Ferguson as its new president for 2010.
In a press release today, Ferguson called the new OAUG site "a more accurate reflection of our ability to keep up with the constantly changing online landscape."
"Our priority throughout the entire redesign process was, as it has always been, to better serve our loyal Oracle Applications users and to create a helpful environment in which our online visitors, returning and new, can easily find what they are looking for," he said in a statement.
Some users have already taken early note of the new site design. In an OAUG forum last week, Mohan Dutt wrote that he was pleasantly surprised to see the OAUG website's new look.
"I like the cool feature of drop down links appearing as the cursor is placed on the blue ribbon at the top," he wrote. "Fewer clicks will be needed to navigate to the page of my choice."
If you're an OAUG member (or even if you're not) what do you think of the new site design? Do changes like these make a significant difference in how you interact with a user group?
---
May 26, 2010 2:29 PM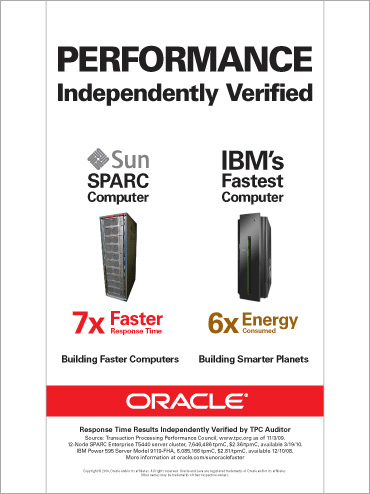 Oracle's marketing claims that its Sun Sparc servers are faster and use less power than IBM's Power machines are being challenged. But guess who's the challenger? That's right. An IBM marketer.
Conor O'Mahony, the IBM DB2 marketing director, lays out the case that Oracle's recent Sparc vs. Power claims are misleading, at best. Those claims by Oracle are that Sun Sparc is seven times faster than IBM's Power, while the IBM Power server takes up six times as much energy.
O'Mahony claims that the Oracle ad is misleading, and explains why. First, he says that Oracle is only using the results from one subset of a group of performance benchmarks from the Transaction Processing Performance Council. The overall TPC-C results still show that Sparc outperforms Power by about 25% on performance alone, and 19% on price-performance. Still, 20-25% better is not the same as seven times better. O'Mahony also says that the comparison isn't apples-to-apples because the Sparc machine is about 18 months newer. Needless to say, if IBM wants to submit more benchmarks with more modern machines, I'm pretty sure they're welcome to do so.
O'Mahony then says that the energy claims by Oracle are also bogus:
If you go to the Sun SPARC T5440 Power Calculator, you can see that a single server consumes between 1551 watts (idle) and 2002 watts (100% active). There are 12 of these servers in Oracle's benchmark, which results between 18.612 KW and 24.024 KW of power consumption.

If you look at the same information for the IBM POWER 595, you will see that during typical usage a P595 consumes 18.5kW. At 100% utilization, it consumes 27.7kW.

That's right, the Oracle configuration in an idle state consumes more power than the IBM configuration performing a typical workload.
This is Oracle's explanation:
The IBM system consumes 6 times more energy per TPC-C transaction reported. Energy use calculation based on published specifications of hardware used in the System Under Test (SUT) for the benchmarks reported. Energy data calculated prior to the existence of the TPC-Energy metric, and should not be compared to any TPC-Energy Results.
That "per TPC-C transaction reported" is likely what's leading Oracle to claim the energy benefits. Because performance on the Sparc box is better than the Power box, factoring that into an energy calculator will give the benefit to Oracle.
Needless to say, benchmarks are only the starting point. Any company worth its while that is going to be spending millions of dollars on a mission-critical server will not just buy something based on an ad. Even though O'Mahony might have a legit grudge here, the bottom line is that "truth in advertising" is an oxymoron, and most IT buyers out there already know that.
---
May 25, 2010 1:10 PM
In today's installment of Obvious News, a Red Hat exec recently said he didn't consider Oracle to be an open source company. Really? That's funny, because I don't think Oracle thinks of itself that way either.
I mean sure, Oracle has its open source elements which have been made that much more robust with the Sun Microsystems acquisition. But if you were to ask 100 IT people to describe Oracle, I doubt any of them would say that it's an open source vendor.
"I wouldn't even consider calling them an open source company at all," Paul Cormier, president of products and technologies at Red Hat, recently said. "When you're making a choice as a company on what's open and what's closed then your customers suffer."
According to Cormier, a company isn't an open source company unless everything it creates is open. So according to him, even Sun Microsystems wasn't open. Cormier said the development around OpenSolaris, for example, wasn't a true community development. Rather, it was done mainly by developers within Sun.
Oracle CEO Larry Ellison has not minced words when it comes to his plans for the Sun Microsystems acquisition. It is his goal to make money and those parts of Sun that are not profitable will likely fall by the wayside. Simon Phipps, Sun's chief open source officer, left following the acquisition — or more accurately, he was never offered a job at Oracle. That's not to say that open source and profitability are mutually exclusive, but then again, Oracle as a company is about 20 times bigger than Red Hat.
Cormier continued:
"There are pieces that are open," he said about Oracle. "But what we do, is open everything. We don't say 'here's this part of the operating system that's open, but this other part is closed.'"
---
May 20, 2010 8:01 PM
Last year Oracle made six acquisitions. With an announcement today that it plans to close on the purchase of database firewall provider Secerno in June, Oracle will make six acquisitions in just the first half of 2010.
The big one everyone knows about, of course, is Sun Microsystems. Others signal Oracle's desire to broaden its reach, so to speak – telecom service broker Convergin and healthcare science application provider PhaseForward come to mind. U.K.-based Secerno, however, brings Oracle back to its core in databases, with a focus on security.
Secerno products include database activity monitoring, data protection, data auditing and compliance, both for Oracle databases and non-Oracle databases. Their products are expected to be integrated with Oracle's own security software, including Database Vault and Audit Vault.
"Secerno's DataWall product blocks against unauthorized database activity in real-time, over the network — before attacks reach the database," Oracle said in a letter to customers. "Secerno provides a first line of defense against external threats and unauthorized internal access by creating a defensive perimeter around Oracle, Microsoft SQL Server, and Sybase ASE databases."
One thing I found interesting was in Secerno's own description of its company, which mentions virtualization and VMware high up, saying that its DataWall product is "available as a range of either hardware or virtual appliances on the VMware platform." Nowhere in the Oracle literature of its Secerno acquisition does it mention virtualization or VMware, or at least that I could find. I'm not sure if it was intentional or not, but it seems to signal Oracle's indifference – some might say hostility – toward virtualization, especially on x86 platforms.
Financial terms of the deal were not disclosed.
---