Dec 2 2011 6:24PM GMT

Profile: Mark Fontecchio
Oracle announced Weblogic 12c during a live webinar on Thursday. The new version of the company's Java-based application server is its first major release since Weblogic 11g more than two years ago. Back then, the "g" stood for grid. This time around, the "c" stands for cloud.
Weblogic is the second "c" product Oracle has released this year – earlier it announced Enterprise Manager 12c. Needless to say, after years of CEO Larry Ellison making fun of the word "cloud," Oracle has now embraced it, or at least the first letter anyway. It is expected to be available for download next Thursday. Needless to say, here are the main takeaways as I saw them:
Oracle Weblogic 12c is meant as an application server for multiple platforms – conventional servers, Oracle appliances like Exalogic, and in the cloud.
Weblogic 12c is certified for Java Enterprise Edition (EE) 6.
It is meant as a piece of what Oracle is calling its Cloud Application Foundation (picture below).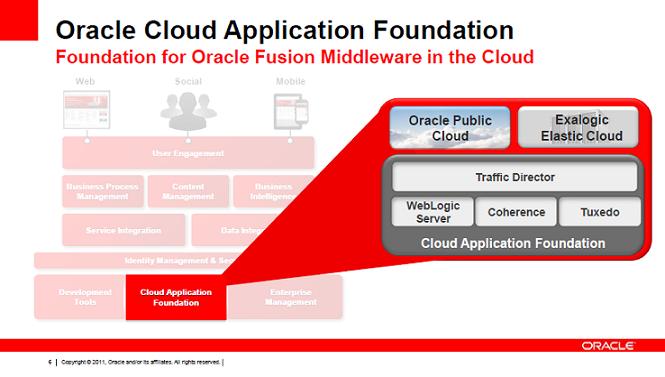 Now, for some reactions. Simon Haslam, an Oracle ACE director and chair of the U.K. Oracle Users Group special interest group on middleware, noted that the zip installer for developers has been "slimmed down," making it easier for download.
Haslam mentioned that an announcement that came with Weblogic 12c was Oracle Virtual Assembly Builder, which will allow Oracle pros to "design and deploy pre-defined collections of ready installed Virtual Machines into different environments (not unlike VMware vCenter Orchestrator)." Haslam thinks it's a big deal, but he's not sure whether it will be ready for production out of the gate.
Al Hilwa, applications development software director for IDC, wrote the same note to us and to ReadWriteWeb, which published a story on the release. Basically he says the certification for Java EE 6 is a big deal because it brings it "in commercial form" to Oracle Fusion Middleware shops.
"Adoption of new versions of Java EE typically moves slowly in the enterprise but offering a certified implementation of the standard framework moves the commercial user migration process along," he wrote.
Finally, Michel Schildmeijer, an Oracle Fusion Middleware architect at Dutch IT consultancy AMIS Technologies, wrote that he was impressed with Weblogic 12c's integration with Oracle Exalogic. He added that Weblogic 12c's value will come when other Oracle products move to 12c as well.
"WebLogic 12c will be ready for all kinds of other products from the Oracle portfolio like the SOA Suite, WebCenter and so on, although those products will be at the 12c level in the coming 2012/2013 year," he wrote.