Sep 9 2010 1:52PM GMT

Profile: Mark Fontecchio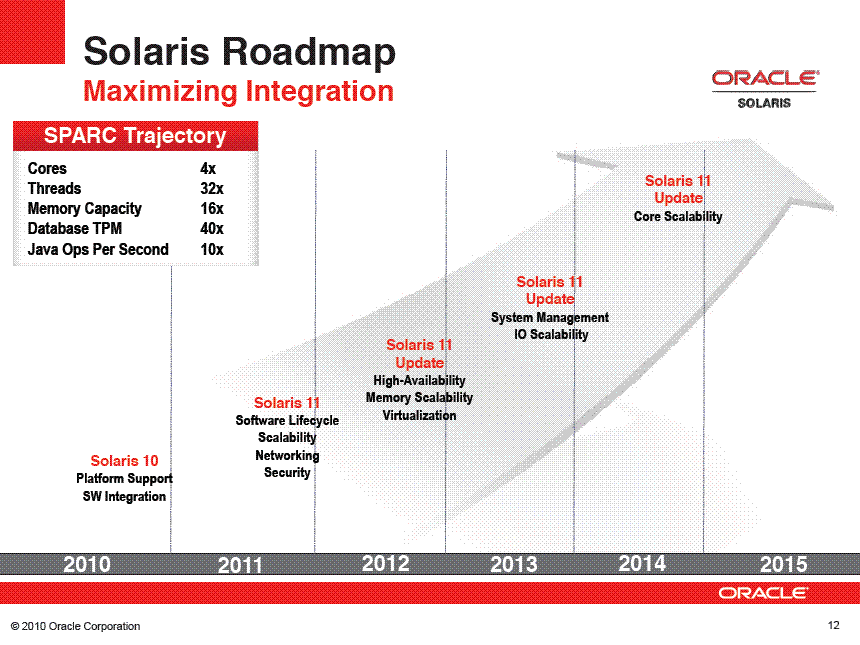 Amid all the news around former HP CEO Mark Hurd joining Oracle, the company upgraded Sun Solaris 10 this week. The updated version is called Oracle Sun Solaris 10 9/10.
This is similar to the regular quarterly upgrades Sun would release for Solaris, and though it doesn't have anything groundbreaking, there are a few features worth noting, especially as they pertain to other Oracle products:
Specific network enhancements for Oracle Real Application Cluster (RAC)
Increased reliability for virtualized Solaris instances when using Oracle VM on Sparc chips
Tools to move earlier versions of Solaris on physical machines to Solaris Containers, Solaris' virtualization technology in Solaris 10.
Solaris ZFS tools for recovery and device management
You'll notice that the top two are related to getting Solaris to run better with Oracle products. This all feeds into Oracle's continued push of its stack IT architecture, which is its attempt to get end users to run everything Oracle, from the chip to the application. John Fowler, Oracle's systems chief and formerly Sun's systems chief, said as much in a video announcing the Solaris enhancements this week.
Most Solaris users won't be overwhelmed by the new upgrade. One I wrote to replied that it seemed "like a lot of hooplah for a normal quarterly update revision." He also wrote:
"Oracle seems to be trying REALLY HARD with the 'LOOK WE CARE ABOUT SOLARIS! SEEE!' thing."
As you can see, some Sun Solaris users are still skeptical of Oracle's motivations.
This upgrade, and any other quarterly upgrades in the next year or so, will serve largely as stopgaps until Oracle is ready to unveil Sun Solaris 11, which is due out next year as you can see in the roadmap picture here (click picture for larger version). Not to speculate on the geography of the words in the slide, but it looks like Solaris 11 will come in the second half of next year.
In the video, Fowler said Solaris 11 will go up "in scalability from single terabytes of memory to double-digit terabytes of memory" and "from hundreds of threads to thousands of threads."