Aug 24 2010 3:24PM GMT

Profile: Mark Fontecchio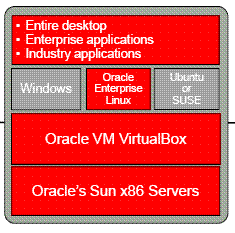 Last week during an online virtualization event, Oracle continued to push its concept of stack computing. And that concept includes Oracle VM, not VMware.
Understandably, Oracle is going to want to push its own virtualization technology. In the case of servers, that happens to be Oracle VM, which is basically Xen in disguise. But as Oracle pushes Oracle VM on customers, it is also trying to push VMware aside. This despite VMware being the dominant server virtualization technology in the x86 server market, with it showing no signs of waning.
According to a recent SearchOracle.com reader survey taken largely by DBAs and IT managers – all of whom are running Oracle – 74% use VMware for server virtualization. Only 13% mentioned Oracle. But see the picture here? That is Oracle's view of the virtualization world, and all it includes is Oracle VM.
Last week before the event I wrote about whether Oracle would even mention VMware during its six-hour online virtualization event. As it turns out, it did talk about VMware in the context of how inferior it is to Oracle VM. In the initial session, Oracle Chief Corporate Architect Edward Screven and Executive Vice President John Fowler gave 10 reasons why "Oracle Delivers More Value Than VMware." They included:
Oracle VM is optimized for Java
Aggressive testing with Oracle application and database workloads
Oracle VM included with the server hardware
Integrated support
Integrated everything else
"With these techs under one roof, we incorporate and include all technologies," Fowler said. "We build hardware technologies with virtualization technologies and they're included in system sales. We don't consider them to be a third-party add-on."
Of course, the drawback to adopting Oracle VM for those 74% of shops running VMware is it can often be difficult to do a rip-and-replace for any technology. Server administrators and programmers get comfortable with a certain technology and don't want change. VMware is the market leader. Shops don't want multiple server virtualization technologies in the same IT shop, because it can get too confusing.
This is an important move from Oracle. The company has decided to push its Oracle VM virtualization technology as hard as possible, while pushing VMware to the fringe. Its support for running Oracle on VMware is tepid at best, with support being nonexistent when it comes to Oracle RAC. Its licensing for running Oracle on VMware also leans toward costing more than running it on Oracle VM, due to tricky definitions around "soft partitioning" and "hard partitioning."
In sum, Oracle is developing hostile licensing and support policies toward VMware, seemingly in an effort to push Oracle VM. Will it work? It might. Oracle Database is the backbone of many IT shops, and there isn't going to be any widespread abandonment of that database platform. If Oracle undercuts VMware on pricing with Oracle VM and offers limited support on VMware, IT shops might eventually feel forced to go with Oracle VM if they want to continue to build their server virtualization infrastructure.