Sep 1 2010 5:14PM GMT

Profile: Shayna Garlick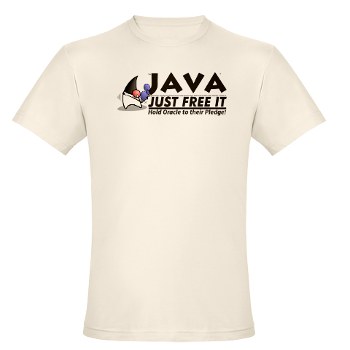 The upcoming JavaOne conference — part of Oracle OpenWorld in San Francisco — looks to be shaping up quite differently than Oracle planned.
When James Gosling left Oracle back in April, he said he was "pretty encouraged about the way things would work out" for Java. But now the father of Java is leading a campaign to protest Oracle's strategy for the open source programming language, including the software giant's recent lawsuit against Google.
On Friday, Gosling revealed on his blog "free Java" t-shirts (and mugs and pins) that he designed himself and asked JavaOne and OpenWorld attendees to wear one to "let Larry know you care." The shirts feature the slogan "Java – Just Free It. Hold Oracle to their Pledge," referring to Oracle's promise in 2007 to create an independent Java foundation.
Oracle's lawsuit against Google last month claims that Google is violating Oracle's intellectual property through its use of Java on its Android smartphone.  And though he claimed to be "pretty encouraged," maybe Gosling actually had an inkling that something like this would happen when he left Oracle:
"During the integration meetings between Sun and Oracle where we were being grilled about the patent situation between Sun and Google, we could see the Oracle lawyer's eyes sparkle," he wrote in an Aug. 12 blog post.
But Gosling isn't the only one to stage a protest at JavaOne – Google is showing a major one of its own by pulling out of the conference altogether. Google was supposed to play a significant role in the JavaOne, with employees scheduled to present a variety of sessions on topics including Java in the cloud and GUI animation.  Google's Joshua Bloch called his company's absence at the show a "painful realization":
"We wish that we could [present at the show], but Oracle's recent lawsuit against Google and open source has made it impossible for us to freely share our thoughts about the future of Java and open source generally," he said.
Google has also called the lawsuit "baseless" – but is this completely true? And could something like Gosling's t-shirts really prove this? JavaWorld blogger Josh Fruhlinger certainly doesn't think so. He writes that "the idea that (the t-shirts will) somehow change Oracle's trajectory strikes me as ludicrous," adding that while an independent Java foundation once made sense for Oracle, it's no longer in Oracle's best interests (and Gosling and others may be having a hard time separating emotion from business).
Ellison and executive vice president Thomas Kurian plan to discuss the future of Java in the opening keynote at JavaOne. It should be interesting to see how many Gosling t-shirts we notice in the crowd- will you be wearing one?