Dec 8 2010 3:03PM GMT

Profile: Mark Fontecchio
Oracle today rolled out two new blade servers. One is an Intel Xeon-based blade, while the other has Sparc T3 processors. Here are the specs:
Intel Xeon blade (Sun Blade x6275 M2)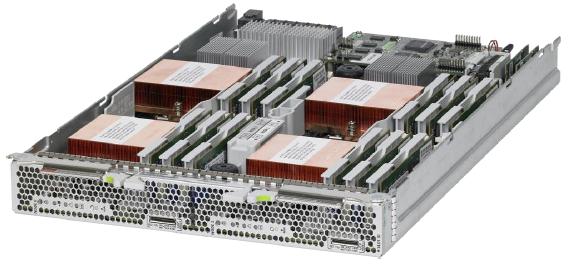 The Sun Blade x6275 M2 is a dual-node, dual-socket blade. That is basically two double-socket blades within the footprint of one blade. With the six-core Xeons, that equates to 24 cores per blade, or 240 in Oracle-Sun's 10U, 10-blade chassis. Why not just build a four-socket blade?
"The virtualized environments we are targeting are using smaller types of workloads that don't need access to four sockets at once," said Dimitrios Dovas, director of product management for blades, x86 servers and networking at Oracle.
There's no evidence as far as I know that two-socket servers are better at virtualized workloads (in fact the evidence points the other way). So I'm not entirely sure why Oracle-Sun wouldn't just build a four-socket Intel blade here. Perhaps it's cheaper to make two dual-socket blades crammed into one than it is to make a four-socket blade, but Oracle can still try to market it as being equivalent to a four-socket blade and charge a premium.
Other details of the Intel blade:
12 DDR3 DIMM slots per node, which means 24 per blade. Using 8GB DIMMs can max out memory to 196GB per blade
10GbE or 1GbE networking
Fits into the Sun Blade 6000 chassis
Sparc T3 blade (T3-1B):
Many of the details of the T3-1B were revealed last week when CEO Larry Ellison and Systems VP John Fowler pushed a new Sparc Supercluster and Sparc Exalogic servers. Here's another quick rundown:
Single socket using either an 8- or 16-core Sparc T3 processor
16 DIMM slots for up to 128GBper blade
10GbE networking
Also fits into the Sun Blade 6000 chassis