Mar 25 2011 3:30PM GMT

Profile: Mark Fontecchio
During Thursday's quarterly earnings call, Oracle executives gave a positive outlook to all of Oracle's revenues. But there was much talk around Oracle Exadata and Exalogic, the company's integrated database and middleware machines, respectively. Since Oracle has been pushing these appliances hard to customers, the question becomes: Are they selling?
First, a few quotes from the call.
"The pipeline for Exalogic is building rapidly with customers building out their private clouds with both Exalogic and Exadata," President Mark Hurd said. Regarding Exadata sales in the last quarter, Hurd said it was "pretty broad-based. There were a good number of quarter-racks in the quarter, which we look at as very positive in terms of seeing the future. We did see some adoption of (Exadata V2-8) in the quarter." Finally, Hurd said this about Exadata: "It's just good stuff. There is no secret here. The stuff works."
In the U.S. Securities and Exchange Commission (SEC) filing Oracle filed for the quarter, it showed that Oracle's hardware revenue increased 263% year over year. Wow, that seems great, doesn't it? I guess, but you have to remember that it compares to the same quarter last year. That quarter was a time of turmoil, when Sun was on its last legs and Oracle had just acquired it.
As it turns out, the most recent quarterly hardware revenue numbers are the lowest Oracle has had in the last four quarters. Take a look at this chart I put together using SEC filings. It looks at Oracle hardware revenues, expenses and profit over the last four quarters (click for full-size):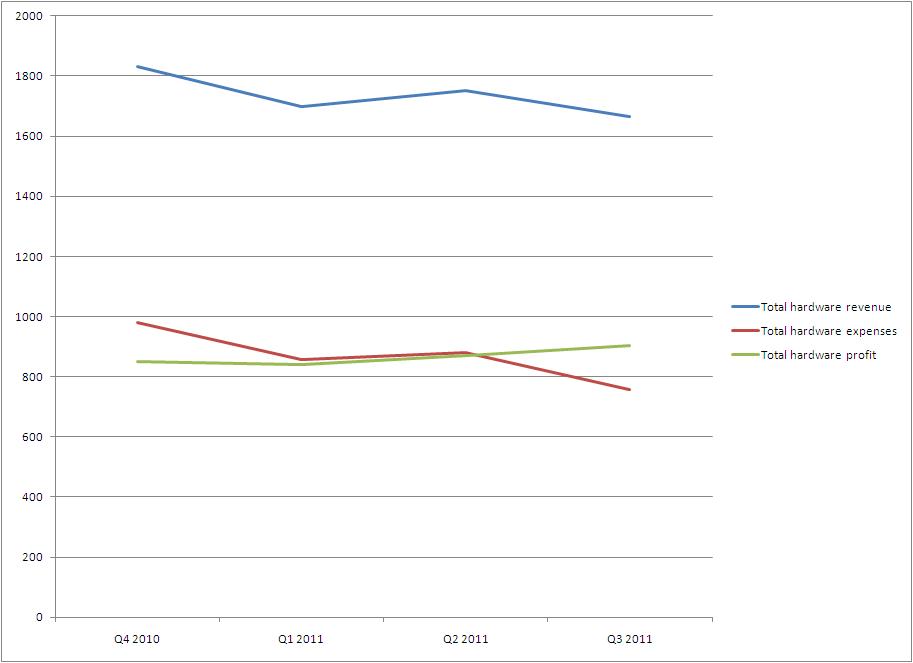 As you can see, hardware revenues are down. But hardware profits are up. Why? Because Oracle has slashed operating expenses on the hardware side, both with systems and support. Over the last four quarters, Oracle hardware revenue has gone down 9%. But hardware expenses have dropped almost 23%. The result? Hardware profits are up about 6.5% over the last four quarters.
Now those are total hardware revenues. Oracle isn't just selling Exadata and Exalogic. It is still selling commodity x86 and Sparc servers. And Oracle doesn't break down the numbers specifically enough to know what servers are selling and which aren't. So it's possible that Exadata and Exalogic are selling while their commodity x86 and Sparc hardware are dive-bombing.
What we do know is that Oracle's hardware revenue overall has declined over the last year. For more perspective, check out my colleague Barb Darrow's post about how Oracle hardware remains a mystery over at the Channel Marker blog.