Oct 27 2010 3:07PM GMT

Profile: Mark Fontecchio
Genghis Khan once said, "It is not sufficient that I succeed — all others must fail." And so it is with Oracle CEO Larry Ellison and his most recent statement regarding the upcoming Oracle vs. SAP trial.
It appears that Oracle and Ellison are using the trial as an opportunity to drag HP and SAP, two of its biggest competitors, through the mud.
Ellison has been said to have paraphrased Khan's quote, and it is fitting. Ellison is a ruthless corporate competitor. He is well known to be steeped in ancient Japanese (and overall Asian) culture, and in particular, is a fan of Sun Tzu's "The Art of War." That book has become popular among businessmen, football coaches, and even American heiresses. In other words, people who have no idea what real war is like. I mean, do you think Sun Tzu would really be pleased with this tree of followers?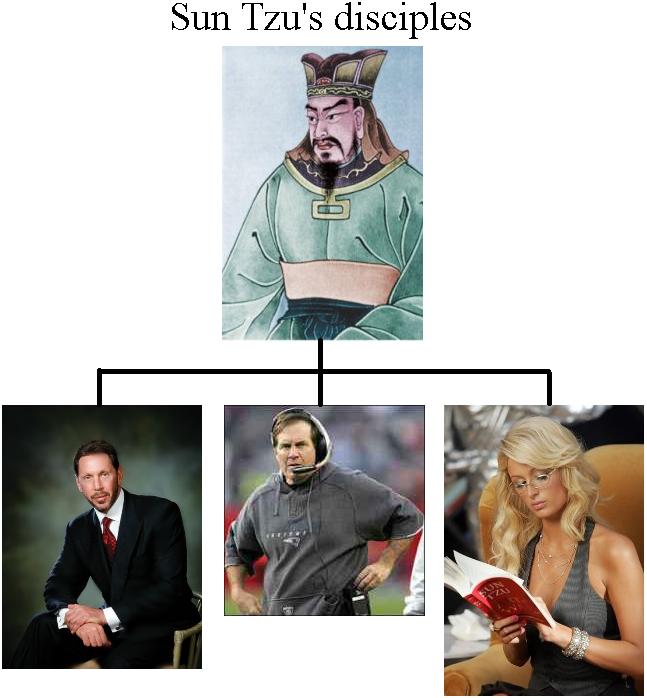 So let's get to Ellison's recent statement, in its entirety (my bolding):
"A few weeks ago I accused HP's new CEO, Leo Apotheker, of overseeing an industrial espionage scheme centering on the repeated theft of massive amounts of Oracle's software. A major portion of this theft occurred while Mr. Apotheker was CEO of SAP. HP's Chairman, Ray Lane, immediately came to Mr. Apotheker's defense by writing a letter stating, 'Oracle has been litigating this case for years and has never offered any evidence that Mr. Apotheker was involved.' Well, that's what we are planning to do during the trial that starts next Monday.

Unless, Mr. Lane and the rest of the HP Board of Directors decide to keep their new CEO far, far away from HP Headquarters until that trial is over. If HP keeps Leo Apotheker far from HP headquarters we cannot subpoena him to testify at that trial.

I don't think Ray Lane wants to risk Leo Apotheker testifying under oath as to why he allowed the theft of Oracle property to continue for 8 months after he was made sole CEO of SAP. I hope I'm wrong, but my guess is that HP's new Chairman, Mr. Lane, will keep HP's new CEO, Mr. Apotheker, far, far away from the Courthouse until this trial is over."
Wow. Essentially what Ellison is doing is trying to prevent HP from conducting business by threatening Apotheker with a subpoena. Talk about wanting not only to succeed, but to crush the competition. This also falls in line with "The Art of War" mantra that wars are won before they are fought. Ellison is trying to intimidate HP. Either Apotheker shows up to his job as CEO and gets dragged through a long trial, or he doesn't show up and his perceived guilt in the case is assumed.
But how would Ellison and Oracle even know if Apotheker shows up to HP's Silicon Valley headquarters? Most likely, they have a way. He likely has surveillance, and he likely has moles within HP. He probably has people camped out in bushes outside HP headquarters waiting to jump out and serve Apotheker his subpoena. And no, I'm not exaggerating (OK, maybe a little). Just take a look at this presentation from 2001 that Oracle gave at the Strategic and Corporate Intelligence Professionals conference. Here's a sample slide: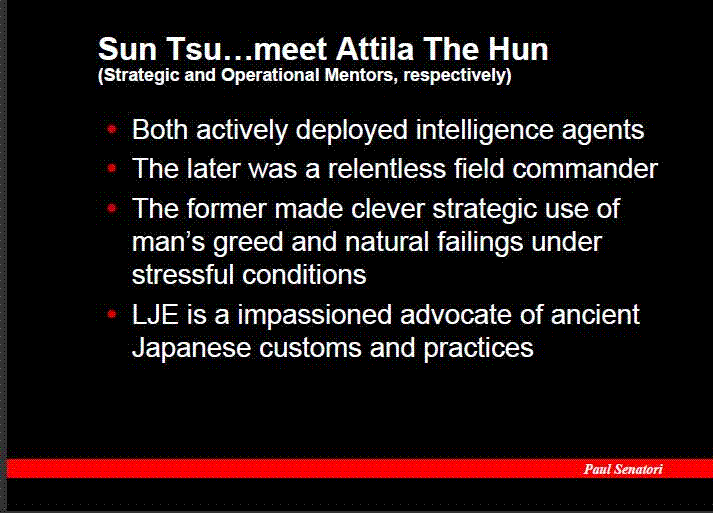 "LJE" stands for Larry J. Ellison. Note the comment about "intelligence agents."
It's also worth noting that Oracle is not calling either Shai Agassi or Seth Ravin to testify. Agassi is the former president of the products and technology group at SAP who orchestrated the acquisition of TomorrowNow. Ravin ran TomorrowNow. You'd think Oracle might want to question two people instrumental in knowing whether the whole TomorrowNow business model was in fact illegal. I mean, isn't that the basis for this whole trial? Or maybe, just maybe, this is one big circus, and Ellison is trying to be the ringmaster.
There is one Sun Tzu quote that Ellison doesn't seem to follow to the letter: "Be extremely subtle, even to the point of formlessness."
Subtle? Larry Ellison? I don't think so.