Jun 18 2012 11:47PM GMT

Profile: Mark Fontecchio
Not long after Oracle agreed to acquire Sun Microsystems in 2009, its hardware story went something like this: Commodity servers have low profit margins, while big servers that Oracle took to calling "engineered" systems have high profit margins. So if you want to make hardware a profitable business, you must sell the big boys.
After setting this thesis in place, Oracle set out to make it reality. It stripped down its commodity server hardware business, with executives freely acknowledging that they didn't care about commodity boxes anymore. It has since introduced a series of big server appliances – Exadata, Exalogic, Exalytics, Sparc Supercluster, and the Big Data Appliance – in the hopes of getting customers to buy their big servers that integrate Oracle hardware with Oracle software.
Has the story panned out?
Oracle executives seem to think so. At the quarterly earnings call on Monday, they all gushed about Oracle systems.
"Another great quarter for engineered systems," CEO Larry Ellison said.
Well, we took a look at federal financial statements from Oracle over the past two fiscal years. The first fiscal quarter came about a year after Oracle introduced Exadata Version 2, the first big Oracle-Sun joint server hardware venture. The last quarter came this year, finishing at the end of May. Take a look (the markers at the bottom are for Oracle's fiscal quarters, which are approximately 6 months ahead of the calendar quarters):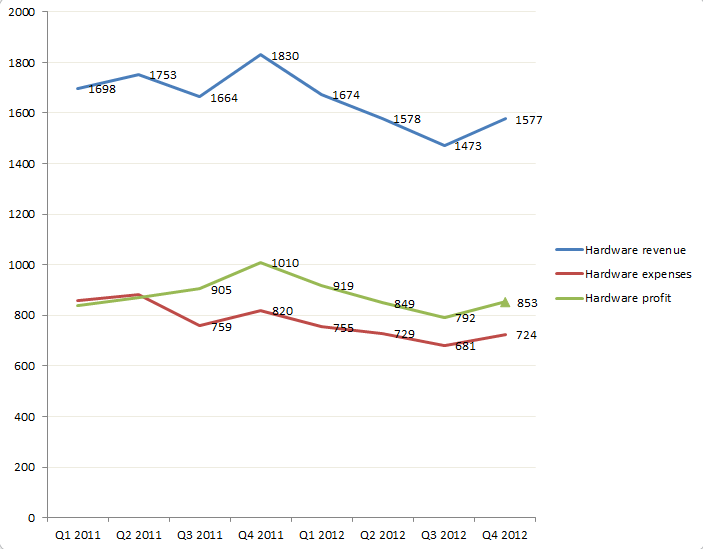 If you take a look at the general trend, everything is going down. Revenue is down, expenses are down, and profit is down. Well actually, profit is up $13 million since about September of 2010.
Maybe I'm missing something here, but it seems to me that Oracle's strategy of ditching commodity server in favor of engineered systems has yet to really pay off, at least on the balance sheet. Let me know if you disagree.
Oracle President Safra Catz did say she expected hardware numbers to be up year-over-year in fiscal 2013, so maybe profits will begin to rise. Who knows.
The flipside of the hardware numbers is revealed on the software side of the business, where Oracle is doing extraordinarily well. Overall net income for Oracle has increased by a factor of 2.5 since two years ago. Software license revenue is up big. So is hardware the anchor holding Oracle back?