May 26 2010 2:29PM GMT

Profile: Mark Fontecchio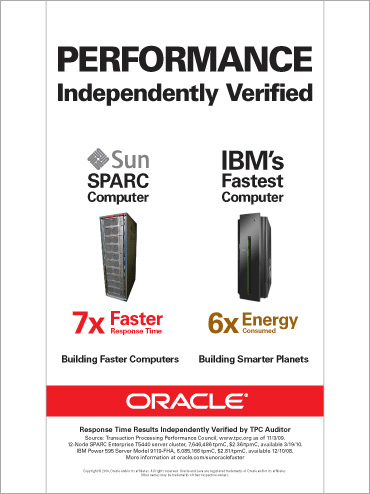 Oracle's marketing claims that its Sun Sparc servers are faster and use less power than IBM's Power machines are being challenged. But guess who's the challenger? That's right. An IBM marketer.
Conor O'Mahony, the IBM DB2 marketing director, lays out the case that Oracle's recent Sparc vs. Power claims are misleading, at best. Those claims by Oracle are that Sun Sparc is seven times faster than IBM's Power, while the IBM Power server takes up six times as much energy.
O'Mahony claims that the Oracle ad is misleading, and explains why. First, he says that Oracle is only using the results from one subset of a group of performance benchmarks from the Transaction Processing Performance Council. The overall TPC-C results still show that Sparc outperforms Power by about 25% on performance alone, and 19% on price-performance. Still, 20-25% better is not the same as seven times better. O'Mahony also says that the comparison isn't apples-to-apples because the Sparc machine is about 18 months newer. Needless to say, if IBM wants to submit more benchmarks with more modern machines, I'm pretty sure they're welcome to do so.
O'Mahony then says that the energy claims by Oracle are also bogus:
If you go to the Sun SPARC T5440 Power Calculator, you can see that a single server consumes between 1551 watts (idle) and 2002 watts (100% active). There are 12 of these servers in Oracle's benchmark, which results between 18.612 KW and 24.024 KW of power consumption.

If you look at the same information for the IBM POWER 595, you will see that during typical usage a P595 consumes 18.5kW. At 100% utilization, it consumes 27.7kW.

That's right, the Oracle configuration in an idle state consumes more power than the IBM configuration performing a typical workload.
This is Oracle's explanation:
The IBM system consumes 6 times more energy per TPC-C transaction reported. Energy use calculation based on published specifications of hardware used in the System Under Test (SUT) for the benchmarks reported. Energy data calculated prior to the existence of the TPC-Energy metric, and should not be compared to any TPC-Energy Results.
That "per TPC-C transaction reported" is likely what's leading Oracle to claim the energy benefits. Because performance on the Sparc box is better than the Power box, factoring that into an energy calculator will give the benefit to Oracle.
Needless to say, benchmarks are only the starting point. Any company worth its while that is going to be spending millions of dollars on a mission-critical server will not just buy something based on an ad. Even though O'Mahony might have a legit grudge here, the bottom line is that "truth in advertising" is an oxymoron, and most IT buyers out there already know that.