Apr 13 2011 6:54PM GMT

Profile: Mark Fontecchio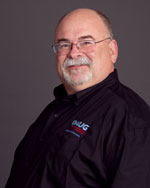 Here is part of the disclaimer, or safe harbor statement, by Floyd Teter, an Oracle ACE director and project director at Innowave Technology:
Any statements made in the course of this presentation should not be relied on as a commitment of present or future directly on behalf of Oracle Corporation, Innowave Technology, Major League Baseball, or any other major institution that your barracuda lawyer may opt to pursue in the name of earning his or her outrageous legal fees.
Yep. Pretty funny. Fits Floyd's personality.