May 15 2008 11:33AM GMT

Profile: B00M3R

The hub transport server role handles all e-mail flow inside the organisation, applies journaling policies, and delivers messages to the recipient's mailbox. This role is similar to the bridgehead server in an Exchange 2000/2003 organisation. In fact it originally was called the Bridgehead Role until it was changed. The Hub server must be deployed in every Active Directory site that contains other Exchange server 2007 roles.
The Hub Transport server role stores all its configuration information in Active Directory. This information includes (as mentioned above) transport rules settings, journal rule settings, and connector configurations. Because this information is stored in Active Directory, you can configure settings one time, and then those settings are applied by every Hub Transport server in the organization.You can install the Hub Transport server role on the same hardware with any other non-clustered internal server role or on a server that is dedicated to the Hub Transport server role. You must deploy a Hub Transport server role in each Active Directory site that contains a Mailbox server role. Deploying more than one Hub Transport server per site provides redundancy if a server fails. When you install more than one Hub Transport server in an Active Directory site, the connections are distributed.The Hub Transport server, as well as the rest of the server roles, is installed on member server(s) in an Active Directory domain. There is no need for ADAM on this, or any other role aside from the Edge Transport. Because it is a member of an AD domain, all its configuration information is stored in AD and any other Hub Transport servers you install will get their configuration from AD.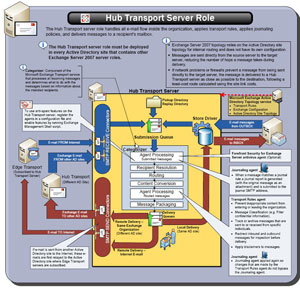 Mailbox, Client Access, Unified Message and Hub Transport can be installed in any combination on one physical server. This combined topology is well-suited for small and medium size customers. Alternately, administrators can segment these roles across multiple servers, potentially located in different domains and sites to support a large number of users or meet geographical deployment requirements. Note that if Mailbox role is installed on different physical server from Hub Transport and Client Access role, the Mailbox server will need to have at least one Hub Transport and Client Access server available in the Mailbox server's AD site.Microsoft actually recommends that you do not backup hub transport servers in the traditional manner. This is primarily because of the transient nature of the messaging queues. Suppose for a moment that you made a backup of the hub transport server, and 15 minutes later the server failed catastrophically. It wouldn't really do you any good to restore the database used by the message queues, because all of the messages that were in the queues at the time that the backup was made would have already been delivered.Not only is it not necessary to backup the message queues, you really don't have to worry about backing up the server's configuration either. The vast majority of the configuration information is stored in Active Directory.