May 6 2008 1:10PM GMT

Profile: B00M3R

 Note: In pre-release versions of Microsoft Exchange Server 2007, the Edge Transport server role was referred to as the Gateway server role.
Since the Edge Transport Server Role is a transport role for messages you can't benefit from it to provide your colleagues with Outlook Web Access, Outlook Mobile Access, Outlook Voice Access, Outlook Everywhere or one of the other nifty "road warrior" features Exchange 2007 provides to more easily work together. In this scenario you need a Microsoft Exchange Server 2007 box with the Client Access Server Role applied to it. Although enhancements were made to Client Access Servers security the face-off between security and functionality remains.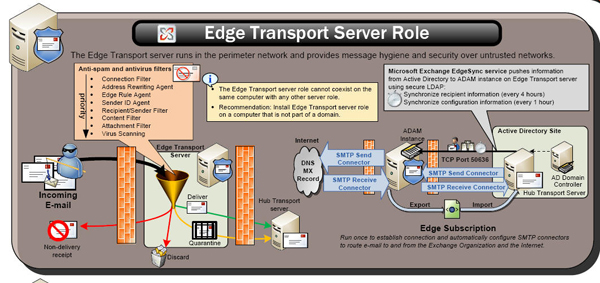 Exchange 2007 introduces a new concept to Exchange organizations, the concept of server roles. Similar to how a Windows server can host one or more roles, this type of configuration has been implemented in Exchange Server 2007.
In Exchange 2007, the Edge Transport server role is deployed in your organization's perimeter network as a stand-alone server or as a member server of a perimeter-based Active Directory domain. Designed to minimize the attack surface, the Edge Transport server handles all Internet-facing mail flow, which provides Simple Mail Transfer Protocol (SMTP) relay and smart host services for the Exchange organization. Additional layers of message protection and security are provided by a series of agents that run on the Edge Transport server and act on messages as they are processed by the message transport components. These agents support the features that provide protection against viruses and spam and apply transport rules to control message flow.
The computer that has the Edge Transport server role installed doesn't have access to the Active Directory directory service. All configuration and recipient information is stored in the Active Directory Application Mode (ADAM) directory service. To perform recipient lookup tasks, the Edge Transport server requires data that resides in Active Directory. EdgeSync is a collection of processes that are run on a computer that has the Hub Transport server role installed to establish one-way replication of recipient and configuration information from Active Directory to the ADAM instance on an Edge Transport server. The Microsoft Exchange EdgeSync service copies only the information that is required for the Edge Transport server to perform anti-spam configuration tasks and the information about the connector configuration that is required to enable end-to-end mail flow. The Microsoft Exchange EdgeSync service performs scheduled updates so that the information in ADAM remains current.
You can install more than one Edge Transport server in the perimeter network. Deploying more than one Edge Transport server provides redundancy if a server fails. You can load-balance SMTP traffic to your organization between Edge Transport servers by defining more than one mail exchange (MX) resource record with the same priority in the Domain Name System (DNS) database for your mail domain. You can achieve consistency in configuration between multiple Edge Transport servers by using cloned configuration scripts. Additionally, an Edge Transport server template is provided for use with the Windows Server 2003 Service Pack 1 Security Configuration Wizard to help configure Windows Server 2003 at the appropriate role-based security level.