Oct 27 2007 7:26AM GMT

Profile: B00M3R

There are a few components involved in delivery of mail.
Store.exe is the last point for emails delivered to a server and it's the beginning for e-mails sent from outlook clients (MAPI) clients Outlook 2003 which connects directly to Exchange (MSExchangeIS)
There is also something called EXIPC which stands for Exchange Interprocess Communication which handles data transferred between IIS and the Exchange server info store. It's a layered service in-between the components to help provide best performance. You can find more information on EXIPC and ISS integration here
Queuing Engine or AQE (Advanced Queuing Engine) this baby is responsible creating and managing message queues for delivery. The AQE receives a mailmsg object, this then gets forwarded to the Categorizer, message Categorizer  that is and then the AQE queues the message for delivery but this will be based on routing information provided by the routing engine process of Exchange.
The Exchange Routing Engine is a service which is responsible for determining the least expensive available path for message delivery; it will talk and provide this information across to the AQE as part of the message delivery process.
You will remember in my first topic I spoke of SMTP being extended through the installation of Exchange well one of these extensions is XLINKSTATE protocol. The Routing engine creates and maintains the link state for every exchange server, it will also route messages around both internally and externally.
Last but not least there's the SMTP service. This service processes incoming traffic from SMTP hosts; and it's also used in communications between Exchange servers. It can also be used for message journaling.
Understanding how this works is important, so here is the information with a bit more detail.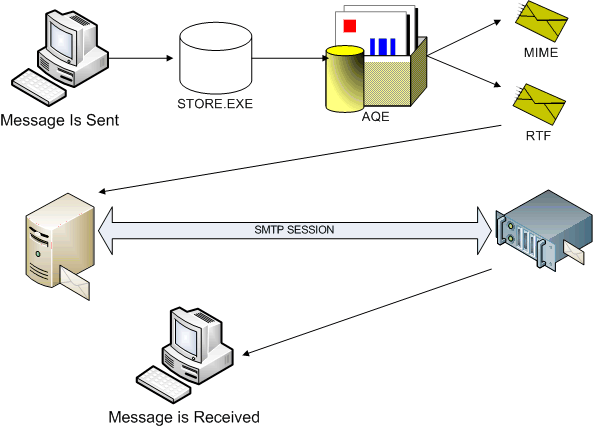 The MAPI client sends the message to the remote client.
The information store receives the message
The new MailMsg object is sent on forward to the AQE
The Message categorizer from the AQE processes the MailMsg object and splits it into MIME or RTF.
The Message Categorizer then looks at groups and checks any defined Message limits that have been set on exchange.
Then the MailMsg object is the transferred to the Remote Destination Domain within the AQE
The AQE Passes the final address to the Exchange routing engine
SMTP from sending server initiates an SMTP session with the remote receiving server. Once the connection is made on the remote server, the remote information store retrieves the body of the message and converts as necessary.
SMTP sends the message out of the queue to the correct host.
OK we are done, but this is only the BASICS detailed flow information from Microsoft can be found here and worth a read.