Mar 5 2009 10:16PM GMT
Profile: Jbeltran
This blog post was written by Bridget Botelho, a news writer.
When I get pitches from companies that are rife with marketing bull, I am quick to hit delete. But when Likewise Software sent me this goofy press release to promote its products, I couldn't bring myself to send it to the recycle bin.
Likewise Software is promoting peace between rival operating systems Linux, Unix, Windows and Mac by raising money for real-world victims of war with T-shirt sales.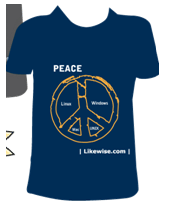 The connection is that the Bellevue, Wash.-based company's software enables users to integrate rival operating systems into one unified Windows environments. Its open source offering, Likewise Open, lets mixed data centers integrate Linux, Unix and Mac systems with a unified directory such as Microsoft Active Directory. Likewise Enterprise Edition does that as well but also includes features for migration, group policy, auditing and reporting modules.
"To commemorate the ending of the OS hostilities, Likewise has released two t-shirts, which people can proudly wear to demonstrate their commitment to the hope, and to the peaceful co-existence of heterogeneous systems (that, um, means Windows, Mac OS, Linux and Unix.)."
Silly, I know, but all proceeds from sales of the $20 T-shirts are being donated to organizations that help both civilian and military casualties of real war.