Aug 10 2008 1:30PM GMT
The 11th annual LinuxWorld Conference & Expo at the Moscone Center in San Francisco has packed up and gone, but organizers did a lot this year to make it more informative, with special sessions such as the Executive Summit on innovative technologies and entertainment like the Golden Penguin Bowl geek challenge.
Other organizations joined in the fun, with Groundwork Open Source hosting a mascot American Idol-like contest between Tux the Penguin, Mozilla Firefox, Beastie the BSD Demon and GNU Gnu, each of whom appeared in costume to drum up support for their respective candidacies in the exhibit hall. As of late Thursday afternoon, Mozilla Firefox was the runaway winner with 49% of the votes. Beastie the BSD Daemon trailed in second with 31%; Tux the Penguin, 6.6% and GNU Gnu, 2%.
In addition, the Open Voting Consortium featured costumed singers luring attendees to participate in its mock presidential election between Barack Obama and John McCain on machines running Ubuntu. Obama was the big winner, tallying 545 votes to 135 for McCain. In other categories, Canonical Ltd. scored a big win for the top exhibit. The purpose of the exhibit was to showcase the use of Linux-run voting machines, which the group is promoting in California as a more secure operating system.
Open Voting Consortium booth at LinuxWorld 2008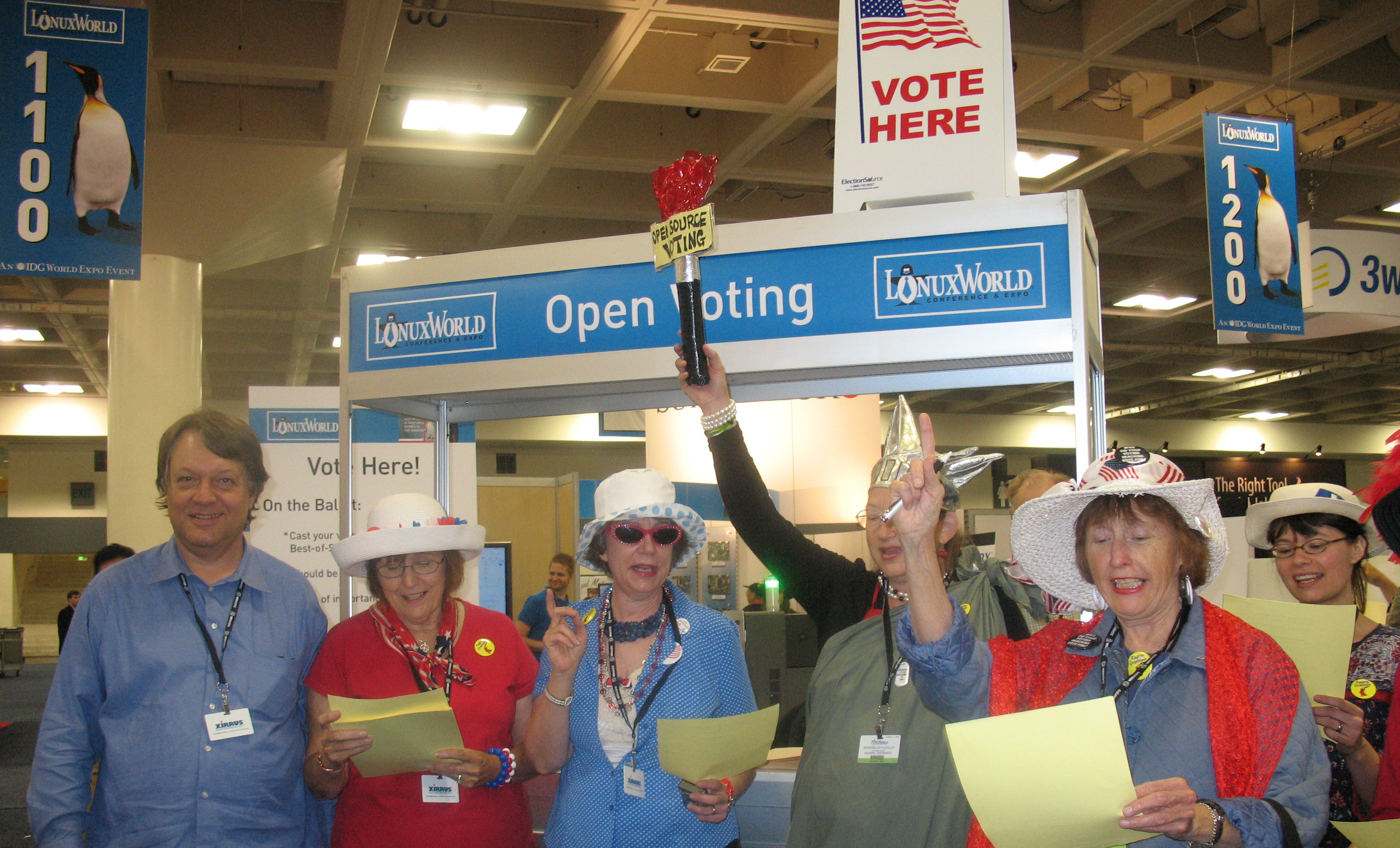 The expo also enlisted attendees in an "Installfest" to fix discarded computers and install open source software. Installfest's goal is 1,000 repaired computers for donation to local schools. The effort also will reduce the 300,000 pounds of electronic waste abandoned monthly at two county dumps, according to organizer James Burgett.
During the four-day event, the tables outside the exhibit hall with free Wi-Fi Internet access were quite popular, as well as the Dice booth which attracted crowds of job seekers. But Dice wasn't the only one searching for those with Linux skills. I shared a lunch table with a Google recruiter who faced an uphill battle trying to convince a 30-something attendee that, as a Google employee, he would still have time for his family, despite Google's apparently intense work environment.
The Dice booth at LinuxWorld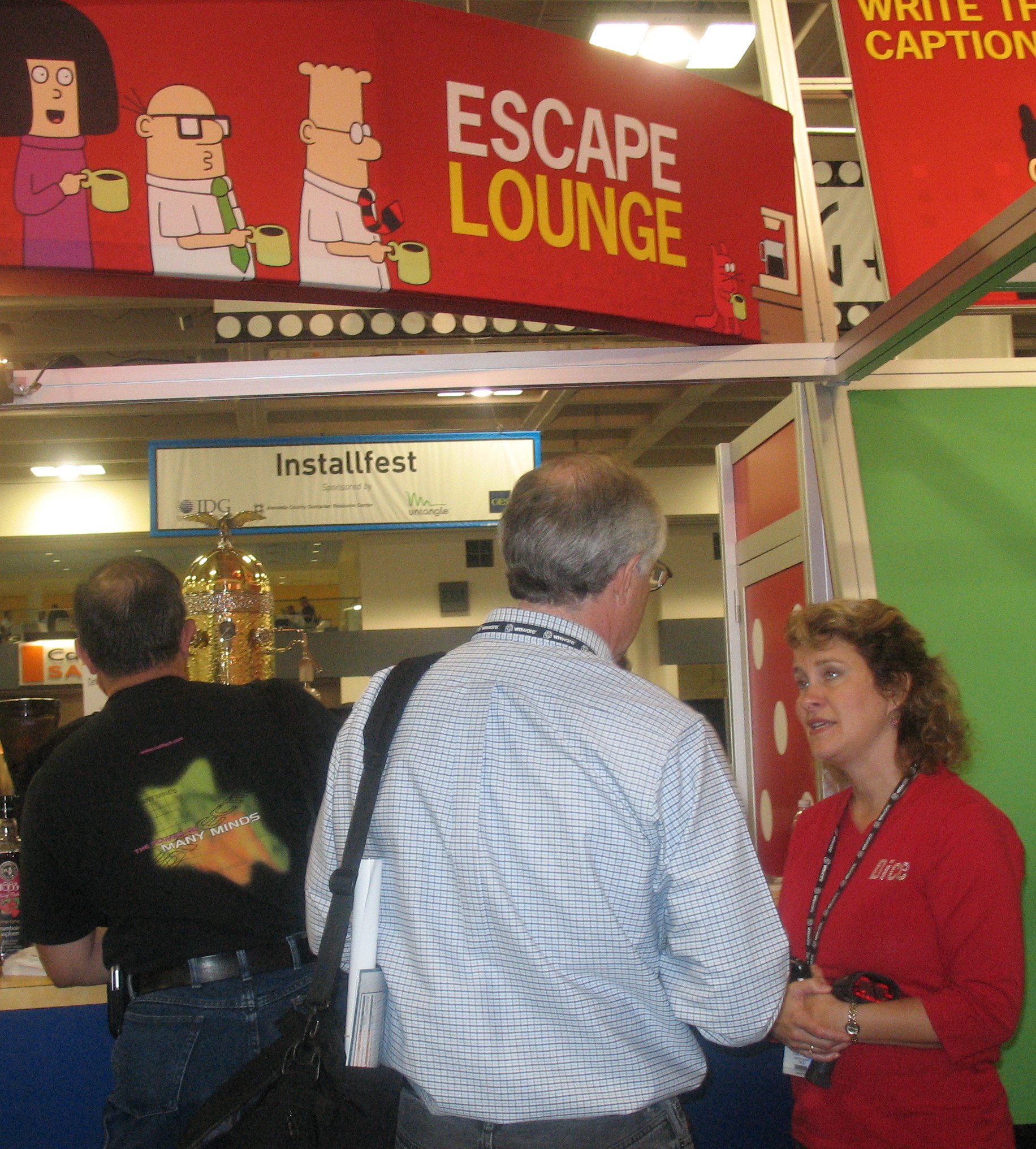 Later that evening having dinner at a local sports bar, I met a Dell recruiter who also was head-hunting for talent at LinuxWorld. The Dell rep was enthused about Dell's acquisition last year of EqualLogic, a New Hampshire-based storage networking company, that offers an all-in-one-box server solution for small offices with no IT staff, similar to IBM's just-announced Lotus Foundations product for a self-managing appliance server, also targeted at small and medium-sized business. Sounds like a trend worth watching.
As far as show attendance, while organizers won't release the final numbers for months, it seems clear that attendance couldn't possibly equal the past few years' tallies of 10,000 each. There were too many empty seats at the keynotes and too much room to walk around on the show floor. Lower attendance was likely attributable to a combination of a slow economy and high airplane fares as well as the maturity of the market. Further Linux doesn't have the cool factor it once did; it's now mainstream and simply part of how we work and live. With the maturity of the market, there's less of a gee-whiz factor that drives users to computing shows. The good news is that attendees tended to be higher level and in a position to make decisions. Just curious: how come Red Hat Inc. and Novell Inc. weren't among the exhibitors?