---
February 15, 2010 3:51 PM
Red Hat announced the launch of its fourth annual Red Hat Innovation awards to recognize the creative use of Red Hat and JBoss solutions by customers, partners and the community.
Categories for the 2010 Innovation Awards include:
Optimized Solutions: Recognition of striking performance, scalability and/or usability enhancements delivered with open source solutions.
Superior Alternatives: Recognition of the most successful migration from proprietary solutions to open source alternatives.
Extensive Ecosystem: Recognition of the use of Red Hat or JBoss' expanding partner ecosystem to create innovative architectures based on open source solutions.
Carved out Costs: Recognition of customers who have leveraged open source solutions to significantly cut costs and extract added value from existing systems.
Outstanding Open Source Architecture: Recognition of the use of Red Hat, JBoss and partner offerings to create innovative architectures based on open source solutions.
Submissions will be accepted until April 15, 2010. Each submission will be evaluated by a panel of representatives and industry leaders. Four categories will each recognize two winning submissions, one from Red Hat and one from JBoss, and the Outstanding Open Source Architecture category will recognize one winner who is deploying both Red Hat and JBoss solutions. From these category winners, one Red Hat Innovator of the Year and one JBoss Innovator of the Year will be selected by the community through online voting, and will be announced at an awards ceremony at the Red Hat Summit and JBoss World.
February 10, 2010 9:47 PM
After reading that despite a gloomy economy, Linux admins are making 10% more than their Windows peers, more people may be looking to get Linux certification. Novell and the Linux Professional Institute (LPI) are trying to make this even easier, joining forces to provide a standardized LPIC-1 certification that will qualify the holder to Novell® Certified Linux Administrator (CLA) certification as well. Novell Training Services has formally agreed to include required LPIC-1 learning objectives in its CLA course training material.
"…by aligning its training and exam preparation curriculum to support LPIC-1 objectives, Novell has recognized the industry's need for a vendor-neutral certification program that prepares IT professionals to work with any Linux distribution in an enterprise environment," said Jim Lacey, president and CEO of LPI.
Under the terms of the agreement, all qualified LPIC-1 holders will have the opportunity to apply for Novell CLA certification without additional exams or fees (except in Japan). Novell Training Services will include LPIC-1 objectives into its Linux Administrator curriculum and programs which include self study, on demand, and partner-led classroom training.
---
February 5, 2010 4:24 PM
If people thought Canonical was nothing more than that fun company with the cute and easy-to-use desktop version of Linux that was the pet project of its benevolent dictator, Mark Shuttleworth, then today they heard that needle sliding on a record sound. Stop.
In December, Canonical announced that Shuttleworth was stepping down from his role as CEO and COO Jane Silber was moving up, but no hint was given as to who would be filling her shoes. Today, the company sent out a press release announcing that the role would be filled by long-time open source business strategist, Matt Asay.
Some of us feel quite a familiarity with Asay; we've been following his CNET blog, The Open Road (and linked to it prolifically when breaking open source news hits). He also is a regular speaker at open source events — I recently saw him at the inaugural LinuxCon in late September 2009.
Asay leaves his position as VP of Business Development for Alfresco, a Maidenhead, United Kingdom-based open source content management software company. Prior to that, Asay was one of the founding members of Novell's Linux Business Office in 2002 and was an early influencer and participant in the company's shift to open source. In 2003, he founded the Open Source Business Conference, and he has served as an Entrepreneur-in-Residence for Thomas Weisel Venture Partners, focusing on open source investment opportunities.
Before Novell, Asay was General Manager at Lineo, an embedded Linux software startup, where he ran Lineo's Residential Gateway business. He is an emeritus board member of the Open Source Initiative (OSI).
Convinced of his cred?
Asay blogged about the move today, sharing his feelings and providing a skeleton outline of his focus and motivation for the move and what he'll be tackling at Canonical.
My guess is that the Ubuntu community is cheering on this move — bringing onboard an open source ambassador who also understands the business side is a strong move for the company that has been gaining momentum in Linux distribution market-share. But as a blogger, Asay is not without his critics, and I anticipate seeing a couple of public displays of distaste for the selection. What do you think?
Canonical has a couple of key releases coming up, including the April launch of Lucid Lynx (10.04) that might serve as the first test of Silber and Asay's leadership. It will be interesting to watch.
And a shout-out to Brian Proffitt, who said in his blog what I didn't have the guts to say to the folks at Canonical: Please, for the sake of open source bloggers collective egos, keep the man busy!
---
January 22, 2010 12:47 AM
Jim Zemlin, President of the Linux Foundation, came out swinging in a blog post about Microsoft's Robbie Bach's prediction that Linux on mobile will lose.
Bach's premise is that the multiple variants of Linux on mobile devices is bad for customers because of the lack of consistency. But Zemlin argues that the ecosystem of support around Linux on mobile is key to its success.
Linux as the underlying platform of such mobile offerings as Android, Moblin and many more is growing exponentially, and precisely because it affords this choice. Palm, Motorola and others have jumped ship from Windows Mobile to Linux-based offerings in recent years. LG is now using Android on 50% of its handsets. According to Gartner Group, Windows Mobile's market share fell to 7.9 percent in the third quarter of 2009 down from 11.1 percent the same quarter of last year.
Beyond the technology, Zemlin said that the Windows model is a business problem in the mobile device market, pointing out the per-device licensing fees and overwhelming branding emphasis reduce device manufacturer flexibility and increase cost.
To me, it appears that Linux on mobile is here to stay. The individuality offered by the various Linux flavors, and the creativity of the open source community behind them will continue to make Linux offerings more interesting and useful for consumers and device manufacturers.
---
January 14, 2010 4:48 PM
The Linux Foundation and the JobThread Network have found that demand for Linux-related jobs has grown 80% since 2005. To help connect employers with skilled workers, the Linux Foundation has launched the Linux Jobs Board on Linux.com.
"Linux' increasing use across industries is building high demand for Linux jobs despite national unemployment stats," said Jim Zemlin, executive director at the Linux Foundation. "By providing a Jobs Board feature on the popular community site, we can bring together employers, recruiters and job seekers to lay the intellectual foundation for tomorrow's IT industry."
Job seekers can include their LinkedIn details on their Linux.com profile, including their resume. They can also subscribe to the Jobs Board RSS feed, receive alerts by email and follow opportunities about Linux-related jobs on Twitter.
---
January 12, 2010 5:31 PM
This blog post was contributed by Paul Ferrill.
Walking the floors at the Consumer Electronic Show (CES) with a surface look at the products won't tell the true story of the impact of Linux. While there might be a few occasional mentions of Linux, for the most part the real story is what's behind those e-Book readers, MP3 players and pretty much anything with the word "smart" in the name. Embedded Linux has staked its claim as the go-to choice for a wide array of electronic devices.
e-Book readers, Wi-Fi HDTV, and smart phones rely on Linux
This year's CES saw an explosion of e-Book readers of all shapes and sizes. Only one of the offerings uses Windows Embedded (Plastic Logic Que) while the majority use some embedded Linux variant. Two offerings, the Spring Design Alex and Entourage eDGe, use Google's Android. Wind River and MontaVista are the two leading vendors of embedded Linux and associated tools. Each counts at least one e-Book manufacturer as a customer.
The latest trends in HDTV and Blu-ray players include features like Wi-Fi connectivity, YouTube playback over wired or wireless Ethernet and remote control over Wi-Fi using an iPhone. Much of this new functionality has embedded Linux behind it. This includes everything from the networking code to connect with YouTube and stream Flash-based video to the on-screen display. The big win here for hardware manufacturers is the ability to leverage existing development tools and code to reduce their time to market.
In the smart cell phone market the lead story is Google's Nexus Android-based handset. Android runs on top of the Linux kernel and represents a serious challenge to Apple's iPhone. Google announced this week their own handset developed by HTC that would be sold directly to the public. Other vendors with Android-based devices include Dell, LG and Motorola.
Lenovo brings hot laptop and netbook offerings with Linux inside
On the computing front, Lenovo showed two innovative laptop/netbook offerings with Linux in the spec sheet. The Skylight (image right) is a sleek, curvy, under 2 lb. netbook with a Linux variant as the OS underneath.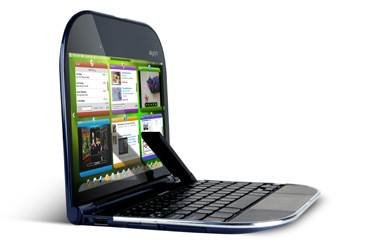 The core Linux comes from Thunder Software Technology headquartered in Beijing China. Lenovo did the user interface work themselves using the Clutter toolkit for the 3D effects and Google Gadgets. Lenovo also plans to offer a software development kit (SDK) for building custom applications on top of the Skylight OS.
The Skylight is targeted at mobile users looking for an easy way to keep up with e-mail, Facebook and Twitter, or to watch a movie in full HD it packs a Snapdragon processor, 10-hour battery life, 3G connectivity and your choice of color. Flash 10 will be supported out of the box for viewing the latest YouTube content. Lenovo envisions the Skylight appealing to the student crowd with their highly mobile and connected lifestyle. The Skylight will be available in Q1 of 2010 through direct sales and, potentially, at a subsidized price through a cell carrier.
Continued »
---
December 8, 2009 7:17 PM
Sometimes we like to discuss some of our "pet issues" in these blogs. One of my own is Google's steady growth and run at world domination.
On December 8, 2009, Google announced that its Chrome browser for Linux has gone beta. Despite criticism about Google's true "open source" nature, the company claims that more than 50 open source developers have contributed to Chromium. In addition to the Linux and Mac beta versions, Google announced that over 300 extensions had been made available for the Windows and Linux versions of Chrome.
This follows on the heels of last week's announcement that Google is launching Google Public DNS (domain name service), purportedly to improve efficiency in Web browsing.
"The goal of Google Public DNS is to benefit users worldwide while also helping the tens of thousands of DNS resolvers improve their services, ultimately making the web faster for everyone," said Prem Ramaswami, Google Public DNS Product Manager.
This grabbed the attention of OpenDNS, and David Ulevitch responded to the announcement on the OpenDNS blog.
"To think that Google's DNS service is for the benefit of the Internet would be naïve," said Ulevitch. "They know there is value in controlling more of your Internet experience and I would expect them to explore that fully."
OpenDNS provides an enterprise service that is advertised as a DNS resolution and security product. Despite its name, OpenDNS is not open source software.
Google's Public DNS is thus far free, with the company gleaning information about your Web browsing patterns being the trade-off. OpenDNS offers a free basic version with some advertising on unresolved domain names.
With a Google's reach across the spectrum of IT, we should all be aware that this could mean that everything we do online is being watched. As I read this week, Google CEO Eric Schmidt commented that "If you have something that you don't want anyone to know, maybe you shouldn't be doing it in the first place."
---
November 30, 2009 12:00 AM
Pulling Strings with Puppet: Configuration Management
Made Easy (Apress) introduces system administrators to the automation tool, Puppet. Beginning with installation and configuration, this Puppet reference manual explains how to create automated tasks, or recipes, for user and group management, server services, and more. With Puppet, admins can also create custom reports to monitor automated processes. Puppet also includes the tool Facter, which is used to retrieve critical network data such as IP addresses, server names and MAC addresses.
@48036
Chapter 2 – Installing and Running
Puppet– Author James Turnbull guides the reader through Puppet's installation and configuration. Puppet master servers and clients can be set up from source, packages or as a Ruby Gem, and Chapter 2 covers each of these installation methods for either Linux or Unix systems. After you configure both Puppet master and client, you'll be on your way to using this useful tool on your system.
Read the chapter in this PDF.
This chapter is excerpted from Pulling Strings with Puppet: Configuration Management
Made Easy, by James Turnbull, published by Apress, February 2008, (ISBN: 978-1-59059-978-5/1-59059-978-0). Copyright © 2008.
---
November 11, 2009 7:10 PM
This post was contributed to by Pam Derringer, News Writer
On the third anniversary of the 2006 Microsoft-Novell pact, Novell is touting 475 customers who have bought SUSE Linux Enterprise certificates from Microsoft under the settlement. Under the controversial agreement, Novell agreed to give Microsoft either a percentage of all its Linux revenue through 2011 or a minimum of $40 million. Microsoft, in turn, bought $240 million in SUSE certificates that it could then resell to customers with mixed environments who wanted to buy new Windows servers and purchase Linux machines. In addition, Microsoft gave Novell another $108 million as a "balancing payment" in connection with the patent part of the deal.
This joint marketing initiative worked so well in the first two years that Microsoft committed to buying up to an additional $100 million in SUSE certificates in the summer of 2008. To date, Microsoft has only actually purchased an additional $25 million. In fact, SUSE certificate sales boomed so much in 2007 that they were cited as a major factor in SUSE's three-point market share gain that year vs. Red Hat.
A look at the numbers after three years
While interoperability was the stated goal of the partnership, financial factors were the key motivator for both companies.
"While technical interoperability was the announced basis for the Microsoft relationship, Novell did the deal because it needed to jump start its Linux subscription sales," said Bill Claybrook, founder of New River Marketing Research, a firm specializing in Linux. "In November 2006, Novell was on the tail end of four or five consecutive quarters of flat SUSE Linux Enterprise Server subscription sales. At the same time, Red Hat was reporting year over year increases in revenue and subscription sales of 30% – 40%, and Red Hat was already way ahead of Novell in subscriptions sold and in revenue from subscriptions."
Continued »
---
November 4, 2009 9:26 PM
While most of Zend Technologies' products have been available to Linux users for some time, they haven't been as easily available to Oracle Unbreakable Linux users until now. Today, Zend announced a partnership with Oracle for an integrated and optimized Linux and PHP solution. This includes extending access to Zend Server for Oracle customers via the Oracle Unbreakable Linux Network (ULN), helping to speed installation for their PHP-based Web applications. Zend Server now also includes out-of-the-box enterprise-grade connectivity to Oracle's database.
On October 20, 2009, Zend released a beta version of Zend Server 5.0, which includes a new feature, dubbed "Code Tracer."
For the first time, PHP developers and administrators can quickly pinpoint the root cause of a problem in production by viewing a "digital documentary" of the execution of their application – similar to a black box flight recorder in an airplane – and avoid the time-consuming task of recreating the problem.
---