---
August 24, 2011 4:35 PM
Eucalyptus Systems today announced the upcoming launch of Eucalyptus 3, the third iteration of its open source on-premise IaaS cloud computing software. The software will be available in the fourth quarter.
A major new feature in this release is its high availability (HA) capability. It is designed to allow no single point of failure –if a system crashes due to any reason, Eucalyptus 3 will immediately trigger a failover to a "hot spare" service that is running concurrently on a different physical machine. This information is then propagated internally to reflect the change while showing no signs of underlying failure to the external world.
Continued »
August 18, 2011 9:00 PM
VANCOUVER  B.C. — The Linux Foundation is celebrating the 20th birthday of Linux in style, with a black tie dinner event at the Commodore Ballroom, and state-of-the-art staging for the livestreamed keynote events at the third annual LinuxCon.
Throughout the week, conference attendees have been regaled with stories, celebrating the milestones of Linux, from its inception, initial adoption, and growing community support while looking forward to eventual world-domination — perhaps just not on the desktop.
On Wednesday, three Linux gurus joined the stage with Linux Foundation President, Jim Zemlin to reminisce and share their wisdom about Linux's future path. Each shared their story of their first interaction with Linux, from compiling the OS from a CD in 1993 to a late introduction in 1998 at a forum on high-performance computing. The individual anecdotes were interesting and humorous, with a lot of audience laughter and the recollection of dissenting voices who had predicted that Linux wasn't viable.
---
August 17, 2011 3:19 PM

Profile: Nick Martin
More developers are now turning to Mac OS over Linux as their development platform, according to a recent survey. The Evans Data North American Development Survey, released earlier this month, showed Mac OS surpassing Linux as the primary software development environment in North America.
It shouldn't be any surprise that Windows remains the most popular development platform, with more than 80% of the market, but the news that Linux has now lost its second place position to Mac OS is opening some eyes. Almost 8% of developers are now using Mac OS, with only 5.6% using Linux.
When you consider the explosion of Apple (driven forward by the success of its iPhone and iPad) over the past several years, this shift seemed almost inevitable.
Byron Wright, a developer who switched from Linux to Mac OS, said his choice was based on a variety of reasons, but notes the recent success of Apple products was a large factor.
"I think the major thing driving this change has been the rise of the mobile space. Developers are flocking here to take advantage of the iOS platform (iPad/iTouch/iPhone). In order to do development for iOS you have to own Apple hardware."
There is no such requirement for Linux. In fact, Wright says, it is now just as easy to develop Android applications on the Mac OS as it is on Linux. He said it would be reasonable to expect Mac OS to grow as a development platform, but Apple still faces some challenges in its push to catch up with Microsoft.
"Apple's biggest challenge right now is fighting off competition from Android, HP, Microsoft, RIM and Nokia, especially in the mobile space," Wright says. "However, they're doing a great job so far. The thing is, developers will go where ever the money is, and right now it's great to be a mobile developer. I think we'd see a major shift if Google can marginalize Apple in the mobile space. I don't see that happening for a long time, if at all."
---
August 12, 2011 5:36 PM
MySQL has gone through a bit of turmoil, and we have reported on some of the efforts to keep it going despite a seemingly uncommitted parent company. So we aren't exactly surprised at the news that this year's annual MySQL conference in Santa Clara, Calif., lacked leadership and any assurance that a conference in 2012 will happen.
"The current MySQL steward pulled out for 2011, leaving O'Reilly as the main risk taker. With a competing event on the East Coast at almost the same dates, the ecosystem was left with confusion on which event to participate in," said Kaj Arnö, Executive Vice President of Products at SkySQL in a blog post.
The Independant Oracle User Group (IOUG) hosted Collaborate 11 in Orlando during the same week as the O'Reilly MySQL 2011 conference in Santa Clara, Calif., causing developers and user interest to be split between the coasts. Arnö noted that very few attendees managed to make both events.
A former MySQLer, Peter Zaitsev attended this year's event in Santa Clara, and noted in his blog that it had become more of a "marketing channel and business event," rather than a users conference. His dissatisfaction with this outcome spurred him to start a Google Group, OurSQL Conference, as a place for people interested in putting on a user-focused MySQL event in 2012 — sorry O'Reilly.
---
July 29, 2011 5:09 PM
PORTLAND, ORE. — Every year I go to OSCON and am amused by the wild hair, impressed with the depth of passion and geekery, and inspired by some really big open source initiatives that people are collaboratively pursuing. This year was no different. There was impressive hair, deeply passionate people, geekery, and a couple of really big, important open source initiatives. The one that struck me as the most important for our collective future, was in the area of health IT.
Fred Trotter introduced the OSCON audience to the Health Internet during his Thursday morning keynote.
Fred Trotter is a consultant and advocate for Free/Libre and Open Source (FOSS) Health Software, and he is the Technology Activist for the Cautious Patient Foundation, an organization focused on helping individuals improve their chance of avoiding medical errors – defined broadly to include misdiagnoses and undertreatment.
At the end of his talk, Trotter asked the OSCON attendees, "What is going to be on the Health Internet?" Because, he explained, it's up to the open source community to make it happen.
Beyond Trotter's five-minute keynote, there were quite a few sessions focused on health care IT at OSCON, including one on crowdsourcing clinical trials from the executives at Genomera, a health care collaboration technology company.
I particularly liked (and agreed with) this sentiment from @anomalizer:
"This year's #oscon has lots of appeals asking geeks to work on healthcare. I concur. Better than getting people to raise virtual carrots."
So quit working on a fun little game App for Android and get to work developing something that will change how health care works in this country!
For more information on current developments in health IT, commercial and open source, visit SearchHealthIT.com
Check out more Linux news at SearchEnterpriseLinux.com, and follow us on Twitter @LinuxTT.
---
July 28, 2011 3:24 PM
PORTLAND, ORE. — Just a year after OpenStack was formed by Rackspace and NASA, OSCON welcomed the debut of Nebula.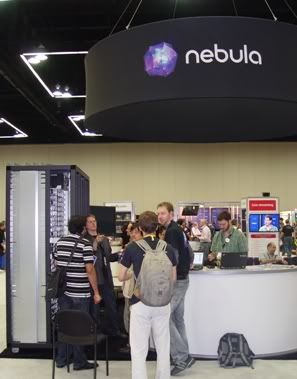 Nebula will combine open source technology developed at NASA with commodity servers such as the Open Compute Project hardware developed at Facebook. The key product is an appliance called a cloud controller that Nebula CEO Chris Kemp told the OSCON keynote audience on Wednesday could plug into any generic stack of servers and make it into a private cloud.
I talked to Nebula's co-founder and VP of Engineering, Devin Carlen, who explained that the cloud controller appliance will reduce capital expenditures for companies that may not have the expertise or money to launch their own private cloud using OpenStack. This opens up the potential of cloud computing to small companies that otherwise would need expensive hardware or software and in-house expertise to go to the cloud.
Because all of this was announced at an open source conference, I had to ask the question that the top-of-mind question: Would the cloud controller be opened to the community? The answer: No.
"What's in the box is not as interesting as what you can do with the box, and how fast," said Carlen. Emphasizing that speed of deployment was the biggest benefit of the cloud controller, he explained that Nebula customers would be able to order the controller and quickly deploy their own private cloud. Of course, all of the hardware that is inside the box that is open source will continue to be open source and any improvements made to it by Nebula will be shared back with the community. But the box will remain closed.
More secret sauce has been added to the software side of the appliance, which is built on the same APIs and runtime as OpenStack, including security, management, and platform enhancements. Some of these will be kept proprietary as well.
The Nebula debut was the biggest cloud news at OSCON, but OpenStack made other news as well. There was Dell's OpenStack offering, Gluster's connector for OpenStack, and HP's announcement that it was joining OpenStack.
As one enthusiastic Racker tweeted: "What do you call it when a project takes over a conference? I call it a mandate. #OSCON #OpenStack"
Check out more Linux news at SearchEnterpriseLinux.com, and follow us on Twitter @LinuxTT.
---
July 28, 2011 1:53 PM
PORTLAND, ORE. — At OSCON today it became glaringly obvious what the big push at the conference is besides cloud: Data.
For the first time, OSCON Data is colocated with the main conference. The event is a gathering for developers who are doing the systems work and evolving architectures and tools to manage data. In the exhibit hall, players such as MongoDB, MariaDB, SkySQL Citrusleaf and Oracle with MySQL shared their technologies and advertised job openings. Continued »
---
July 26, 2011 6:02 PM
PORTLAND, ORE. — In conjunction with OSCON, Dell today announced the first available cloud solution offering based on OpenStack — the Dell OpenStack Cloud Solution. The OpenStack platform has been lauded as providing an alternative to proprietary, licensed cloud products. The Dell OpenStack Cloud Solution integrates the OpenStack cloud operating system, Dell PowerEdge C servers, Dell's Crowbar OpenStack installer, and services from Dell and Rackspace Cloud Builders. It comes with a reference architecture enabling faster integration, allowing admins to quickly deploy and manage their IT resources in an OpenStack environment.
The Crowbar software framework manages the OpenStack deployment from the initial server boot to the configuration of the primary OpenStack components, allowing users to complete bare-metal deployment of multi-node OpenStack clouds in a matter of hours. Once the initial deployment is complete, Crowbar can be used to maintain, expand, and architect the complete solution, including BIOS configuration, network discovery, status monitoring, performance data gathering, and alerting. Crowbar has been released to the community as open source code and Dell is working with the community to submit Crowbar as a core project in the OpenStack initiative.
"In order to efficiently serve over 300,000 customers, DreamHost has built intelligent service automation into all our Web hosting solutions," said Simon Anderson, CEO of DreamHost. His company has used Dell's OpenStack Cloud solution in their expansion of cloud solutions based on Ceph, an open source distributed storage system. They are also contributing to the OpenStack project.
Check out more Linux news and tips on SearchEnterpriseLinux.com.
---
July 26, 2011 3:14 PM
On Monday, Canonical announced the launch of its new Ubuntu Advantage (UA) partner program. Enterprise customers will benefit from the new partner program by having local resources and expertise to call on.
Resellers joining the Ubuntu Advantage partner program can tap into additional revenue streams by expanding their services portfolio. In addition to the commission of UA, resellers can also add additional services such as hardware, software, implementation and training services. Partners also receive marketing, technical, commercial and pre-sales support and an assigned account manager as part of the UA program.
The program is launching with global partners, including CSS in the US, Asia and EMEA, Ashisuto in Japan, RedPill Linpro in Scandinavia and Alterway in France.
"Partnering with Canonical for our Ubuntu offerings on the desktop, server and cloud is already giving CSS a significant advantage of being able to provide top-tier solutions and support to our customers," said Steve Lack, Director of Global Alliances at CSS.
Check out more Linux news and tips on SearchEnterpriseLinux.com
Update: This week Canonical also launched Ubuntu Advantage Cloud Guest, a set of technical support services, management tools and legal cover for businesses running Ubuntu in public cloud environments. Customers who subscribe to the service will get round-the-clock technical support and expertise.
---
July 20, 2011 6:58 PM
Some in the open source community speculated that Mono was dead following Miguel de Icaza's departure from Novell after the deal with Attachmate. But this week, the open source development platform has risen, with the full support of SUSE and Xamarin, the company de Icaza founded to keep it alive.
The companies announced a partnership agreement that grants Xamarin license to all intellectual property covering Mono, MonoTouch, Mono for Android and Mono Tools for Visual Studio, and responsibility for technical support for SUSE customers using Mono-based products. Xamarin will also assume stewardship of the Mono open source community project.
Mono is a software platform designed to allow developers to easily create cross-platform applications using the .NET ecosystem of code, libraries and tools on non-Windows platforms, including Linux, Mac OS X, Apple iOS and Google Android.
"This partnership is a triple win — a win for SUSE, a win for Xamarin, but most importantly, a win for our customers, users and community," said Nils Brauckmann, president and general manager of SUSE. "Our partnership ensures SUSE customers continue to get the best support possible, enables the bright team at Xamarin to achieve success in their promising new venture, and provides continuity of stewardship for the Mono open source community project in the very capable hands of its most passionate evangelists."
On his blog (below a cute furry kitten picture), de Icaza wrote:
"We are a young company, but we are completely dedicated to these mobile products and we can not wait to bring smiles to every one of our customers."
It looks like Android is the biggest target of the Mono development efforts, as the project didn't ever seem to get much traction in the Linux desktop development space.
On his blog, de Icaza wrote "In the past couple of months, we have met with some of our users and we have learned a lot about what you wanted. We incorporated your feature requests into our products roadmaps for both the MonoTouch and the Mono for Android products."
For Android, bug fixes are the immediate focus, with medium and long-term plans that include support for Java APIs and asychronous C# 5 programming.
With these plans, Mono may yet live on.
---