---
August 22, 2008 3:47 PM
The Boston Linux & Unix Users Group's 30th Installfest, which we announced in a previous blog as taking place on Sat., Aug. 16, is actually tomorrow, Sat., Aug. 23, at MIT. Volunteers will help users install open source software on their laptops from 9 a.m. to 5 p.m. at MIT Building E-51, Room 61, 2 Amherst St., Cambridge. Copies of Fedora 9, OpenSuse 11.0, Ubuntu Hardy Heron 8.04 and Debian are available. Bring your computer, monitor, distros to be installed, a power strip and some bucks. Although the volunteer-run service is free, a $25 donation is encouraged
August 21, 2008 1:24 PM
Microsoft Corp. recently announced that it will buy $25 million to $100 million in additional customer support certificates for Novell SUSE Linux Enterprise software that Microsoft will, in turn, sell to its customers that want a mix of open source and proprietary software. The pact is an extension of the five-year interoperability agreement of November 2006, in which Microsoft agreed to sell $240 million of SUSE certificates in five years. (SUSE itself can be downloaded for free but customers must pay for patches and support.)
Microsoft's SUSE certificate sales, in fact, have grown faster than expected, exceeding $157 million in the first 18 months. Novell, in turn, agreed to boost its investment in tools and customer training to help make the two systems more interoperable and user-friendly at the joint Microsoft/Novell research facility in Cambridge, Mass.
Justin Steinman, Novell's director of product marketing for Linux and Open Source, said SUSE Linux core sales have continued to grow rapidly and the Microsoft certificate sales represent just another channel to get into the market.
Al Gillen, research vice president of system software with Framingham, Mass.-based International Data Corp., said that the extension is "positive for both companies" and reassures users that the pact "isn't going to run out of gas" before its scheduled termination."The market for nonsupported Linux is strong, and Microsoft is trying to penetrate that market with these certificates," Gillen added. "Microsoft doesn't want to compete against free Linux software, and by selling SUSE support certificates, Microsoft creates a level playing field."
Although open source is touted as a lower-cost alternative to proprietary software, Gillen said the cost difference is insignificant when comparing the tab for acquisition and support over a five-year period.
---
August 20, 2008 10:57 PM
Less than two weeks after VMware Inc., the proprietary virtualization software leader, signed up for membership in the Linux Foundation, Canonical Ltd., the commercial sponsor of Ubuntu open source software, joined as well.
Of the two, VMware is the more surprising since its software isn't open source, despite its recent decision to make its ESXi virtualization server available for free. In fact, however, VMware recently contributed its Virtual Machine Interface for paravirtualization to the open source community and is working on other ongoing community projects. But Canonical's joining seems, if anything, overdue; its founder, Mark Shuttleworth, also helped launch the Linux Foundation and is a current board member.
So what's going on? Is this the beginning of a wave of new members? Jim Zemlin, the Linux Foundation's executive director, thinks so."You will be seeing many more new members of the Linux Foundation in the near future," Zemlin predicted. Collaboration is critical in the open source community, and the Foundation is a place to meet and solve problems, he said.
Well-known tech blogger Jason Perlow wasn't quite in agreement. He said Canonical's joining is "almost a nonevent" because of its "huge support" of the community. Nevertheless, its membership puts it on an equal footing with multibillion-dollar firms in a "somewhat exclusive club" and might prompt Red Hat Inc. and Novell Inc. "to take the snappy little upstart" more seriously, he said.Jay Lyman, an analyst at the New York-based 451 Group, said the two new members — especially Canonical — are both "key" to the Foundation because of the popularity and innovation of Canonical's Ubuntu software. VMware's membership is not as important to the organization overall, but should help Linux to stay at the forefront of virtualization, he said.Canonical's silver-level membership (the lowest of three full membership levels) puts it one up on open source leader Red Hat, which is at the same support level but, unlike Canonical, doesn't have a seat on the board. (Novell is a top-level platinum member.)
Hmmm …perhaps the popular open source software company from across the ocean will start getting a lot more respect.
---
August 18, 2008 1:22 PM
On Friday, Aug. 15, the software behemoth from Redmond, Wash., won another victory over open source, when the International Organization for Standardization (ISO) and the International Electrotechnical Commission gave the go-ahead to Microsoft's alternative Office Open XML (OOXML) document format. The organizations rejected appeals by four countries (Brazil, South Africa, Venezuela and India) because they failed to obtain two-thirds membership support for their position. The four objectors contended that procedural violations last February invalidated the subsequent April 1 boards' approval of the Microsoft-sponsored standard. OOXML opponents also argue that the addition of a second document format standard will undermine the Open Document Format (ODL) developed earlier by the open source community. However, the ISO contends that its approval of two standards will give the market the opportunity to choose between the two alternatives.
Since when has Microsoft been in favor of choice? Like the choice of eat or be eaten. . . .
---
August 15, 2008 7:46 PM
Malcolm Yates, the global independent software vendor (ISV) alliance manager at Canonical Ltd., traveled halfway around the world, flying from London to San Francisco with a message for LinuxWorld: Ubuntu is growing up. No longer just an operating system for geeks, Ubuntu has begun to evolve into a mature ecosystem with a small but growing cache of applications to run on top of an OS and more partners to expand its reach, he said.
Addressing an oft-cited shortcoming, Canonical is in the process of adding numerous key partnerships to expand the desktop and server offerings on top of Ubuntu's OS and forging pacts with hardware vendors as well, Yates said. Parallels virtualization software and IBM DB2 database software already are downloadable from Canonical's website and enterprise resource planning and customer relationship management applications in the works, he said. The desktop is beefing up, too, with OBM messaging and collaboration software and IBM groupware are coming soon, he said.
Canonical also has strengthened its development team to nearly a dozen members during the last year and has built a mini-operating system to enable ISVs to develop Ubuntu-based applications quickly and bring them to market, Yates said.
Although he didn't have solid numbers, Yates estimated that Ubuntu's share of the open source operating system market has doubled or tripled from IDC's 9% projection last year, with the number of users opting for paid support rising proportionately. Server and desktop users both are growing but desktops – boosted by a 50,000 deployment by French police – are increasing faster, he said. But the coming addition of IBM groupware to Ubuntu's desktop should boost Ubuntu's momentum in the corporate market, both desktops and servers, he said.
Canonical's goal is to make Ubuntu available via any partner and any business model and deliver it to users on the server as well as the desktop, Yates said.
---
August 15, 2008 2:58 PM
LinMin Corp. beefed up automation of its cross-platform bare-metal provisioning tool. The new version 5.2 from the Redwood City, Calif., startup now includes an application programming interface (API) through which a business process can initiate the provisioning of additional servers or desktops. The tool works on physical or virtual servers running Red Hat, Novell, Ubuntu, CentOS, Fedora, Asianux and Microsoft Windows.
Steven Brasen, an IT analyst with Enterprise Management Associates in Boulder, Colo., said the new API makes LinMin more useful because it can link directly into interfaces for other functions such as ticketing.
For example, developers could use the new API to trigger provisioning of a new Web hosting machine directly from an invoice, or the provisioning of desktop for a new hire from a payroll system, said LinMin CEO Laurent Gharda.
LinMin's technology derives from the now-defunct OpenCountry, the technology assets of which LinMin acquired shortly after its launch last March, said Gharda.
OpenCountry's system management package won "outstanding reviews" and LinMin has taken its best component and created a standalone provisioning solution, Brasen said. Provisioning is typically available only as part of a high-end systems management package such as Tivoli Software or HP OpenView, compared with which LinMin is a "very inexpensive" alternative, he said.
Ultimately, LinMin will probably be acquired by complementary vendors such as Hyperic or by an original equipment manufacturer, Brasen said.
Until then, the new API will help LinMin users eliminate the need for human intervention in provisioning, Gharda said. Some LinMin customers are testing the product in cloud deployments, he added.
---
August 15, 2008 2:39 PM
If you've wanted to ditch Windows and experiment with Linux but are intimated by the prospect of going it alone, tomorrow's your chance. The Boston Linux & Unix Users Group has organized its 30th Installfest, which takes place between 9 a.m. and 5 p.m. on Saturday, Aug. 16, at MIT to help users install it on their laptops. Copies of Fedora 9, OpenSuse 11.0, Ubuntu Hardy Heron 8.04 and Debian are available. Installfest will take place at MIT Building E-51, Room 61, 2 Amherst St., Cambridge, Mass. Bring your computer, monitor, distros to be installed, a power strip and some bucks. Although the volunteer-run service is free, a $25 donation is encouraged.
Volunteer Sellam Ismail of Livermore, Calif., helped repair donated computers and install Linux operating systems on hundreds of machines recently during LinuxWorld Conference & Expo in San Francisco (see below). The machines were donated to local schools.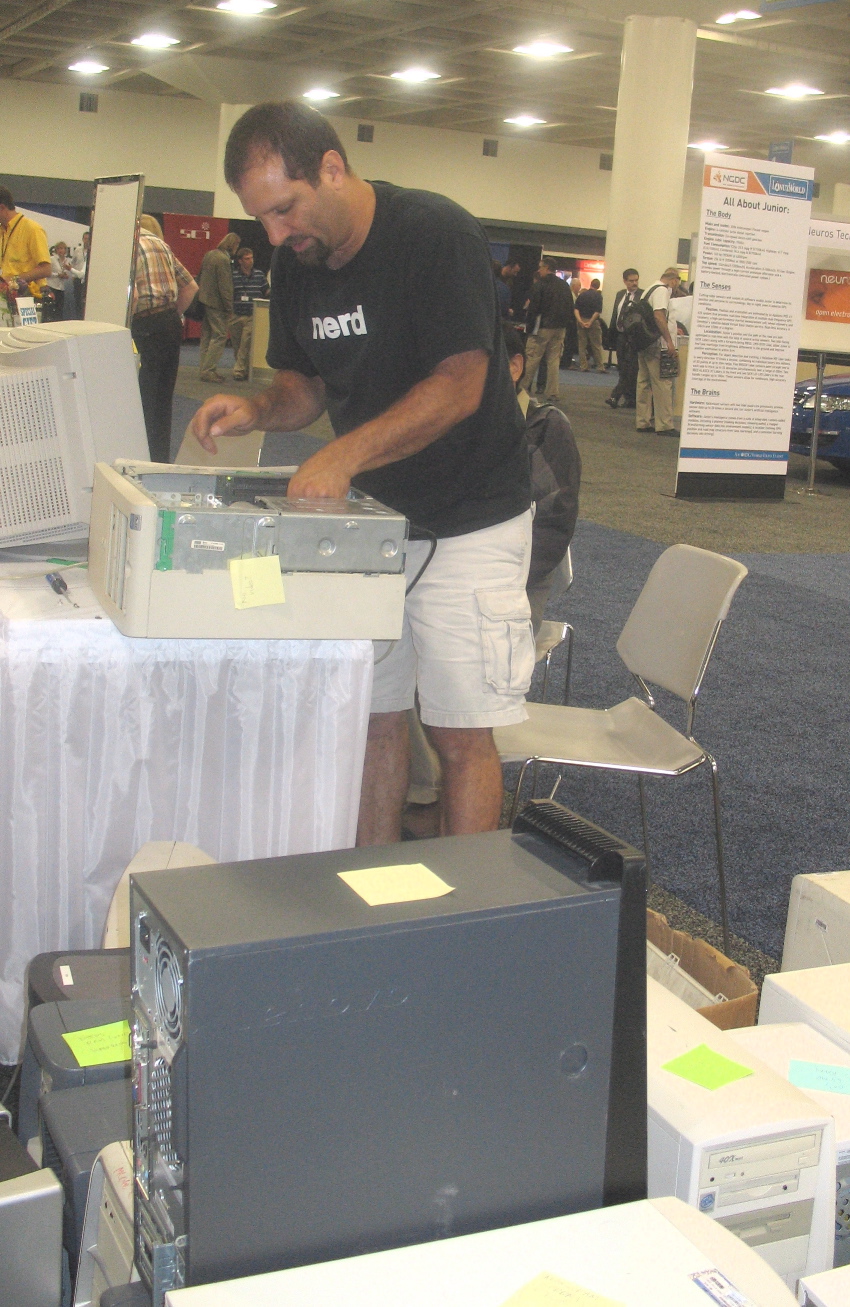 ---
August 14, 2008 6:07 PM
Vyatta Inc., the startup with attitude vying to take on the mighty Cisco Systems Inc., is seeking to expand its toehold in the networking market with the introduction of a larger router and security networking appliance — and at a fraction of the cost of comparable Cisco gear.
The Belmont, Calif., company, which describes its customers as smarter and better looking than those of its giant competitor in its press releases, debuted its 2501 appliance last week at LinuxWorld Conference & Expo. The 2501 has nearly twice the horsepower (1.8 GHz versus 1 GHz) and more expansion slots than its 514 predecessor, which was introduced last March.
Although Cisco has overwhelming market share, Vyatta's pitch is its eye-popping price advantage (it's about a tenth of Cisco's cost). In addition, the functionality of Vyatta's router is in software, which is easy to upgrade, versus Cisco's proprietary hardware boxes, which can only be upgraded via replacement.
Rob Whiteley, the principal analyst at Forrester Research Inc. in Cambridge, Mass., said the new router is better and more powerful than its predecessor and would enable Vyatta to go after more than the low-hanging fruit of small companies and branch offices.
The 2501, in contrast, has the additional processing power and throughput required for medium to large networks and could function as a link to a wide area network (WAN) or a security appliance.
Vyatta will never be large enough to meet all of most companies' needs, Whiteley said. But the growing acceptance of open source products and the current budget-shrinking economy should help Vyatta's cause, he said. Ultimately, Vyatta's success will depend on its ability to offer additional services along with its routers, he said.
---
August 14, 2008 1:53 PM

Profile: Suzanne Wheeler
Just as surveillance tools have flourished in the physical world because they can monitor systems in hiding – think nanny cam – such seemingly invisible monitoring systems have flourished in the digital domain.
Rootkits, a form of malware designed to take control of a system without the authorization or knowledge of an administrator, can wreak havoc on a system and compromise everything it does by infecting code, nestling within it and becoming the malevolent phantom of an OS.
If security plays second fiddle to other system administration duties, your system may be just as much at risk as if you didn't monitor it at all. But a new crop of rootkit detection tools is designed to detect these malware breaches and, in some cases, beat malware at its own game.
Products such as F-Secure Blacklight and OSSEC help protect system information from being used against you by making it inaccessible to nonadministrators. Unlike traditional antivirus scanners, these tools examine the system at a deep level to detect active rootkits and rout them out. Tools like Blacklight also tout themselves as user-friendly and nontechnical .
The new security tool ProcL goes a step further by hiding information about which version of software a system uses. As a result, malware attempting to gain system access cannot tell whether the system has software from 2008 or 1988 and will likely move on to an easier target.
For more on ProcL, see the Scanit website. And to check out an advanced security "hiding" tactic involving virtualization, click here.
---
August 10, 2008 1:30 PM
The 11th annual LinuxWorld Conference & Expo at the Moscone Center in San Francisco has packed up and gone, but organizers did a lot this year to make it more informative, with special sessions such as the Executive Summit on innovative technologies and entertainment like the Golden Penguin Bowl geek challenge.
Other organizations joined in the fun, with Groundwork Open Source hosting a mascot American Idol-like contest between Tux the Penguin, Mozilla Firefox, Beastie the BSD Demon and GNU Gnu, each of whom appeared in costume to drum up support for their respective candidacies in the exhibit hall. As of late Thursday afternoon, Mozilla Firefox was the runaway winner with 49% of the votes. Beastie the BSD Daemon trailed in second with 31%; Tux the Penguin, 6.6% and GNU Gnu, 2%.
In addition, the Open Voting Consortium featured costumed singers luring attendees to participate in its mock presidential election between Barack Obama and John McCain on machines running Ubuntu. Obama was the big winner, tallying 545 votes to 135 for McCain. In other categories, Canonical Ltd. scored a big win for the top exhibit. The purpose of the exhibit was to showcase the use of Linux-run voting machines, which the group is promoting in California as a more secure operating system.
Open Voting Consortium booth at LinuxWorld 2008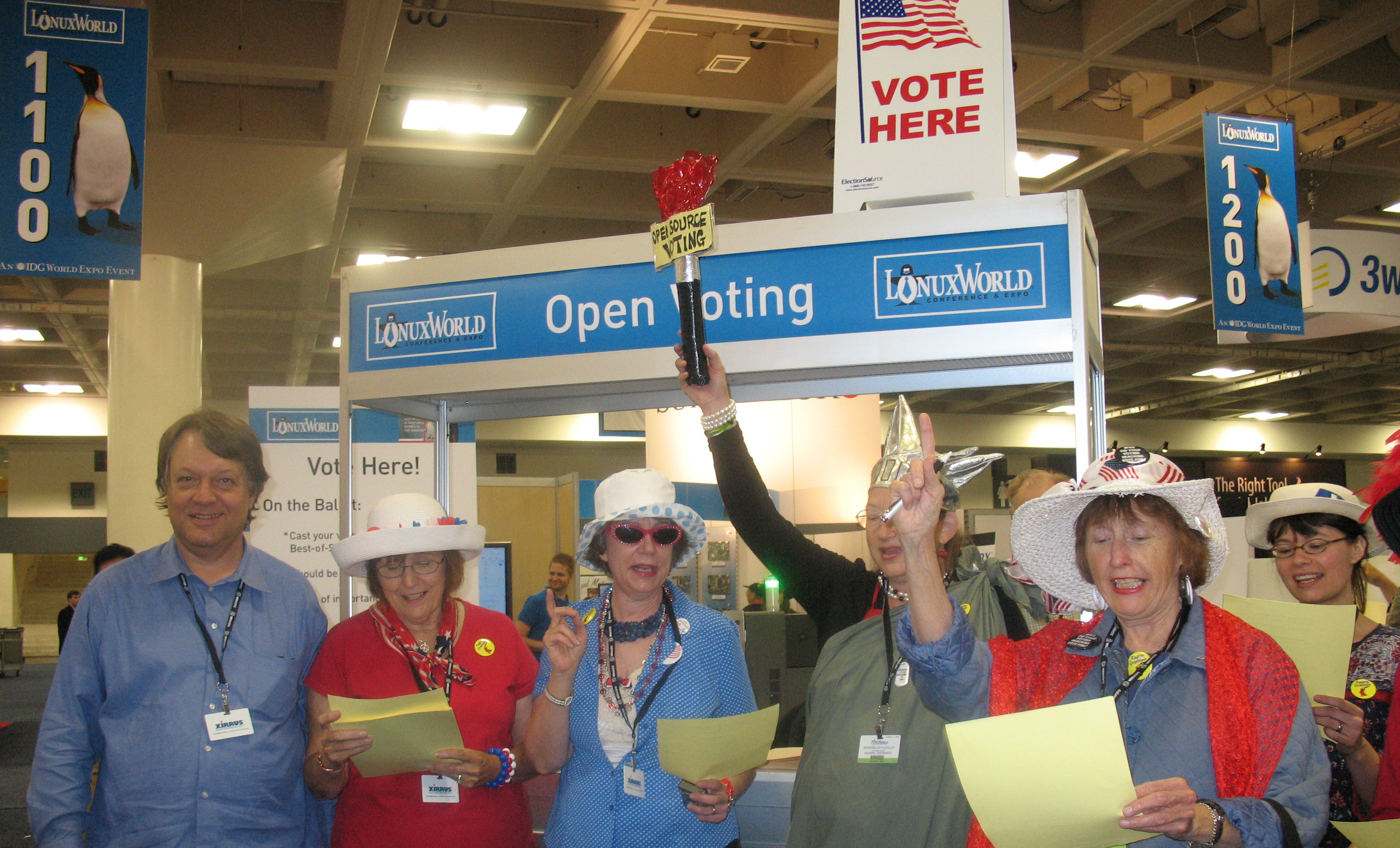 The expo also enlisted attendees in an "Installfest" to fix discarded computers and install open source software. Installfest's goal is 1,000 repaired computers for donation to local schools. The effort also will reduce the 300,000 pounds of electronic waste abandoned monthly at two county dumps, according to organizer James Burgett.
During the four-day event, the tables outside the exhibit hall with free Wi-Fi Internet access were quite popular, as well as the Dice booth which attracted crowds of job seekers. But Dice wasn't the only one searching for those with Linux skills. I shared a lunch table with a Google recruiter who faced an uphill battle trying to convince a 30-something attendee that, as a Google employee, he would still have time for his family, despite Google's apparently intense work environment.
The Dice booth at LinuxWorld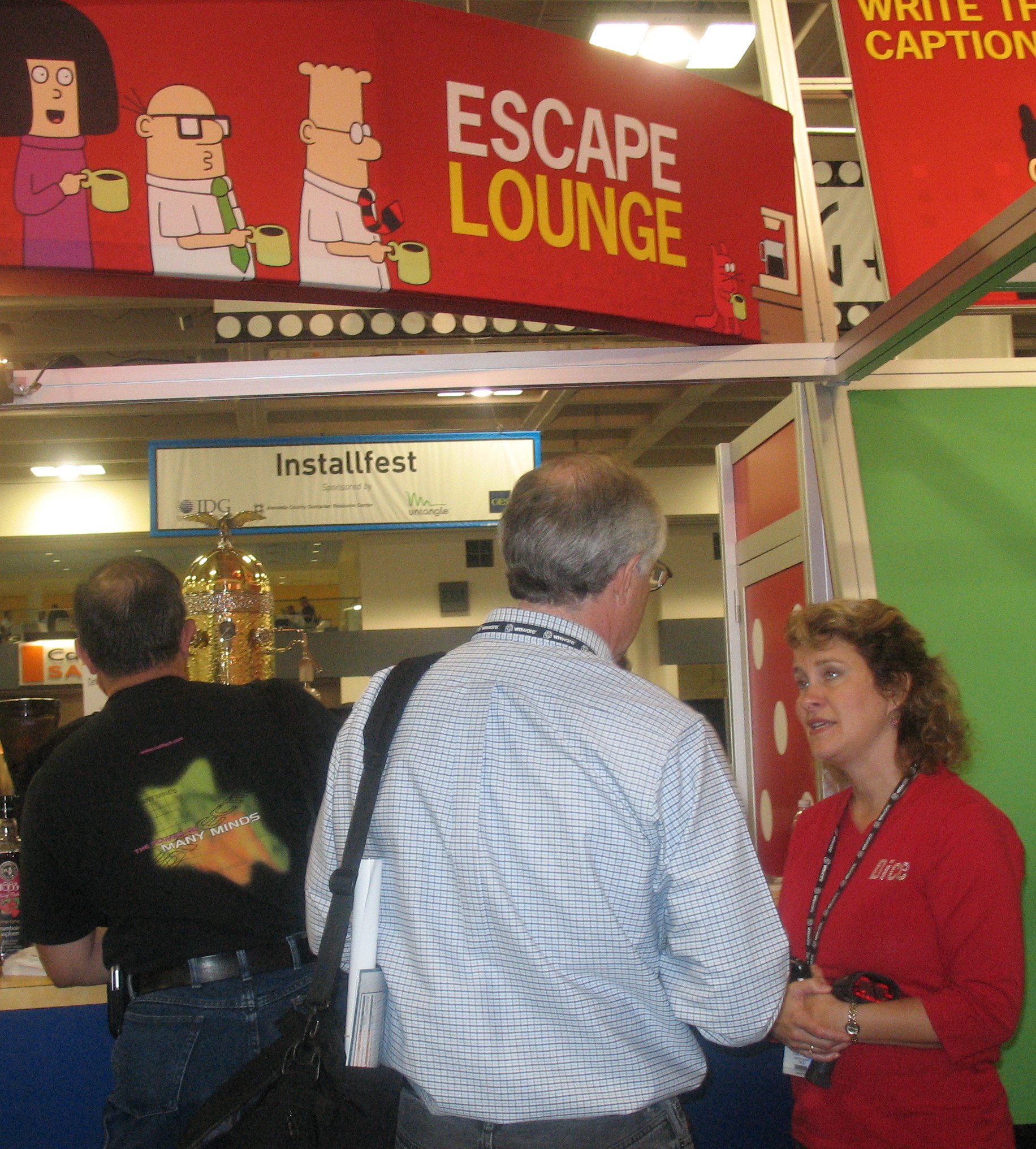 Later that evening having dinner at a local sports bar, I met a Dell recruiter who also was head-hunting for talent at LinuxWorld. The Dell rep was enthused about Dell's acquisition last year of EqualLogic, a New Hampshire-based storage networking company, that offers an all-in-one-box server solution for small offices with no IT staff, similar to IBM's just-announced Lotus Foundations product for a self-managing appliance server, also targeted at small and medium-sized business. Sounds like a trend worth watching.
As far as show attendance, while organizers won't release the final numbers for months, it seems clear that attendance couldn't possibly equal the past few years' tallies of 10,000 each. There were too many empty seats at the keynotes and too much room to walk around on the show floor. Lower attendance was likely attributable to a combination of a slow economy and high airplane fares as well as the maturity of the market. Further Linux doesn't have the cool factor it once did; it's now mainstream and simply part of how we work and live. With the maturity of the market, there's less of a gee-whiz factor that drives users to computing shows. The good news is that attendees tended to be higher level and in a position to make decisions. Just curious: how come Red Hat Inc. and Novell Inc. weren't among the exhibitors?
---