---
March 5, 2009 10:16 PM
Profile: Jbeltran
This blog post was written by Bridget Botelho, a news writer.
When I get pitches from companies that are rife with marketing bull, I am quick to hit delete. But when Likewise Software sent me this goofy press release to promote its products, I couldn't bring myself to send it to the recycle bin.
Likewise Software is promoting peace between rival operating systems Linux, Unix, Windows and Mac by raising money for real-world victims of war with T-shirt sales.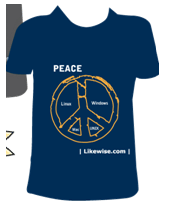 The connection is that the Bellevue, Wash.-based company's software enables users to integrate rival operating systems into one unified Windows environments. Its open source offering, Likewise Open, lets mixed data centers integrate Linux, Unix and Mac systems with a unified directory such as Microsoft Active Directory. Likewise Enterprise Edition does that as well but also includes features for migration, group policy, auditing and reporting modules.
"To commemorate the ending of the OS hostilities, Likewise has released two t-shirts, which people can proudly wear to demonstrate their commitment to the hope, and to the peaceful co-existence of heterogeneous systems (that, um, means Windows, Mac OS, Linux and Unix.)."
Silly, I know, but all proceeds from sales of the $20 T-shirts are being donated to organizations that help both civilian and military casualties of real war.
February 27, 2009 5:14 PM
Is Microsoft's suit filed against GPS device maker TomTom the first shot in a larger Linux war? That was the question being asked yesterday after news spread that Microsoft had filed a patent-infringement suit in US District Court for the Western District of Washington against TomTom NV and Tom Tom Inc. The Linux community went into a tizzy in 2007 over Microsoft's patent tirade, which indicated that open source software violated 235 of the company's patents. At the time, experts explained that this move by Microsoft could just be some arm twisting to create more Novell-like deals. Yesterday's announcement reignited some of that concern, but left some scratching their heads after what appeared to be a series of recent moves by Microsoft to work with the open-source community. These include last week's announcement of a Microsoft interoperability agreement with Red Hat, sans patent pledges.
So what gives? According to Horacio Gutierrez, Microsoft's corporate vice president deputy general counsel for intellectual property, this case is not about open-source, specifically. In an interview with Todd Bishop at TechFlash, he explained:
… open-source software is not the focal point of this action. The case against TomTom involves infringement of Microsoft patents by TomTom devices that employ both proprietary and open-source, and as I said, out of the eight patents, five of them relate to proprietary software infringement.
Some cool-headed folks within the Linux community also spoke out yesterday, urging others to "calm down." One of these was the executive director of the Linux Foundation, Jim Zemlin, who posted a blog post that began with just that phrase. Other open-source leaders were leery, as was indicated in a CNET news piece on the suit.
It's too early to tell, but from what I have seen, all the Linux community can do is watch and learn, and as Zemlin says, "hope for the best, and prepare for the worst."
---
February 24, 2009 7:45 PM
Red Hat has announced their virtualization strategy for 2009, kicking off another week with a webcast and press releases on some pretty big changes for the market. Red Hat shared that these changes were in response to market demands for virtualization. Navin Thadani, senior director of virtualization business at Red Hat shared that the big three obstacles for virtualization are cost, performance, security and scalability, and that the company's strategy aims to help customers overcome these.
The company's virtualization products (launching in the next three to 18 months) include:
Red Hat Enterprise Virtualization Manager for Servers
Red Hat Enterprise Virtualization Manager for Desktops
Red Hat Enterprise Virtualization Hypervisor
RHEL 5.4
Red Hat Enterprise Linux Advanced Platform
The biggest change is a shift to using the kernel virtual machine (KVM) hypervisor, and shifting away from Citrix's XenServer. This move is the next logical step, following Red Hat's acquisition of Qumranet in September 2008. Qumranet came with virtualization solutions, including its KVM platform and SolidICE offering, a virtual desktop infrastructure (VDI).
In the company's webcast, the question was asked "Why does the industry need another hypervisor?" Despite the fact that is amused some in the IT world, Thadani coolly stated that while Xen was the best hypervisor on the market in 2007 when RHEL 5 was released, "the KVM hypervisor has demonstrated that it offers superior capabilities… so it will be the strategic direction for the future development of our virtualization product portfolio." He also explained that Red Hat will continue to support Xen until 2014.
Thandani said that by choosing KVM, performance woes would be resolved, citing up to 98% bare-metal performance. He highlighted that KVM, as part of the Linux kernel, takes advantage of the development work that has gone into Linux, including the hardening effort. Additionally, Red Hat and other developers have worked with the government on SELinux, a built-in Linux security component missing from other hypervisors in the marketplace.
Current virtual machine (VM) deployments max out in the 1,000s of machines, and thus they are unable to meet current business needs for more complex operations. Thadani shared that Red Hat's Enterprise Virtualization Manager for Servers is designed for large-scale systems management, and is capable of scaling to thousands of hosts with Red Hat's new search-driven user interface, which allows administrators to easily manage a large number of machines, scaling up to the tens of thousands of VMs. High-performance virtualized machines is the area that Red Hat is positioning itself to lead in, according to Thadani.
The stand-alone Red Hat Virtualization Manager for Servers is designed to be implemented with shops less familiar with enterprise Linux. According to the company, it is:
A new, richly featured virtualization management solution for servers that will be the first open source product in the industry to allow fully integrated management across virtual servers and virtual desktops, featuring Live Migration, High Availability, System Scheduler, Power Manager, Image manager, Snapshots, thin provisioning, monitoring, and reporting.
Thadani explained the difference between the stand-alone and integrated virtualization management offerings, equating them to the difference between a point-and-shoot camera and a SLR camera.
"From the stand-alone standpoint, we've designed it to be easy-to-use and easy to deploy," says Thadani. "It is for enterprises without a lot of Linux experience, and we've made it easy to use. It's a new market for Red Hat."
To sum it all up, Red Hat is harnessing the power and current buzz in caused by virtualization technology and taking advantage of the current economic climate to move into new markets. No pricing has yet been released for the products, but it's open source.
---
February 18, 2009 5:39 PM
The little distribution that could, Ubuntu Linux Server Edition supported by Canonical Ltd., announced that it was on its way to achieving certification on Hewlett-Packard's ProLiant x86 servers. According to Canonical's blog post on the topic:
The certification means HP will list Ubuntu as a supported operating system and verify the work undertaken by Canonical to ensure full certified compatibility. Furthermore both companies are fully co-operating at the engineering level to provide full underlying confidence for HP customers using the certified servers.
HP won't be shipping servers with Ubuntu preloaded. But, as Canonical marketing manager Gerry Carr explained to me, the certification will provide HP customers with assurance that if they sideload Ubuntu, it will work with specific information regarding performance. This news follows Canonical's announcement of user survey results that revealed an uptick in adoption of the server-based operating system in a variety of mission-critical Web and database applications. The surveyed Ubuntu users shared that they mostly use the OS on assembled servers and tower and desktop PCs.
However, Carr explained that "It appears to be that HP ProLiant is the second most popular [server] brand behind Dell PowerEdge servers. I expect that is consistent across the unknown Ubuntu users out there."
For an example of who is using Ubuntu, Canonical shared the story of a Chicago-based finance house that runs entirely on Ubuntu server and runs their open and proprietary stack on primarily HP machines, with some Dell in the mix.
In his blog post regarding the announcement, Joe Panettieri of WorksWithU, an Ubuntu dedicated news website, explained the history of Canonical's Ubuntu Server edition initiative. He shared that a recent site reader survey revealed growing momentum for Ubuntu in the enterprise market. However, the big players (Windows Server, Red Hat Enterprise Linux and Novell SUSE Linux) continue to lead the way in both mind and market share.
Al Gillen, VP in charge of system software research with IDC, echoed this perspective in a statement to Ed Scannell of Information Week:
"In terms of noise level, Ubuntu has been hot lately. But the ecosystem simply isn't as mature for Ubuntu as it is for Red Hat and SUSE Linux. They do not have the level of application support and data base support, and some other things that you need to be enterprise ready."
Ubuntu achieved certification on Sun's x64 servers in early 2008, around the time Canonical released Ubuntu 8.04 LTS.
Carr shared that Canonical is working to see Ubuntu certified on all the major manufacturer servers in the next few years. The timing of certification on HP's servers is unclear, but is underway and Carr expects to see it "sometime soon."
---
February 16, 2009 6:17 PM
This morning I was sipping my coffee and browsing what my Twitter friends were saying, when I discovered some big news had been released today. Urged by customer demand and OEM concerns, Red Hat and Microsoft have announced a virtualization interoperability partnership. Matt Asay, a fellow Twitterer and blogger, pointed out that there would be a webcast at 11 EST, and with 15 minutes to spare, I got ready to get the details. Essentially, Red Hat has become a Microsoft Server Virtualization Validation Partner (SVVP), and Microsoft is now a Red Hat partner for virtualization interoperability and support. The basics of the agreement are outlined by Red Hat on their SVVP FAQ page.
Prior to the webcast this morning, a couple of bloggers had pointed out why this news was a little different than your run-of-the mill partnership. Their emphasis was strongly focused on the lack of patent agreements with the deal — a new turn of events for Microsoft and Red Hat after a few years of battling publicly over the topic.
On his CNET Blog, Asay shared his surprise and adulation of the maturing of both Microsoft and Red Hat to the needs of the market.
Today, Red Hat and Microsoft have together demonstrated that interoperability can exist independent of back-room dealings over patents. Microsoft has increasingly been forced to open its stance on patents by the European Commission, anyway, proving Red Hat's resolute stance against patents was the right one. But today's announcement suggests that Microsoft is maturing in its views as to how to interact with open-source vendors.
Asay pointed out that when Novell signed its agreement with Microsoft (in 2006), the announcement was met with criticism of the company from the open source community.
Asay's Twitter post was a little more to the point (only 140 characters, afterall):
I guess this means, dear Novell, that in fact patent covenants need NOT be included in interop deals, including those with Microsoft
Matthew Aslett of the 451 Group posted a blog 15 minutes prior to the call, echoing Asay's concerns.
In the webcast, Mike Evans, vice president of corporate development at Red Hat, and Mike Neil, general manager of virtualization strategy at Microsoft, tried to emphasize the customer-focused nature of the arrangement. Evans displayed statistics and sections of a recent IDC report on virtualization that proclaims we are only seeing the beginning of virtualization efforts in enterprise IT, and that more will begin to use the technology in 2009. These statistics match up with a recent survey conducted by SearchDataCenter.com that revealed that virtualization is on the rise in IT departments. In the call, a slide with a quote from Gary Chen, research manager of enterprise virtualization software at IDC, was displayed:
"IDC research shows that Windows and Red Hat Enterprise Linux are two of the main operating environments deployed by enterprises, accounting for 80% of the x86 operating systems running on hypervisors. It is great to see two of the big platform vendors put aside their competitive differences and put the customer first."
Certainly, the effort is focused on the customer, but today, much of the focus seems to be skewed to the patent and financial language in the agreement. This seems fair, as the struggle between the two companies on the issue of patents has been publicly hashed out for almost three years. Microsoft had held fast to its claim that it couldn't do interoperability without a patent pledge, but it looks as if Red Hat has won on its argument that a patent deal isn't necessary to an interoperability agreement.
What do you think? Is this just another agreement? Or does this signify another change in Microsoft's attitude toward open source collaboration? Or, have both companies just seen the writing on the wall and jumped just in time to take advantage of the virtualization market?
---
February 11, 2009 6:46 PM
This week, Jim Whitehurst, president and CEO of Red Hat has issued a "State of the Union at Red Hat" message that at first glance appeared to be little more than a cute press pitch, well-timed with the State of the Union address from the President of the United States, Barack Obama. Whitehurst weaves in the common theme of open source being a "value" during the down economy, talks up acquisitions from 2008, and gives a shout-out to Linux community members JBoss.org and Fedora.
But things start to get interesting at point number six in his list, and I honestly would have missed this if I hadn't seen the comments of The VAR Guy, who stated "Red Hat is destroying the old myth that there's no money in open source."
The VAR Guy's declaration was based on Whitehurst's statement with this information about the success of the company:
Weathering the economic storm. Red Hat has continued to execute well in what is a pretty competitive economic climate. In fiscal year 2008, Red Hat became the first open source vendor to cross the $500 million mark in revenues and we've also maintained 27 consecutive quarters of sequential growth in total revenue.
Impressive. Or is it? The VAR Guy points out that Microsoft earned 120 times as much during the same year.
Red Hat may be leading in the Linux distribution race thus far, but Novell is charging ahead, on the cusp of releasing SUSE 11, with greater virtualization and interoperability promised. With Novell's partnership with Microsoft, the company is making gains in the market.
As businesses try to bounce back from the downturn in the economy, open source may be an even more attractive alternative. What do you think? Is Red Hat's $500 million a true achievement, or is it just an attempt to give credence to open source? Share your thoughts.
---
January 22, 2009 10:26 PM
Red Hat released version 5.3 of its Enterprise Linux distribution on Tuesday, about eight months after version 5.2. We gave an overview of the new features of the beta version of RHEL 5.3 in November. Now, it's here. The new version offers enhanced virtualization scalability, OpenJDK functionality and Intel Nehalem processor support.
The company released a risk report comparing RHEL 5.2 to RHEL 5.3. Briefly, the report explains that 61 advisories were released to address the 181 vulnerabilities found in version 5.2. The seven critical advisories were for Firefox, Samba, and OpenSSH. The new version has all the updated security features, and the risk report shows that Red Hat saw fewer vulnerabilities with 5.2 than it did in 5.1 and 5.0.
The author of the risk report, Mark Cox, explains that "for Red Hat Enterprise Linux 5 since release and to date, every critical vulnerability has had an update to address it available from the Red Hat Network either the same day or the next calendar day after the issue was public."
Let us know how your update goes — were there lags or glitches? What do you think about the new functionalities — are they useful in your enterprise? Is there more you want to see?
---
January 6, 2009 7:08 PM
In the final hours of 2008, Roger Burkhardt, president and CEO of Ingres, shared his predictions about the future of open source.
Here are summaries of his predictions:
As the economy worsens, adoption of open source software will increase .
Open source adoption will accelerate across the full infrastructure software stack and into applications.
SaaS and cloud computing solutions will grow and pull open source with it.
Mergers and acquisitions of open source vendors will continue.
Competition from open source will drive proprietary software vendors to take the first steps in changing their business models.
Open source stacks will emerge from strong market partnerships.
Systems integrators will guarantee first-year cost savings for migrations to open source.
For the most part, I'm with him. As budgets tighten, it only makes sense that "free" will flourish. We hear that consumers are only looking for sales these days, so why wouldn't companies? With this increase generally, and as more acceptance and trust of open source occurs, it seems natural that it will extend through the stack and through more applications (e.g., Vyatta has been busy releasing three open source networking appliances in 2008). And perhaps the upside of a down job market is that some programmers, with free time on their hands, can finish projects they had on the back burner. In 2008, we heard a lot of buzz about the cloud, and this cost-conscious computing model pairs well with open source. If you buy the cloud hype, you can easily see the increased opportunity for open source adoption that it provides.
We know that open source gained ground in the enterprise, and we even saw major proprietary software vendors change their tune (if not their business models) — ceding some ground to open source devotees.
What are your predictions for open source? Share them below or make your case against Burkhardt's divinations.
---
December 22, 2008 3:54 PM
In May we reported results of a Windows Server 2008 power test conducted by Michael Larabel at Phoronix. Last week he released the results of his most recent open source versus Windows test, a test of Java virtual machine performance running in Ubuntu Linux, Windows Vista Premium, and Sun's OpenJDK.
For this round-up we had used a Dell Inspiron 1525 notebook (PM965 + ICH8M Chipset) with an Intel Core 2 Duo T5800 processor clocked at 2.0GHz, 3GB of DDR2 memory, 250GB Hitachi HTS543225L9A300 HDD, integrated Intel 965 graphics, and a screen resolution of 1280 x 800. On the Windows side we were using Windows Vista Home Premium SP1 while with Ubuntu we were using Ubuntu 8.10 and the stock packages (Linux 2.6.27 kernel, X Server 1.5, etc). Each OS was left to its default settings, including the use of the standard desktop effects.
Larabel's graphs and detailed technical specifications and analysis tell the full story, but the good news to Linux fans is that Ubuntu was a clear winner, and OpenJDK seemed to hold its own compared to Vista.
Well, Java on Ubuntu was pretty much the hands-down winner compared to Microsoft Windows Vista Premium SP1. Running the Java tests on Ubuntu had experienced significant advantages when it came to file encryption, Fast Fourier Transforms, Successive Over Relaxation, Monte Carlo, and the composite Java SciMark performance. In only the Sunflow test were the results between Ubuntu and Windows even close. With the Java 2D Microbenchmark, Windows was faster but that likely falls on the Intel Linux graphics driver having little in the way of performance optimizations and Java on Linux not yet utilizing the X Render extension.

Comparing Sun's Java and OpenJDK / IcedTea on Ubuntu had roughly the same performance between the two except for a few areas (FFT and Monte Carlo) where the official JVM was noticeably faster.
Last time we reported on these tests and it appeared that Windows had the lead, you responded. Larabel's article includes a discussion link, and a brief review of some of the comments reveals that some Windows fans don't like the results.
Linux got owned where it matters the most: Graphics.
But RealNC's comment about graphics doesn't quite align with a recent article reporting the results of the 2008 Linux Graphics Survey compiled by Phoronix.
What do you think? Are Linux graphics lacking? Are you surprised by the Java VM performance?
---
December 12, 2008 4:02 PM
This week I went and picked up two ornaments from my local "Giving Tree," did some shopping, and returned some gifts to be distributed to children in need. This is the third year that I've participated in this community giving project, and this year I noticed that the tree was absolutely covered with ornaments for needy children. In these tough economic times, I think it's important to help out our communities if we are able. We've reported that Red Hat has donated the money for the company party to a local food bank. And employees at mobile phone company Funambol have organized a food drive. Whether you're ready or not (and whether you've been good or bad this year), the holiday season is here! I found some stories and ideas about how you might make the most of it this year from the Linux community.
Just in time for the holidays, HP released it's preinstalled SLED (SUSE Linux Enterprise Desktop) 10 SP2 on its HP Compaq dc5850. (I wonder if the name SLED is a coincidence, or if they held off the release to get it out with the snowy weather?) Steven J. Vaughan-Nichols has already been reviewing SLED 10 SP2 on his blog, noting that the main improvements surround interoperability with Microsoft. He shares that the new version of SLED supports read and write access to local NTFS drive partitions and has better active directory integration. Vaughn-Nichols installed SLED and encountered a few kinks — a hassle that can be avoided in HP's preinstalled offering.
But if all of that sounds too practical, or dare I say too boring, fear not — Ken Hess has provided a Linux geek wish list for the 2008 holiday season.You may already have a Linux mobile phone, but do you have a Chumby? Hess points out that all of these gadgets have Linux inside. What more could you want?
Asus Eee PC
Linux-based phones
MVIX MX-760HD
But if you don't want to spend a bunch of dough, Matt Hartley provides some ideas of "homemade" items that you can give your family and friends by putting your Linux skills to use.
… by utilizing your existing computer system, chances are you already have access to what you need to build a really great gaming rig, with the right open source videos games. Enter PlayDeb for Ubuntu. Whether you download each game individually or opt to give the "gift of plenty" all at once, there are more games here than most people would likely have ever imagined.

From Second Life to a number of very well done first-person shooters, even 3D strategy games, just about anything you might conceive of is available here — at no cost whatsoever.
Hartley also suggests updating an unused notebook and giving the gift of Internet, anywhere, to a loved one. Or spread the joy to your community and give "an off-lease or even totally used PC preloaded with Ubuntu, Fedora, OpenSuSE or PCLinuxOS."
---