Jul 28 2011 3:24PM GMT

Profile: Leah Rosin
PORTLAND, ORE. — Just a year after OpenStack was formed by Rackspace and NASA, OSCON welcomed the debut of Nebula.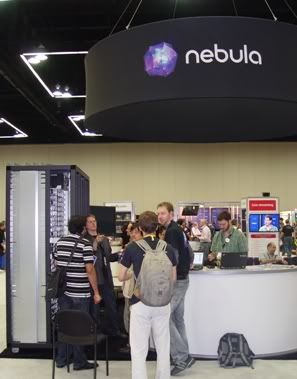 Nebula will combine open source technology developed at NASA with commodity servers such as the Open Compute Project hardware developed at Facebook. The key product is an appliance called a cloud controller that Nebula CEO Chris Kemp told the OSCON keynote audience on Wednesday could plug into any generic stack of servers and make it into a private cloud.
I talked to Nebula's co-founder and VP of Engineering, Devin Carlen, who explained that the cloud controller appliance will reduce capital expenditures for companies that may not have the expertise or money to launch their own private cloud using OpenStack. This opens up the potential of cloud computing to small companies that otherwise would need expensive hardware or software and in-house expertise to go to the cloud.
Because all of this was announced at an open source conference, I had to ask the question that the top-of-mind question: Would the cloud controller be opened to the community? The answer: No.
"What's in the box is not as interesting as what you can do with the box, and how fast," said Carlen. Emphasizing that speed of deployment was the biggest benefit of the cloud controller, he explained that Nebula customers would be able to order the controller and quickly deploy their own private cloud. Of course, all of the hardware that is inside the box that is open source will continue to be open source and any improvements made to it by Nebula will be shared back with the community. But the box will remain closed.
More secret sauce has been added to the software side of the appliance, which is built on the same APIs and runtime as OpenStack, including security, management, and platform enhancements. Some of these will be kept proprietary as well.
The Nebula debut was the biggest cloud news at OSCON, but OpenStack made other news as well. There was Dell's OpenStack offering, Gluster's connector for OpenStack, and HP's announcement that it was joining OpenStack.
As one enthusiastic Racker tweeted: "What do you call it when a project takes over a conference? I call it a mandate. #OSCON #OpenStack"
Check out more Linux news at SearchEnterpriseLinux.com, and follow us on Twitter @LinuxTT.