Jan 12 2010 5:31PM GMT

Profile: ITKE
This blog post was contributed by Paul Ferrill.
Walking the floors at the Consumer Electronic Show (CES) with a surface look at the products won't tell the true story of the impact of Linux. While there might be a few occasional mentions of Linux, for the most part the real story is what's behind those e-Book readers, MP3 players and pretty much anything with the word "smart" in the name. Embedded Linux has staked its claim as the go-to choice for a wide array of electronic devices.
e-Book readers, Wi-Fi HDTV, and smart phones rely on Linux
This year's CES saw an explosion of e-Book readers of all shapes and sizes. Only one of the offerings uses Windows Embedded (Plastic Logic Que) while the majority use some embedded Linux variant. Two offerings, the Spring Design Alex and Entourage eDGe, use Google's Android. Wind River and MontaVista are the two leading vendors of embedded Linux and associated tools. Each counts at least one e-Book manufacturer as a customer.
The latest trends in HDTV and Blu-ray players include features like Wi-Fi connectivity, YouTube playback over wired or wireless Ethernet and remote control over Wi-Fi using an iPhone. Much of this new functionality has embedded Linux behind it. This includes everything from the networking code to connect with YouTube and stream Flash-based video to the on-screen display. The big win here for hardware manufacturers is the ability to leverage existing development tools and code to reduce their time to market.
In the smart cell phone market the lead story is Google's Nexus Android-based handset. Android runs on top of the Linux kernel and represents a serious challenge to Apple's iPhone. Google announced this week their own handset developed by HTC that would be sold directly to the public. Other vendors with Android-based devices include Dell, LG and Motorola.
Lenovo brings hot laptop and netbook offerings with Linux inside
On the computing front, Lenovo showed two innovative laptop/netbook offerings with Linux in the spec sheet. The Skylight (image right) is a sleek, curvy, under 2 lb. netbook with a Linux variant as the OS underneath.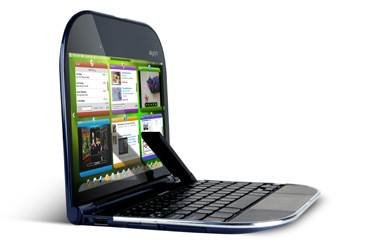 The core Linux comes from Thunder Software Technology headquartered in Beijing China. Lenovo did the user interface work themselves using the Clutter toolkit for the 3D effects and Google Gadgets. Lenovo also plans to offer a software development kit (SDK) for building custom applications on top of the Skylight OS.
The Skylight is targeted at mobile users looking for an easy way to keep up with e-mail, Facebook and Twitter, or to watch a movie in full HD it packs a Snapdragon processor, 10-hour battery life, 3G connectivity and your choice of color. Flash 10 will be supported out of the box for viewing the latest YouTube content. Lenovo envisions the Skylight appealing to the student crowd with their highly mobile and connected lifestyle. The Skylight will be available in Q1 of 2010 through direct sales and, potentially, at a subsidized price through a cell carrier.

Lenovo's Ideapad U1 was another new product with a unique removable display that transforms from LCD monitor into a Linux tablet when you remove it from the laptop base. The base laptop sports an Intel Atom Core 2 Duo processor while the tablet/screen contains the same Snapdragon chip as the Skylight. Special software in the screen switches from display mode to tablet mode when detached from the base.
Just plug it in: Plug computing
Marvell Semiconductor introduced the concept of plug computing with their SheevaPlug platform in 2009. At this year's CES there were multiple vendors showing products based on the same chipset including Globalscale, Ionics and TonidoPlug. Each of these devices is about the size of a typical wall-wart power plug but typically contain a CPU, memory, Ethernet and USB interface. Uses include a Network Attached Storage (NAS) device, home media server, network backup utility and more.
The bottom line on Linux in the consumer electronics marketplace is cost. Linux helps reduce the overall cost and the time needed to bring new product to market. It also provides familiarity for developers looking to deliver new applications to the mobile device space and to manufacturers needing hardware and software engineers to build the next model of their consumer devices. Overall, Linux is doing quite well, even if you can't tell it's there.
ABOUT THE AUTHOR: Paul Ferrill has a BS and MS in electrical engineering and has been writing about computers for over twenty years. He's had articles published in PC Magazine, PC Computing, InfoWorld, Computer World, Network World, Network Computing, Federal Computer Week, Information Week, and multiple Web sites.
More on Linux at CES:
Linux dot com: When one Linux project wins, all Linux triumphs
ars technica: Tux takes a bow: Linux makes its presence known at CES
Linux Journal: Hunting Linux at CES