Dec 12 2011 4:49PM GMT

Profile: Nick Martin
The Linux foundation recently released the results of a short survey on Linux jobs in the form of an interesting infographic. While the graphic doesn't reveal any ground-breaking information for people looking for Linux jobs, it does give a snapshot of the Linux job market. The info was collected by analyzing job postings on the Linux.com Jobs Board from September through the end of November. Not surprisingly, Java and Android top the list of the "most referenced skill areas" for Linux jobs. Also not surprising is the distribution of jobs within the U.S., which appear to be primarily in states with major cities.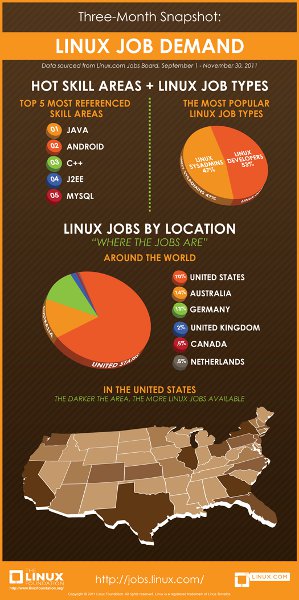 What is somewhat surprising (at first) is the percentage of the job postings based in the U.S. Of course, the world's largest economy is likely to have a higher percentage of total available jobs, but this graphic still doesn't tell the whole story. To be fair, there's nothing wrong with this data, it's just suffering from a lack of perspective. As an English, U.S.-based website, the Linux.com Jobs Board is very unlikely to include job postings in other countries – especially those without a large English speaking population (hence, the high percentages in other English speaking countries).
The other interesting part of this graphic is the split between the types of Linux job postings. According to the graphic, 53% of the jobs were developer positions, and 47% were systems administrators. Nothing Earth shattering at face value, but consider how that percentage has changed over the past few years. The rapidly expanding popularity of Android created an explosion of Linux developer jobs just within the last few years. The big question is: How stable are those jobs?
Back in August, The Evans Data North American Development Survey, showed for the first time, that Mac OS surpassed Linux as the primary software development environment in North America. Combine that with the critical reception of the Kindle Fire and other Android tablets (at least when compared to the iPad), and you have the potential for stagnant or negative Linux job growth. If Android can't find a way to move beyond mobile phones and onto a popular, well-designed tablet, another proprietary operating system could easily take its place as the chief competitor to Apple.
What do you think? Is it all doom and gloom, or are the prospects for the Linux job market rosier than I'm making them out to be?