---
December 12, 2011 4:49 PM
The Linux foundation recently released the results of a short survey on Linux jobs in the form of an interesting infographic. While the graphic doesn't reveal any ground-breaking information for people looking for Linux jobs, it does give a snapshot of the Linux job market. The info was collected by analyzing job postings on the Linux.com Jobs Board from September through the end of November. Not surprisingly, Java and Android top the list of the "most referenced skill areas" for Linux jobs. Also not surprising is the distribution of jobs within the U.S., which appear to be primarily in states with major cities.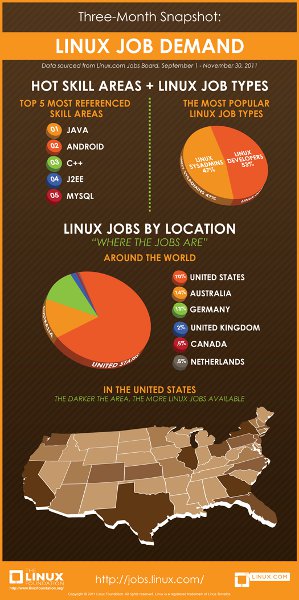 What is somewhat surprising (at first) is the percentage of the job postings based in the U.S. Of course, the world's largest economy is likely to have a higher percentage of total available jobs, but this graphic still doesn't tell the whole story. To be fair, there's nothing wrong with this data, it's just suffering from a lack of perspective. As an English, U.S.-based website, the Linux.com Jobs Board is very unlikely to include job postings in other countries – especially those without a large English speaking population (hence, the high percentages in other English speaking countries).
The other interesting part of this graphic is the split between the types of Linux job postings. According to the graphic, 53% of the jobs were developer positions, and 47% were systems administrators. Nothing Earth shattering at face value, but consider how that percentage has changed over the past few years. The rapidly expanding popularity of Android created an explosion of Linux developer jobs just within the last few years. The big question is: How stable are those jobs?
Back in August, The Evans Data North American Development Survey, showed for the first time, that Mac OS surpassed Linux as the primary software development environment in North America. Combine that with the critical reception of the Kindle Fire and other Android tablets (at least when compared to the iPad), and you have the potential for stagnant or negative Linux job growth. If Android can't find a way to move beyond mobile phones and onto a popular, well-designed tablet, another proprietary operating system could easily take its place as the chief competitor to Apple.
What do you think? Is it all doom and gloom, or are the prospects for the Linux job market rosier than I'm making them out to be?
November 21, 2011 7:58 PM
Red Hat announced the first beta of Red Hat Enterprise Virtualization (RHEV) 3.0 in August, and after testing and feedback has been received, an improved version was released for public evaluation.
RHEV 3.0 is based on the Kernel-based Virtual Machine (KVM) hypervisor, which brings the performance seen in recent SPECvirt benchmarks and Linux kernel security features.  KVM benefits from the expanding presence of the Open Virtualization Alliance, a consortium established to foster the adoption of open virtualization alternatives, specifically KVM.
Red Hat Enterprise Virtualization 3.0 includes the following updates:
Red Hat Enterprise Virtualization Manager is now a Java application running on JBoss Enterprise Application Platform on Red Hat Enterprise Linux
A power user portal that provides end users with a self-service interface to provision virtual machines, define templates and administer their own environments
A RESTful API that allows complete configuration and management of Red Hat Enterprise Virtualization for use by customers or a rich ecosystem of management partners
Extended multi-level administrative capabilities, allowing fine-grained resource control, role based access control, delegation and hierarchical management
New local storage capabilities
An integrated and embedded reporting engine allowing for analysis of historic usage trends and utilization reports
SPICE WAN optimization and enhanced performance including dynamic compression and automatic tuning of desktop effects and color depth. The new version of SPICE also features enhanced support for Linux desktops
An updated KVM hypervisor also features new capabilities. These include the ability to scale hosts and guests. RHEV 3.0 supports up to 160 cores and 2 TB of memory on a host system and up to 64 virtual CPUs per guest, and 512 GB of memory. Performance has also been improved in the latest KVM version, and the networking stack has been moved from userspace into the Linux kernel using vhost-net, improving performance and reducing latency. The transparent huge pages feature is also integrated, reducing the number of times memory is accessed, which improves performance for most workloads. A paravirtualized interrupt controller, x2paic, is used in the virtual machine, reducing guest overhead and improving performance in interrupt-heavy workloads. And Async-IO is used for block I/O operations. The use of SELinux-based sVirt infrastructure has strengthened the security capabilities of KVM as well.
---
November 1, 2011 2:24 PM
Earlier this month SUSE became the latest company to jump on the OpenStack bandwagon, announcing it would release an early development version of its SUSE Cloud.  That bandwagon is starting to get crowded now, with heavyweights like Dell and Canonical having already thrown their support behind the open source cloud computing project.
SUSE says their SUSE Cloud will be the first fully configured OpenStack-powered appliance. But, SUSE is being clear that the free download offered today is a development release, and not an enterprise ready solution.
"We didn't just want to say this is what we want to do, we wanted to show our customers and our partners that we have been doing some work in this area and we're serious about it. [This version] is a proof of concept demonstration to prove that the technologies are viable," said Kerry Kim, the director of solutions marketing at SUSE, in an interview last week.
A final version of SUSE Cloud is expected sometime in the next nine to 12 months, Kim said.
"We've been looking at the cloud computing space for a while, and evaluating and exploring different alternatives and technologies. As we saw increased momentum around the OpenStack project, and the group opening up the project to a community-based approach, we felt the combination of momentum and openness was in line with our philosophy around leveraging the open source development community," Kim added.
All the support around OpenStack obviously bodes well for the cloud computing project's stability and longevity. However, there will be at least one notable holdout among prominent open source companies. Red Hat, which could become the first $1 billon open source company, has decided to head in its own direction, instead rolling out its own Infrastructure as a Service and Platform as a service offering in CloudForms and OpenShift.
The company's decision to turn away from OpenStack has caused some head scratching, and maybe a little animosity from some open source supporters, though Red Hat has said its own efforts are more "open" than OpenStack.
Kim didn't go into detail about how SUSE Cloud would be technologically different from Red Hat's products, but he didn't miss his opportunity to tout OpenStack's support within the open source community, and rail on the competition.
"Red Hat is actually an interesting example. They've chosen not to support OpenStack," Kim said. "That's sort of puzzling to us. Maybe they have their own stakeholder pressures and they have to make money. I have a biased view, but maybe as their share has increased they feel like they are now synonymous with open source, or something, and they can dictate what the open source community should be doing. I actually don't think they're getting a whole lot of support for their virtualization and cloud platform. I think the rest of the world is like, 'I don't know why those Red Hat cats want to do it all by themselves, other than maybe they want to make all the money for themselves.' Our strategy is very different. We want to make money too, but we want to do it in concert with our partners."
What do you think? Will companies like SUSE ride the OpenStack bandwagon to success, or will Red Hat be able to distinguish its brand with a unique cloud offering?
---
October 25, 2011 5:47 PM
I recently received a "review" Dell Vostro laptop from Canonical with Ubuntu 11.10 (Oneiric Ocelot) installed. The idea was that I, as an illustrious member of the tech press, could see for myself how smoothly the Ubuntu Unity desktop operates. And, it worked!
I quickly figured out the Unity interface and installed Chrome as my browser, installed VLC Media Player, logged into my Hulu account and watched some of my shows, (which I mostly listen to) while simultaneously monitoring Facebook, Gmail, and reading various news sites. It worked well, had a little bit of lag, but nothing overwhelming, and I knew I was asking it to do a lot. The Ubuntu Software Center (now on version 5) was my favorite part. It was as easy as the marketplace on my Droid to just find the software I wanted to install and get it done.
I've been thinking of getting an Android tablet computer, but working on the Dell Vostro with Ubuntu 11.10 made me reconsider the purchase. That is, until I figured out I couldn't buy a Dell Vostro with Ubuntu. Nope, the only way to buy a Dell Vostro is with Windows 7 preloaded… and if I do that, would I really take the time to install Ubuntu instead (or as a dual-boot)? No. Why? Because that's too much effort. I'm an editor, and I'm not a super-geek. I'm much more like your sister who is savvy enough to deal with glitches on her machine, but who still takes her crashed hard drive in to a professional. And I'm not about to mess with a fully functioning brand new laptop just to install Ubuntu. But I'd buy it (if I could).
But wait! You can buy it. Kind of. What you can buy is a System 76 laptop. Problem is, it's not a Dell Vostro. And that wouldn't be a problem except that the price point is a bit different. Here's the deal – open source isn't free, as in beer, but it shouldn't be sold at a microbrew price either. The System 76 laptops with Ubuntu preinstalled that match the screen size of the Dell Vostro with Windows 7 installed are listed at $699. The Vostro with Windows 7 installed starts at $399, and the more beefed-up version is still only $549.
While the tech specs show some notable differences, there isn't a huge chasm. This is not going to bring on the era of the Linux desktop – except maybe in India and China where you actually can buy a Vostro with Ubuntu installed. Sigh.
---
October 11, 2011 1:53 PM
It has now been one year since The Document Foundation (TDF) announced the LibreOffice project, and by all counts, the open source software suite is flourishing. After just one year, TDF estimates that there are now 25 million LibreOffice users worldwide.
The project has also seemed to generate a lot of interest from developers. Just last week version 3.4.3 debuted with some significant security fixes –- a reminder that the project is still young, but also evidence that it is continuing to evolve.
All this attention on LibreOffice now raises the question of what will become of another popular open source software project.
"Thanks to a very welcoming attitude to newcomers, to the copyleft license, and to the fact that it is not requesting any copyright assignment, The Document Foundation has attracted more developers with commits in the first year than the OpenOffice.org project in the first decade," said Norbert Thiebaud, a member of TDF Engineering Steering Committee.
In Sept. 2010, developers who were critical of Oracle Corp.'s perceived lack of commitment to OpenOffice decided to split and create LibreOffice. Oracle handed off the OpenOffice project to the Apache Software Foundation earlier this year, leaving some concerned that it would languish as many developers joined LibreOffice instead.
Now, it looks like much of that concern was justified. Just as LibreOffice is celebrating its first birthday and releasing major upgrades, OpenOffice –- apparently hurting for money after being dumped by Oracle –– is planning a major fundraising campaign for this month.
Obviously, it's too early to say that OpenOffice is in decline, and the project will almost certainly generate large donations. But, now that it's clear LibreOffice isn't going away anytime soon, many users and developers could start turning away from OpenOffice.
What do you think? Will OpenOffice be revived by the Apache Foundation? Is having multiple open source office suite products good for end-users? If you switched from OpenOffice to LibreOffice, why? We'd love to hear your thoughts.
Follow us on Twitter!
---
October 4, 2011 1:50 PM
Today, Red Hat announced the acquisition of Gluster, Inc., an open source storage solution provider specializing in the management of big data. Red Hat paid $136 million for the storage file system company, and hopes to bolster its presence in big data management and cloud data management with the purchase.
"The explosion of big data and the new paradigm of cloud computing are converging, forcing IT to re-think storage investments that are cost-effective, manageable and scale for the future," said Brian Stevens, CTO and vice president, Worldwide Engineering at Red Hat. "Our customers are looking for software-based storage solutions that manage their file-based data on-premise, in the cloud and bridging between the two. With unstructured data growth (such as log files, virtual machines, email, audio, video and documents), the 90's paradigm of forcing everything into expensive, single-system DBMS residing on an internal corporate SAN has become unwieldy and impractical."
Gluster's founder, Anand Babu Periasamy spun off the company in 2005 from the supercomputer company California Supercomputer Corp. with the objective to build a better file system. Speaking to its open source roots, the name Gluster is a combination of GNU and cluster. The file system was created around the concept that having a centralized metadata server lowers performance and limits scalability and should instead use the underlying file system on arrays and not store data in proprietary formats.
Gluster provides a software-based, scale-out file system that layers above Red Hat's other file systems. It is distributed across multiple systems and aggregates the total storage into a single namespace. A Gluster cluster exposes this namespace as an NFS or CIFS mount point that contains every file in the cluster. The underlying storage becomes fully virtualized, and can be distributed into private and public clouds. GlusterFS can also be deployed on Amazon's EC2 or inside of KVM virtual machines.
"We believe this is a perfect combination of technologies, strategies and cultures and is a great development for our customers, employees, investors and community," said Periasamy. "Gluster started off with a goal to be the Red Hat of storage. Now, we are the storage of Red Hat."
With the company's acquisition, Red Hat also gains the over 2,000 contributors to Gluster.org. The Gluster team recently announced that it is planning to provide highly scalable storage for unstructured data, while preserving the interoperability benefits of NAS.
"The scale out storage technology and expertise Red Hat is gaining from the acquisition of Gluster will serve as a powerful foundation for future public, private and hybrid storage clouds," said Henry Baltazar, senior analyst of The 451 Group.
---
September 29, 2011 4:41 PM
I was a little flummoxed to read about the launch of Tizen, a new open source mobile and device operating system based on Linux. Earlier this month I wondered aloud about MeeGo, and this is the final nail in the coffin of that mobile OS, as Intel and the Linux Foundation have moved on to support Tizen instead. And Samsung has joined in.
Hmmm. This is where it gets interesting.
Samsung couldn't "buy" MeeGo because it was an open source project. But Samsung has now joined forces with two of the three major sponsors of MeeGo in creating this new OS.
Well, well, well… if you can't beat 'em, join 'em!
So what else is different with Tizen?  HTML 5. This is good for developers, but Web-based platforms have been tried before: webOS.
The Linux Foundation is pushing Tizen for use outside of the normal mobile device milieu: in-vehicle systems and consumer electronics. This may be attractive for manufacturers, as Tizen will likely be more affordable than paying for a Microsoft license.
Meanwhile, Samsung has signed a cross-licensing agreement with Microsoft that covers development and marketing of Windows phones as well as a broad patent agreement. It's hard not to see that this agreement is an effort by Samsung to protect itself from the Android lawsuits facing its competitors.
Oh, and this just gets better — the Tizen announcement was made on the same day that Nokia released the N9, which is the first, and probably the only phone to ever run MeeGo.
Intel announced the end of MeeGo on the project's blog, garnering some angry developer reaction, especially those who are concerned with the future of the Qt framework.
This all begs the question: How bright is the future of Tizen? Leave your thoughts and comments below.
For more open source and Linux news, follow us on Twitter!
---
September 15, 2011 4:11 PM
SUSE's partnership with SAP brought another win for the open source operating system, as today it was announced at SAP TechEd 2011 that SUSE has been selected as the supported operating system for use with SAP HANA, the newly released in-memory data appliance.
SAP HANA instantly analyzes large volumes of transactional data from multiple data source in real time. The partnership allows for tight integration of products and services as well as operating system service and support options.
The workload-optimized, preloaded, preconfigured IBM x3690 X5 for use with SAP HANA is also available, and includes SLES for SAP Applications preloaded. It lets business users instantly access, model and analyze all transactional and analytical data from virtually any data source in real time, without impacting existing applications or systems.
Visit SearchSAP.com for more coverage of SAP TechEd 2011.
Follow us on Twitter @LinuxTT
---
September 9, 2011 4:31 PM
I've been wondering (aloud at times), about the future of the MeeGo OS. I was there at OSCON and LinuxCon and the Linux Collaboration Summit in 2010 when it was hyped. The Intel partnership with Nokia to merge Maemo and Moblin seemed a promising venture, with the backing of the Linux Foundation it was being touted as the premier mobile Linux OS… and then came Android. Gulp.
So now that Android is clearly dominating the mobile space, competing heavily with Apple's iOS and all but drowning out Windows Phone OS, what's going on with MeeGo? I tried to find out at LinuxCon, but was met with some platitudes about how it's still being developed. Those I talked to said that the Nokia departure was admittedly a big bump in the road for the OS.
This week, Intel's general manager of the company's Systems Software Division, Doug Fisher, said that Intel was "fully committed" to its mobile OS.  Meanwhile, rumors flew that Samsung was going to step up and buy MeeGo, but today Samsung quashed those rumors, telling Roger Cheng of CNET that they couldn't buy MeeGo even if they wanted to — MeeGo is an open-source project and therefore can't be the focus of an acquisition.
So MeeGo lives on. The Linux Foundation and Intel are continuing to spur developers to work on applications for the OS and get it onto hardware.
In the meantime, we may forget that it exists.
---
August 31, 2011 4:05 PM
What do you want to see in Red Hat Enterprise Linux 7? That's what Red Hat is asking its end users in the Red Hat Enterprise Linux 7 Ideas discussion group on the Red Hat Customer Portal.
The Red Hat Enterprise Linux 7 Ideas discussion group provides a venue for sharing thoughts and use cases and will be used by the Red Hat engineering development groups.
"We welcome all of our customers and partners to participate in the Red Hat Enterprise Linux 7 Ideas group and collaborate with other users and Red Hat engineering to make the next version of our enterprise operating system better than ever," said Jim Totton, vice president and general manager, Platform Business Unit at Red Hat in a statement.
What do you think of this idea? Do you feel like it will be useful for you to have a way to give direct feedback on the next iteration of RHEL? What do you want to see in the next version?
Also, we're seeking system admins who are currently using RHEL 6 to give us feedback on the latest released version of the operating system. Please email nmartin@techtarget.com if you would be willing to share your experience.
Follow us on Twitter @LinuxTT
---