Jan 28 2008 9:33PM GMT
Tags: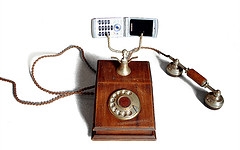 Every week, (at least once a week) I thought I would add a picture to this blog, because despite technology not seeming to be particularly photogenic, there are some very clever constructs out there, like this one. Visual yet stimulating. Let me know what you think and send us a witty or clever caption if you can think of one.

Anyway I had a search for any tech blogs that have lots of images – and there aren't many, well many that aren't slightly too risky for this blog anyway. Those that do are very product and gizmo focused, such as High Tech Gadget Info.