---
July 24, 2008 3:29 PM
documentary
,
IBM
,
ITV
,
videos
If you live in the West Country, you'll be able to see a documentary at 7-30pm tonight called "West Eye View" on ITV. This film, called "Public Money, Private Gain" is the result of several months of work by a small team and is the story...
May 15, 2008 2:11 PM
journalists
,
Technology
,
Video
,
videos
One of our journalists, JP Kamath, was in Barcelona this week at Gartner's symposium on IT. As well as writing analysis pieces and networking, JP also took some what we call "quick and dirty" video and posted straight up onto ComputerWeekly from the event.



---
March 5, 2008 5:44 PM
ComputerWeekly.com
,
videos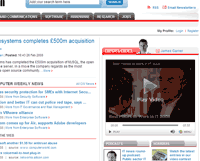 At last we have resolved our technical glitches and have been able to roll back the changes we made to the...
---
February 14, 2008 5:25 PM
competition
,
contest
,
photos
,
pictures
,
Video
,
videos

No, not those
---
January 7, 2008 8:00 PM
computerweekly
,
IT news
,
videos
Continuing the slightly reflective theme of the previous post, ComputerWeekly.com launched its video channel last year. These consist of a mixture of weekly news highlights packages and one off video interviews. So far the most popular of our videos in 2007:
---