---
February 17, 2012 11:52 AM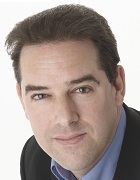 Profile: Bryan Glick
Cisco
,
Cisco Systems
,
IP address
,
IPv4
,
IPv6
,
Networking
If you haven't been asked about your plans for IPv6 yet - it's only a matter of time.
There's a general level of awareness among IT leaders that the internet...
December 12, 2008 12:11 PM
Compliance
,
IPv6
,
IT security
,
SaaS
,
Software as a Service
Christmas is coming, the goose is getting fat, turkeys are getting rather nervous and IT firms start making their predictions for the New Year.
First out the blocks has been Verizon Business (VzB) who has issued its predictions very much influenced by the current economic downturn...
---
June 17, 2008 12:25 PM
Cyberspace
,
growth
,
IP address
,
IPv4
,
IPv6
,
transition
,
Video
,
web address
Got yourself an online address? Good for you, because cyberspace is filling up like it was "on steroids", and there may not be enough investment to ensure further growth is possible... Watch this video for a warning on the possible failure of IPv6.
---