---
June 10, 2013 4:39 PM
Amazon
,
Facebook
,
Google
,
Microsoft
,
NSA
,
Prism
,
privacy
,
snooping
,
trust
Nobody in the IT profession can be disappointed that technology has become such a central part of the way we all live and work.

For anyone who has been in the industry for 10 or more years, it is fantastic to see IT taking its central place in business and society; for technology to...
October 8, 2012 12:58 PM
CIO
,
Cloud Computing
,
E-commerce
,
Facebook
,
IT Infrastructure
,
IT Strategy
,
Supply Chain Management
This is a Powerpoint slide I've used a lot lately when I've been asked to give talks on the state of IT or "the next big thing", and it usually seems to raise a smile from the audience: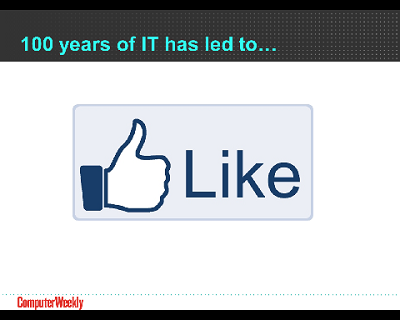 ---
August 10, 2012 10:57 AM
Complexity
,
Ebay
,
Facebook
,
Google
,
IT Strategy
,
NatWest
,
RBS
Complexity is the common enemy of every IT leader. Ask any group of IT managers what is their biggest day-to-day challenge, and the answer you will most often receive points at the complexity of legacy infrastructure.
For too long, IT departments and their suppliers have used that...
---
July 25, 2012 1:13 PM
Amazon
,
Facebook
,
iCity
,
IT careers
,
IT jobs
,
IT recruitment
,
IT skills
As the Olympic Games finally opens in London this week, there are 300 or so highly skilled IT experts about to be out of a job. Thanks to some of the leading lights of the new technology economy, they might not have far to look for a new employer.
---
May 18, 2012 11:06 AM
Apple
,
Facebook
,
Instagram
,
Nasdaq
There's a saying in financial circles - one that has been conveniently ignored many times in the past - that says: "If it looks like a bubble, and it feels like a bubble, then it's a bubble."
So, does
---
---
February 3, 2012 10:36 AM
.gov.uk
,
Complexity
,
Facebook
,
Government IT
,
OpenSource
,
Whitehall
Are we experiencing the beginning of the end for IT complexity? Ask most CIOs what is their biggest headache, and they will tell you about the restrictions caused by the complexity of their legacy IT - inherited from their predecessor of course.
Complexity underlies so many of the...
---
March 4, 2011 12:54 PM
Census
,
Data protection
,
Facebook
,
Google
,
government
,
legislation
,
privacy
,
regulation
Ten years ago, Computer Weekly posed the question, "Will there ever be another paper-based census?" As we all wait to receive our paper census forms this month, little has changed in a decade that has seen enormous changes in technology.
At least
---
February 18, 2011 4:12 PM
Apple
,
Eric Schmidt
,
Facebook
,
Google
,
obama
,
Oracle
,
steve jobs
,
Yahoo
Last night, President Obama hosted a dinner with the leaders of the US technology industry in California.
It was certainly the IT equivalent of the best celebrity bashes, and a rare event to bring together the likes of Oracle chairman Larry Ellison, Apple CEO Steve Jobs (looking thin,...
---
---