---
October 8, 2012 12:58 PM
CIO
,
Cloud Computing
,
E-commerce
,
Facebook
,
IT Infrastructure
,
IT Strategy
,
Supply Chain Management
This is a Powerpoint slide I've used a lot lately when I've been asked to give talks on the state of IT or "the next big thing", and it usually seems to raise a smile from the audience: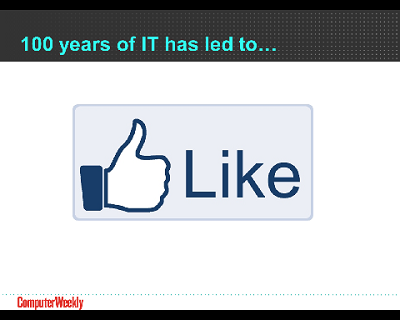 RSS Feed

Email a friend
---
December 8, 2010 10:54 AM
E-commerce
,
Internet
,
journalism
,
media
,
retail
,
Web
I'm becoming more convinced that the media industry should look to the retail world for ideas on how technology will shape its future.
I was recently asked to write
---
December 10, 2009 1:17 PM
E-commerce
,
Google
It turns out publishing companies are not the only ones to dislike Google's dominance - e-commerce companies don't like having to rely on the search engine for their traffic and revenue either, and one even called it "a new tax on the internet".
Xavier Court, co-founder and VP of...
---