---
July 15, 2008 9:05 AM
bloggers
,
Blogging
An Australian woman Olive Riley, who is believed to have been the world's oldest blogger, has died at the age of 108.

Oliver Riley was born in Broken Hill in New South Wales in 1899 and died just days ago in a nursing home in Woy Woy in NSW. Her last post on


RSS Feed

Email a friend
May 10, 2008 1:46 PM
BT
,
Customer service
,
IT support
We have just moved house from London town to rural, sunny Norfolk. It's lovely and has all gone fairly smoothly, apart from my wife's running battle with BT's customer service team to get our broadband set up. Of course, the fact that
---
May 1, 2008 12:59 PM
awards
,
bloggers
,
Blogging
,
Blogs
,
Fingerbobs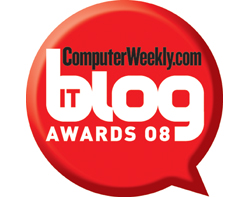 Reading this blog? Read others too? Comment on some? Or perhaps you blog yourself? Well, ComputerWeekly.com is searching for the best blogs...
---
---