---
October 26, 2009 11:24 AM
brands
,
media140
,
social media
,
twitter
So far the media140 event on Everything a brand needs to know about twitter and real-time social media has been heavy on hot air and light on substance.

In some respects that's not surprising, twitter and real-time social media are still babies in the human development analogy....
October 16, 2009 2:41 PM
social media
,
twitter
There are a few online tools, such as twitter, YouTube and Facebook, that are by their very nature born out technology.
That's why we cover them... they are web services that have made a fundamental difference to...
---
October 7, 2009 11:18 AM
SEM
,
SEO
,
social media
,
twitter
So two things that have been said so far at today's of Association of Online Publishers conference that really resonate with technology and making online media profitable are:

Firstly social optimisation will overtake search optimisation in terms of driving traffic to websites: Good...
---
September 24, 2009 3:10 PM
social media
,
twitter
This is a great blog post that encapsulates the reasons really neatly why some businesses are still really reticent about using social media...

The reasons don't constitute a strong argument, so for those of you trying to get...
---
July 29, 2009 3:00 PM
social media
,
twitter
It's taken twitter three years, but at last its changed its homepage.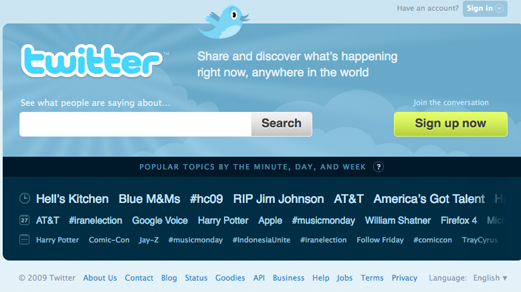 ---
July 3, 2009 1:19 PM
Blogging
I have just realised that I have been completely rubbish when it comes to blogging recently. One post a week ain't good enough. Note to self to blog more and be more consistent.

So apologies for those who have noticed the lack of posts recently. Yeh, I have been really busy, but it...
---
April 20, 2009 11:10 AM
dominos
,
PR
,
social media
,
twitter
A huge amount of time and energy is spent thinking about social media and whether it's important for businesses.

Well, it is. Last week's Dominos pizza scandal was a PR disaster of momentous proportions for the comapny. The YouTube video of two employees doing revolting things to a...
---
---
---
January 13, 2009 6:25 PM
journalsim
,
online
,
social media
I am really interested in the way traditional media companies, like the one I work for, handle the move online. I guess its because I work at the coalface where that change is happening and I am also utterly fascinated about new ways of communicating (social media) and how journalism is changing...
---