---
November 13, 2009 4:14 PM
computerweekly
,
Computing
It is with a sad and heavy heart that I officially compose my last blog post as the true custodian of this blog...well I guess it is the case.

On Monday our new Editor in Chief Bryan Glick, formerly editor of age-old rival Computing, will be...
December 23, 2008 5:56 PM
computerweekly
,
Holidays
Well that's pretty much it from us at ComputerWeekly for the rest of 2008.

We will be updating the website with some great festive content, like our Christmas quiz,
---
---
---
---
July 8, 2008 2:39 PM
computerweekly
So what were your favourite stories on ComputerWeekly last week? What were the headlines that made your fellow IT pros double click? What news or bizarre content piqued your fellow peers interest?

Well last week's top story was a big spat between two big players in the broadband market...
---
---
June 17, 2008 11:03 AM
computerweekly
,
magazine
,
print
,
redesign
,
relaunch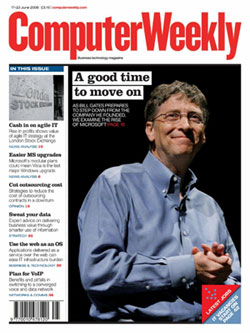 If you're a regular reader of or subscriber to Computer Weekly...
---
March 31, 2008 3:00 PM
computerweekly
What was hot the site last week - well not suprisingly it was Heathrow and Terminal 5 dominated, what with the baggage-handling glitches for the grand opening on Thursday. The top five most read stories on ComputerWeekly.com last week were 1.
---
---