---
November 11, 2011 1:32 PM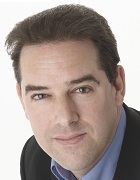 Profile: Bryan Glick
Agile development
,
Business
,
Cloud Computing
,
Management
,
Project management
,
publishing
,
Scrum
There's a popular phrase in the software industry - "eating your own dog food" - that aptly describes what Computer Weekly has been through over the past six months.
Today, we launched


RSS Feed

Email a friend
January 11, 2008 12:10 PM
Business
,
IT
Wow... what a statement. Businesses need to start embracing virtual world technology as it's going to as popular as email in five years time, according to a report by Forrester.
---