---
July 3, 2009 1:19 PM
Blogging
I have just realised that I have been completely rubbish when it comes to blogging recently. One post a week ain't good enough. Note to self to blog more and be more consistent.

So apologies for those who have noticed the lack of posts recently. Yeh, I have been really busy, but it...
---
July 15, 2008 9:05 AM
bloggers
,
Blogging
An Australian woman Olive Riley, who is believed to have been the world's oldest blogger, has died at the age of 108.

Oliver Riley was born in Broken Hill in New South Wales in 1899 and died just days ago in a nursing home in Woy Woy in NSW. Her last post on
---
May 1, 2008 12:59 PM
awards
,
bloggers
,
Blogging
,
Blogs
,
Fingerbobs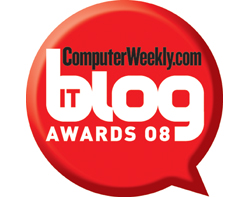 Reading this blog? Read others too? Comment on some? Or perhaps you blog yourself? Well, ComputerWeekly.com is searching for the best blogs...
---
---