---
November 22, 2007 1:02 PM
ComputerWeekly.com
,
redesign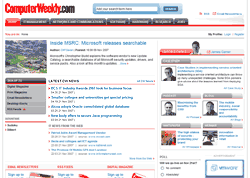 ComputerWeekly.com is evolving. Yes, as you may have already noticed, we've had a makeover, but this redesign is more than just a lick of paint.
November 21, 2007 12:59 PM
CW.com

ComputerWeekly.com has four excellent pieces of analysis on HMRC's loss of 25 million personal data records on a CD.
It is a worrying development for individuals, like myself, who have data stored by HMRC because they claim child tax credits. Do I need to change bank account, because the data could get into the wrong hands allowing criminals to defraud me?
---
November 20, 2007 3:11 PM
ComputerWeekly.com
,
CW.com

Hi I'm James Garner and I'm the web editor on ComputerWeekly.com. I joined Computer Weekly in April 2007 and have been focused on redesigning the website since then.
It's been a long seven-and-a-half months, but sometime over the next couple of days – as long as nothing goes seriously wrong – we will relaunch the site. I am really proud of the work we have done to improve the site and I hope you enjoy it. All feedback is welcome.
---