---
January 16, 2008 5:49 PM
Apple
,
laptop
,
Mac
,
steve jobs
,
Video
Steve Jobs has launched the thinnest laptop in the world, but is it important? Judging by the amount of web noise its generated then yes it is. Currently it's the most searched for term in technorati. And if you work in the enterprise space then you will probably have at least a passing interest or you'll be wondering how long it is before you'll be able to get your hands on one, or before employees start requesting them!
Well they only retail at £1199.
If you want to see the drama – then watch the first embedded video below. If you want to find out more of the technical specs of this new laptop then watch the product demo from a guy who works at Apple – so don't expect him to point out any flaws, but it's a comprehensive tour of the laptop.
January 15, 2008 1:00 PM
Blog
,
Communications
,
IT
,
Networks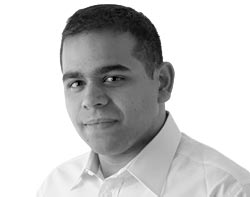 We have just launched our latest blog – the Networks Generation for those interested in networks and communications, principally from the UK. If stories about WiMax (I couldn't resist linking to this post as I love the headline!), or broadband, etc, etc interest you, then take a look and bookmark it or subscribe to the RSS feed.
It is written by our expert in Networks and Comms JP Kamath (pictured).
---
January 11, 2008 12:10 PM
Business
,
IT
Wow… what a statement. Businesses need to start embracing virtual world technology as it's going to as popular as email in five years time, according to a report by Forrester.
---
January 9, 2008 5:06 PM
Data ownership
,
Data protection
,
privacy

I followed with interest the recent squabble between Facebook and Robert Scoble over who owned his data on Facebook and have read some really good posts on this issue, such as the pro privacy and consumer louis gray and a different take on the debate from Freedom to Tinker.
---
January 7, 2008 8:00 PM
computerweekly
,
IT news
,
videos
Continuing the slightly reflective theme of the previous post, ComputerWeekly.com launched its video channel last year.
These consist of a mixture of weekly news highlights packages and one off video interviews.
So far the most popular of our videos in 2007:
---
January 3, 2008 2:17 PM
bloggers
,
Blogs
,
ComputerWeekly.com
Firstly, here's to a happy and prosperous New Year.
Secondly, what were your favourite blog posts in 2007? I have compiled a list of the top 10 most popular blog posts for 2007 on ComputerWeekly.com.
---
January 2, 2008 12:20 PM
2008
,
IT
,
Predictions
Happy New Year! How do you think 2008 will shape up? Our bloggers have been hard at work future-gazing over the festive period to provide you with some predictions for the year ahead…
---
---
December 20, 2007 11:43 AM
Christmas
,
ComputerWeekly.com

As it's my last day in the office today, I wanted to wish all ComputerWeekly.com's readers a Happy Christmas and a prosperous New Year.
I hope you all have a great break and enjoy a happy and relaxing time away from the office with your family and friends.
Officially, tomorrow is the last day in the office for our team until the New Year, but we will be periodically updating the site over the festive break – yes some of us will be moofing!
Best Christmas wishes
James
---
December 19, 2007 9:00 AM
Christmas
,
Computers
,
geeks
,
gifts
,
IT
Searching for the right present for the IT professional in your life? Check out these gorgeous gifts for geek girls and guys.
1. In this server stack jacket you can feel at home even while dashing down the freezing cold high street to Maplins for those last-minute essentials…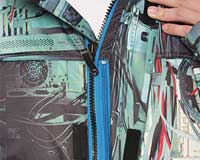 ---