---
January 28, 2008 9:33 PM
images
,
IT
,
photos
,
Technology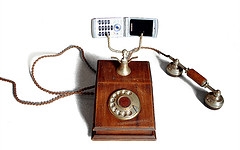 Every week, (at least once a week) I thought I would add a picture to this blog, because despite technology not seeming to be particularly photogenic, there are some very clever constructs out there, like this one. Visual yet stimulating. Let me know what you think and send us a witty or clever caption if you can think of one.
January 28, 2008 11:25 AM
satisfaction

According to some research highlighted in today's Work Clinic blog over at our sister journal Personnel Today:
"The unhappiest professions continue to be HR (29%) and IT (25%)."
True, or not? Do you love your job or hate it? (And if you're unhappy, would bringing in a plant really improve things as Work Clinic suggests?)
If you've got a better suggestion for making the daily grind more a joy than a chore, leave us a comment!
---
January 25, 2008 10:26 AM
bloggers
,
Blogs
,
ComputerWeekly.com
,
Lotusphere

Yesterday was a big day in politics. Yes Peter Hain finally resigned and yes Guido Fawkes got his man. So, maybe for the first time in British politics, a blogger can claim to have exposed an MP's failings and contributed to his downfall.
Guido Fawkes broke the news of Hain's resignation ahead of Sky News – which is impressive, but he also broke the donor scandal in the first place.
Why am I happy about this? Well I'm pleased that the real power of bloggers is being recognised – Guido was on Newsnight last night. But I'm also pleased because at ComputerWeekly.com we are placing a lot of emphasis on blogging.
---
January 24, 2008 5:47 PM
netvibes
,
personalisation
,
Social networking

For those of you that use feed readers and like to personalise the way the internet looks in a glance then the new Ginger Netvibes could offer something interesting…. its currently in beta. I'll take a look and let you know what I think.
But why call it ginger – is ginger suddenly cool??
---
January 23, 2008 2:29 PM
Data ownership
,
Facebook
,
information commissioner
,
privacy

Interesting post I just spotted about privacy and data. According to Shiny Shiny and a story on Computer Weekly the UK's Information Commissioner Richard Thomas is not happy with Facebook's policy to not delete someone's personal data when they decide to leave (and not want to come back to) the community.
---
January 21, 2008 4:59 PM
bloggers
,
Blogs
,
computerweekly
,
Lotusphere

Two of Computer Weekly bloggers' will be posting live from two conferences this week. So if you want to know the latest goings on from the Lotusphere 2008 conference then check out Ian White's blog to find out more of the latest from Orlando, Florida.
---
January 18, 2008 2:22 PM
Green IT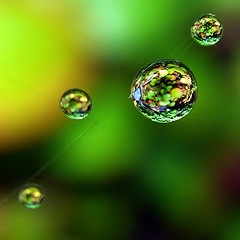 I've just been hunting for a great green image, cos let's face it's one of the hottest topics going at the moment in enterprise IT. Anyway I found this image, which I really I like. Expect lots of Green IT coverage from ComputerWeekly.com this year – we already have a dedicated channel on Efficient IT a and will have more great Green content for businesses coming soon.
---
January 16, 2008 5:49 PM
Apple
,
laptop
,
Mac
,
steve jobs
,
Video
Steve Jobs has launched the thinnest laptop in the world, but is it important? Judging by the amount of web noise its generated then yes it is. Currently it's the most searched for term in technorati. And if you work in the enterprise space then you will probably have at least a passing interest or you'll be wondering how long it is before you'll be able to get your hands on one, or before employees start requesting them!
Well they only retail at £1199.
If you want to see the drama – then watch the first embedded video below. If you want to find out more of the technical specs of this new laptop then watch the product demo from a guy who works at Apple – so don't expect him to point out any flaws, but it's a comprehensive tour of the laptop.
---
January 15, 2008 1:00 PM
Blog
,
Communications
,
IT
,
Networks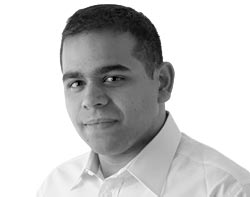 We have just launched our latest blog – the Networks Generation for those interested in networks and communications, principally from the UK. If stories about WiMax (I couldn't resist linking to this post as I love the headline!), or broadband, etc, etc interest you, then take a look and bookmark it or subscribe to the RSS feed.
It is written by our expert in Networks and Comms JP Kamath (pictured).
---
January 11, 2008 12:10 PM
Business
,
IT
Wow… what a statement. Businesses need to start embracing virtual world technology as it's going to as popular as email in five years time, according to a report by Forrester.
---