---
March 7, 2008 3:14 PM
Computing
,
cycling
,
images
,
Mobile Computing
,
moofers
,
moofing
Originally uploaded by angermann
The iPhone isn't quite business ready. The Blackberry has been subject to e-mail outage. And users are still crying out for decent e-mail and social networking access on their cellphones. So, for now, could this be the best answer to your moofing woes?
March 5, 2008 5:44 PM
ComputerWeekly.com
,
videos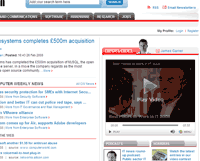 At last we have resolved our technical glitches and have been able to roll back the changes we made to the site last Wednesday.
If you haven't seen that post – Todays changes to ComputerWeekly.com – and are interested in what we have done then it is worth reading our explanation.
---
---
February 28, 2008 2:46 PM
ComputerWeekly.com
Seems we spoke – just a little – too soon!
We had a couple of technical hitches with the site changes we mentioned yesterday, which were causing performance problems for some visitors to ComputerWeekly.com, so we've rolled the changes back for now while we investigate and put things right.
The evolved site will be with us soon – and at least some of you have now had a sneak preview!
---
February 27, 2008 11:36 AM
Blogs
,
ComputerWeekly.com
,
podcasts
,
User Interface
,
Video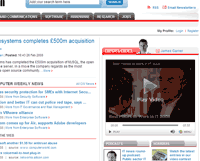 When we relaunched ComputerWeekly.com we promised we would look to continually improve the site for our readers, putting you, the user, first. No more standing still: we've gone agile, enabling us to keep rolling out a series of improvements over the course of each year so that the site constantly evolves, improving your experience.
Some of these improvements will be behind the scenes stuff that may have no visual impact, but some – like today's – will mean that if you're used the site you'll really notice the changes.
So today you'll see changes to the homepage and also to the article page – both of which I hope will improve your experience of ComputerWeekly.com.
---
---
February 22, 2008 9:42 AM
Bill Gates
,
Microsoft
,
Open source

Perhaps the open source community will now see the halo atop of Bill Gates's head following the news that Microsoft is going to make available its internal application programming interfaces for MS Office and Windows protocols.
My colleague Cliff Saran sums up the significance of this news on his FUD blog.
Also see this on CW.com – Microsoft says it will launch an open source interoperability initiative
Image credit: Matt Elder
---
---
February 19, 2008 10:20 AM
CIO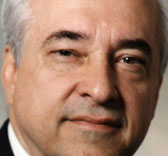 Cliff Saran's article and podcast interview with General Motors CIO Ralph Syzgenda is very interesting and also very useful for aspiring CIOs – take a look at his top tips below or read the interview in full on ComputerWeekly.
Or if you prefer you can download or listen to the podcast interview of Ralph Syzgenda, glodal CIO of General Motors in full.
---
February 15, 2008 11:40 AM
Heathrow
,
images
,
RFID
Well this week's image of the week has to be the photos taken by Computer Weekly journalist JP Kamath while he was covering Heathrow's RFID trial on passenger's baggage.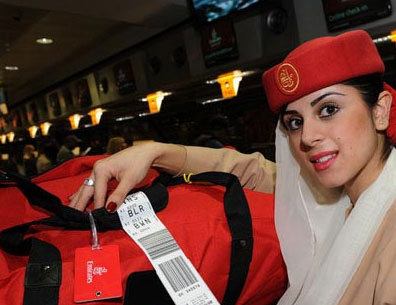 ---