---
April 18, 2008 11:56 AM
Technical support
The funniest video I've seen this week with an IT connection has to be this song about the woeful experience at Heathrow's Terminal Five.
We've been keeping a close eye on all the lastest sdevelopments at Terminal Five and if you want to catch up then see Heathrow Terminal five – the latest news.
April 17, 2008 11:19 AM
Email
,
Microsoft
,
podcasts
,
Spam
,
Spammers
,
Video
We have just released a new video about combating spam in the workplace and I'm really proud of the way we've put it together… It's a departure from our talking heads' videos and is a bit more creative and therefore, I hope, more compelling viewing.
Let us know what you think.
---
---
April 14, 2008 10:21 AM
chip
,
Marathon
,
running
,
tracking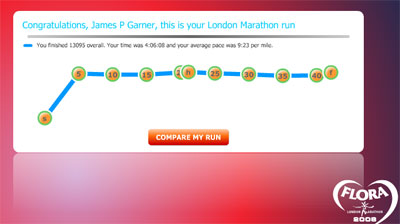 ComputerWeekly.com's brave web editor, James Garner, crossed the marathon finish line with a time of 4 hours, 6 minutes this Sunday. Not surprisingly, he's taken time off to recover today. But thanks to the miracles of modern technology, we can not only verify his finish time (useful for independently auditing that office sweepstake) but we can even see how his pace varied throughout the run. It's all thanks to the trainer chip tracking technology that the Flora London Marathon team used this year to track runners' times.
Congratulations, James! We hope you recover soon so that we see you back in the office some time this week! See below for a couple of images.
---
April 12, 2008 8:50 PM
RFID
I'm not 100% sure that the chip you are given when you register for the London Marathon is an RFID chip, but once attached to your shoe the chip ensures that each runner's race time is recorded.
It marks the point from when you cross the start line to the finish line and ensures accuracy of time recording and that everyone who finishes can get an official time.
---
April 11, 2008 11:37 AM
BBC
,
iplayer
,
Video
This week's round-up focuses on online video…. well of course it does its a video round-up, doh! But I mean the platforms for different types of online video that was in headlines this week, such as the BBC iPlayer.
The most popular streamed programme since the iPlayer launched was the first episode in the new series of "The Apprentice".
See this clip of Nicholas being fired in the first episode below
---
April 10, 2008 9:34 PM
BBC
,
Flickr
,
Video
Project 366 2008 – April 10, 2008 – NO VIDEOS ON FLICKR!!!!
Originally uploaded by turtlemom4bacon
Yesterday's post about the BBC and its iPlayer got some good reaction, which I have commented on.
Thanks for all your comments. I can understand people getting anxious about their license fee and how the BBC chooses to use it, but I agree mostly with Andrew and Ian. Technology will continue to develop regardless of whether its the BBC or another broadcaster that supplies the market as the demand for online video is huge.

The infrastructure therefore must be able to support this development and not stifle it. I expect the ISPs will alter their business models to reflect consumers' appetite for video online.
Video continues to become more popular online – as if to prove the point Flickr has just launched its own video service for its Pro users, who pay about £12 for their pro status.
---
April 9, 2008 12:13 PM
bandwith
,
BBC
,
iplayer
,
Networks
As a publishing business, I guess the debate over the BBC's iPlayer (which in a quick straw poll in our office is a highly rated service) and who should pay for it is a particularly interesting one. The figures are a testament to its success.
---
---
April 7, 2008 12:26 PM
Internet
,
online
,
presentations
,
Websites
I just been pointed to this graph about the growth in the number of websites online and how we got from one back in December 1990 to 100,000 in 1996 to the 162 million there is now.
It is an interesting graph even if most of us are already well aware that the internet has become a mighty busy place.
One irreverant thought that I had as I looked at this graph was how many powerpoint presentations on "how you make yourself heard online" that I'll see this graph appear in, in the coming months?
---