---
March 19, 2015 5:38 PM
API
,
Banking
,
Broadband
,
budget
,
GDS
,
HMRC
,
Internet of Things
,
Mobile
,
research
,
Skills
,
smart city
,
Startups
It's rare that I'm inclined to congratulate George Osborne, but recognition is due to the Chancellor for making his latest budget the most tech-friendly ever.
Every year, Computer Weekly is inundated with press releases before the Budget from various interest groups calling on the Chancellor to include this or that technology policy. Typically, the day after the Budget we then get the follow-up release chastising the Chancellor for failing to deliver on their hopeful wish-lists.
But this year, few could complain – the list of supportive announcements was long. Tech startups, science and technology research, internet of things, driverless cars, smart cities, skills, broadband, mobile networks – all received funding or government support of some form.
The government's digital strategy even underpinned one of Osborne's headline-grabbers – the abolition of tax returns, made possible by the planned introduction of personal online tax accounts and HM Revenue & Customs' real-time information system for tax collection.
There is little doubt that whoever wins the election in May, digital and technology will play a bigger role in the next government than ever before.
Labour must be a little frustrated – since the party's digital government review was released last year, the coalition has slowly nicked most of Labour's most popular recommendations. Osborne added another – extending the remit of the Government Digital Service (GDS) to help local authorities with their digital plans (although the Cabinet Office was unable to offer any further details on this, which makes you wonder how much they knew about it beforehand).
Some of the announcements promise to be truly transformational – not least a commitment to produce a standard banking API to open up the big retail banks' data and systems to new entrants.
We are, slowly, getting the UK onto a digital roll. Whoever wins the election must commit early to protecting, continuing, and preferably accelerating this momentum. The UK has a genuine opportunity to be a world leader in the digital economy, for the betterment of everyone – creating jobs, wealth and social opportunity; improving healthcare and education; making this country a base for science and technology innovation that is the envy of the world.
We look forward to whichever party or coalition of parties is willing to accept and deliver on this defining challenge for the next Parliament.
March 9, 2015 12:41 PM
Agile
,
BCS
,
BYOD
,
digital
,
GDS
,
Project management
,
Shadow IT
,
Strategy
Does IT have a problem with people?
That's a question I found myself asking, after listening to the speakers at a BCS event last week. It's not a new question by any means, but when you consider a few topical challenges facing IT leaders and the IT industry, it's one that perhaps gives an insight into the radical changes taking place through the technology supply chain.
In companies, the question goes to the heart of the changing relationship between IT departments and their users – the rise of "shadow IT" and "bring your own device" (BYOD) have come about as a rebellion against the historic "command and control" culture of most IT teams.
In government, it relates to the mantra of "user need" espoused by the Government Digital Service (GDS); it goes into how GDS wants to change the procurement and delivery of IT in Whitehall, and the irritation that seems to be causing for IT suppliers.
Let me explain.
One of the speakers at the BCS event was Will Whitehorn, Richard Branson's right-hand man and currently president of Virgin Galactic, Branson's ambitious space travel business. His simple explanation of Virgin's approach to risk and failure should be mandatory listening for anyone involved in IT. He highlighted lessons that the IT sector – typically so risk averse – is only starting to learn.
From Whitehorn and other speakers, there were, for me, three key points to consider.
IT today is led by products not people
Whitehorn gave an example of Virgin's focus on customer needs throughout its supply chain, which came from his time setting up Virgin Trains, and in particular its West Coast main line franchise. Virgin wanted a totally new train design to meet its goals for speed and passenger service – the end result was the Pendolino tilting trains in use today.
Whitehorn went to suppliers and outlined what their customers wanted, and told the train makers to design and build something to meet that user outcome. He felt that was delivered.
Consider by comparison the typical conversation between an IT leader and their suppliers, where an explanation of business outcomes and user needs typically leads to the offer of a "solution" based on a series of products. "You want to increase customer service levels by 10%? Here – buy my CRM software!"
The IT industry has yet to understand and manage risk well enough to meet that user need challenge – and its thinking all too often is not yet mature enough to go beyond products. There must be a huge opportunity for any suppliers that can genuinely offer user-focused outcome-based solutions in that way – but where are they?
IT thinks "big" when it needs to deliver "small"
"Risk means accepting failure" said Whitehorn, and explained how this was a fundamental principle behind the success of Virgin Group.
The company has grown big by keeping its parts small. Every Virgin-branded business operates independently of every other, so if one fails, the overall brand is not harmed.
Failure is a particular challenge for Whitehorn at the moment, after the tragic crash of Virgin Galactic's test plane last year – a disaster that Whitehorn said is likely to be proved as human error, not equipment failure. But he said that Virgin always knew that going into space was likely to bring high-profile failures along the way, and that the end goal is worth the risk.
But the way they manage that risk is by keeping things small.
Compare that with the historic approach to IT delivery, of "big bang" projects specified to death at the beginning then failing to meet user needs once finally completed. The move to agile – or, better described as breaking down projects into smaller tasks, individually managed and delivered within an overall architecture (for those who recoil at the word "agile") – is an overdue response to that monolithic approach to IT.
It's not about waterfall vs agile – you can use waterfall techniques in smaller tasks as much as you can agile. You can see it coming through in the datacentre too, with the growth of microservices and container technology – keep things small, even within the constraints of something inevitably large such as a corporate datacentre (or better still just put it in the cloud).
The IT industry has always liked to use engineering analogies to explain how it works – that delivering IT projects is like building a bridge or a skyscraper. I've never been comfortable with that analogy. The best and better analogy I've heard recently is from consultant Mark Foden, who said IT has to be grown like a garden, not a bridge that has to be built.
A garden needs a design and an architecture – big plants at the back, small ones at the front; matching colours; hard landscapes mixed with soft – but each element of that garden is independent of the other while intrinsic to the whole. Each plant needs individual nurturing; each pathway laid and maintained. To make the whole garden a success needs different approaches for different elements – shady plants that don't need much water; sun-lovers that need regular feeding; different flowers that bloom at different times as long as you treat each according to their needs.
In IT, you see too many adherents to one methodology – we are waterfall; we are agile; we use Six Sigma; we use Lean; etc. Ironically, IT is not binary; it's not one thing or the other. It needs a flexible (and often complex) mix that recognises the different needs of each element, focused on users not on a finite set of supplier products that in reality vary very little from each competitive offering.
Trust your people
Perhaps it's not surprising that so many IT leaders are not entirely trusted by their CEOs. Too many big failures, too much over-run, too many unhappy users. But it is true to say that too few boardrooms really trust their CIO.
Another BCS speaker, Phil Pavitt, global CIO of Specsavers and former HM Revenue & Customs CIO, made the point that the people in your own IT organisation almost always have the answers to the questions that matter – they just need to be trusted, and to have an opportunity to step forward.
Pavitt bemoaned the typical state of big corporate IT, with expensive consultants brought in to gather information from employees, then report back what they said as if the consultants were the enlightened ones.
I recently talked to a highly experienced CIO, someone with success in major multinationals, who had been employed to overhaul IT strategy and delivery at one of the highest profile organisations in the UK. He has recently left – of his own accord – as a direct result of a new leader of that organisation who insisted on bringing in a consultancy to audit every element of that strategy after it had been completed.
Risk aversion and a lack of trust towards IT are endemic. IT needs to earn that trust, and to convince CEOs to trust them.
So what?
Perhaps it's inevitable that technologists feel more comfortable with neatly defined products that meet a clearly defined purpose. People are complex and unpredictable – how can you deliver IT to satisfy such flaky users who don't really understand IT in the first place?
But this is where IT sits today – at the cusp of change from a product-focused industry to one that is able to deliver user-focused, outcome-oriented business (and personal) offerings composed of small, interchangeable components, with no single points of failure. IT still wants to dictate to its users; its users now know enough to say no.
Perhaps that's the biggest challenge for the maturing IT community as it seeks to exploit the digital revolution and sit at the top table of business and government – to become less risk averse, to manage failure better, and to put people first.
---
March 6, 2015 12:52 PM
cloud
,
Cloud Computing
,
digital
,
It spending
,
IT Strategy
,
Mobile
,
Mobile Working
With 90,000 people attending this year, Mobile World Congress has become one of the definitive events on the technology calendar. Nobody is surprised to hear experts saying mobile is the number one issue – and the same applies to corporate IT.
Computer Weekly's annual survey of our readers' IT spending priorities shows that mobility has leaped to be the top priority for IT leaders with 42% of respondents implementing mobility projects this year – well ahead of the second placed issue, compliance at 31% (see graph, below). As recently as 2012, mobility didn't even feature in the top 10 IT spending priorities.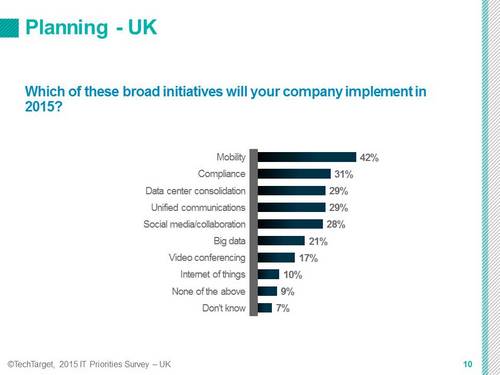 As mobility has risen, so has cloud. In our latest survey, for the first time more organisations are increasing spending on cloud than for on-premises IT – a significant milestone. In 2012, the research described IT leaders' cloud plans only as "modest and moderate".
But tracking the survey over the last three years shows not only that mobility and cloud have risen naturally to the top, but they are accelerating at the expense of almost every other category of spending. The strategic shift to mobile and cloud in corporate IT is really happening, and is now unstoppable.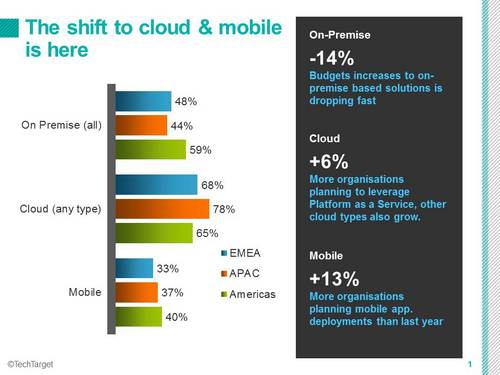 Slicing into the survey data also shows a notable fact – demonstrated in the graph below. If you look at readers' responses on technologies typically associated with digital transformation – areas such as collaboration, big data, social media and virtualisation – you see there is a significantly higher tendency for spending in such product categories among those companies also prioritising cloud.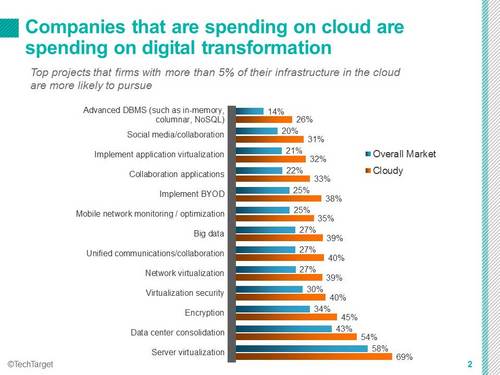 Cloud is not just a major shift in IT delivery, it is a signifier of greater intent to transform the IT estate using emerging technologies. For IT suppliers, that's hugely significant. If they are not having the cloud conversation with their customers – or are simply tagging a "cloud" label onto their existing products – they are missing out on nearly every other major IT change taking place at that organisation.
For companies such as IBM, HP and others, desperately trying to protect revenues from legacy products and unable to grow sales from emerging technologies sufficiently fast to replace them, that's a huge problem. Who would seriously have thought five years ago that Amazon would become the dominant force in cloud, at the expense of such bellwethers?
For those IT leaders whose employers are still reluctant to invest in mobile and cloud, it may soon be too late – their competitors are changing the game at an accelerating pace.
---
February 27, 2015 11:29 AM
Cabinet office
,
Capita
,
CCS
,
Government IT
,
It spending
,
Procurement
,
purchasing
,
SME
The government this week touted its success at delivering on a policy objective to put 25% of all purchased spend through SMEs – in 2013/14, that amounted to £11.4bn, slightly ahead of target at 26.1% of all spending.
But, at the same time, many SMEs are up in arms about the way they are being treated by Whitehall, and in particular the Cabinet Office procurement agency, Crown Commercial Service (CCS). The numbers published by the Cabinet Office tell one story, the market seemingly tells another. So which is true? Let's examine the official figures that make up that 25%.
Direct vs indirect spending
First, it's important to understand what the goal was. That 25% consists of direct spending – contracts between government and SMEs – plus indirect spending, which means large firms passing some of their government business to SMEs as subcontractors. Of the 26.1%, direct spend was 10.3% and indirect 15.8%. So in contractual terms, about 90% of all contracts by value still go to big companies.
But government relies on those big firms to report back how much they spend with SMEs – the number is not audited, and is based only on a survey of its 500 largest suppliers. The Cabinet Office admits that "the approach to indirect spend should be regarded as indicative". The indirect figures add a few further caveats:
"MoD total procurement and direct spend figures are for the core department only, therefore excluding its Executive Agencies and NDPB."
So, the Ministry of Defence – by far the biggest spending department – does not measure the SME spend through its many external agencies and non-departmental public bodies (NDPB), of which there are 29 different organisations.
"FCO direct spend is based on UK spend only"
The Foreign and Commonwealth Office (FCO) – most of which is, inevitably, housed overseas, does not measure direct SME spend in all those overseas operations.
"Data as reported by suppliers for central government with no departmental association"
This is the description given for £1.5bn of indirect SME spend – 22% of the total figure – that is not attributed to any Whitehall department. This means that large suppliers claimed they passed £1.5bn of money to SMEs, but cannot account for which departments that work is attributed to. Really? For more than one-fifth of all the sub-contracts to SMEs across all large suppliers, the prime contractor has no idea what department that work is for, or cannot associate the work with any department? That sounds somewhat convenient for those big suppliers, all of which have been pressured by the Cabinet Office to demonstrate an increase in their SME spend. The government admits that the indirect spending figures have not been supplied by departments, so it appears we are to take the word of the large suppliers entirely on trust over that £1.5bn portion of the spend.
Direct spend
Look next at the direct spend – the numbers for which the government can account for itself through contracts placed with SMEs. Those figures have flatlined – representing 10%, 10.5% and 10.3% of total spending respectively in each of the last three financial years.
In the year before – 2010/11 – only 6.8% of spend went direct to SMEs; the prior year it was 6.5%. The jump from 2010/11 to 2011/12 went from £3,200m to £4,439m – an extra £1.2bn. The Cabinet Office attributes that leap to the new coalition policies introduced at the start of the parliamentary cycle taking effect. It was suggested to me by a source that the measurement methodology for tracking SME direct spend changed between 2011 and 2012 – although the Cabinet Office denied this.
So what did cause that jump? The two main policies introduced in 2011, alongside some changes to process such as a mystery shopper service, were:
Advertising tenders below £100,000 (tenders greater than £100,000 were already advertised)
Abolishing pre-qualification questionnaires (PQQs) for contracts below £100,000 to make it less onerous for SMEs to bid for business.
So, in theory, the only real change for SMEs was in their ability to win contracts worth up to £100,000. There is not yet any published evidence to suggest that from 2011 SMEs suddenly won a greater share of the contracts above £100,000 that were already being advertised.
It's true that in government IT there has been a push to smaller contracts, which opens up more opportunities for SMEs – but the main vehicle for that is the G-Cloud framework, which launched in February 2012, so cannot have accounted for any of the £1.2bn increase in the prior year.
G-Cloud has been widely applauded and has awarded more than 50% of its spending to SMEs – but the total amount spent through G-Cloud since its inception is still only £431m to the end of 2014. Clearly G-Cloud made no contribution to that £1.2bn leap in 2011/12 – and has not had a material effect as overall direct spending has flatlined since its launch.
How many SMEs?
So, we are left to assume that most of that £1.2bn additional annual spend came about as a result of SMEs winning more contracts worth up to £100,000. Even if you take a generous outlook and say that the average contract value was the highest amount of £100,000, that would imply 12,000 new contracts won by SMEs. That's 1,000 per month, or about 50 every working day. Somebody in CCS would be getting through a lot of ink signing all that paperwork.
Of course, if a lot of SMEs won a lot of contracts worth over £100,000, that would account for a greater chunk of the £1.2bn – but that would have happened anyway, as the 2011 policy changes were mostly focused on opening up smaller contracts. If you were generous, then perhaps 1,000 SMEs won contracts worth £1m on average that had never before been won by SMEs, and that would account for most of the £1.2bn. That's still four contracts every working day.
But the government has not been able to say how many SMEs have been awarded direct contracts – Computer Weekly has asked, we've not yet had an answer – but it seems unlikely to be 1,000 additional firms, and even more unlikely to be 12,000. So where are all the SMEs that won that extra £1.2bn?
It's also possible the definition of an SME includes individuals providing temporary services through a company of which they are the only employee – fairly common practice for contractors, to reduce their tax burden. But does direct spend with individual contractors really support the ethos behind the desire to grow UK small businesses through the government estate?
If you apply the same logic to the indirect spend – which increased from £2,946m (6%) in 2011/12 to £6,909m (15.8%) in 2013/14 – that's an increase of nearly £4bn annually. At an assumed average contract value of £100,000, that's 40,000 additional contracts with SMEs let by large suppliers in a year. Again, you might ask – really? Where are they all?
Not lies, just statistics
There is no evidence to suggest the government is lying about its SME spending – but even a casual, entirely non-forensic analysis like the one above raises some significant questions over the extent to which government largesse has really been spread around the UK's SME community.
Of course, the existence of a policy to increase spending with SMEs is welcome, and is clearly having an effect – even if nearly three-quarters of all spending still goes to large suppliers.
G-Cloud has been hugely popular – most SMEs that have engaged with it love it, and some have grown so much as a result they can no longer be categorised as SMEs. But G-Cloud was not created by CCS, which still appears to prefer old-style procurement frameworks managed by outsourcing giants such as Capita, which are coming increasingly under fire from disgruntled SMEs who say they are losing millions of pounds in revenue.
Plenty of SMEs who deal with CCS say they are less convinced that the purchasing agency has bought into the SME policy, and that CCS still feels more comfortable dealing with big suppliers where they can aggregate demand and use that to negotiate better prices.
The progress made on growing SME spending by the coalition government is very positive, let's be clear about that – but it may not quite be as impressive as it wants us to believe. There is still much room for improvement.
---
February 13, 2015 1:08 PM
Data protection
,
economy
,
GDS
,
Government IT
,
politics
No blood was spilled, but listening to the three main political parties debate their digital policies together for the first time this week laid out the battleground for their likely general election technology manifestos.
Computer Weekly, with help from TechUK and the BCS, brought together the Conservative, Labour and Liberal Democrat parties to face questions from an audience of IT executives about their priorities for supporting the tech sector and growing the UK's digital economy.
Reassuringly, there was much agreement between the three. On further support for the burgeoning tech startup sector; on expanding the work of the Government Digital Service (GDS) and supporting local authorities in their digital plans; and on the need for reforms around data protection and privacy – all three parties concurred.
You can read all about the debates in our coverage here:
And you can watch video highlights from the event here:
But perhaps the most significant theme from the debate was the need for better engagement between politicians and the IT sector.
In past elections, the IT community has been at the back of the room, desperately waving its hand in the air for the politicians to take notice, trying to tell them how important it was. This year, for the first time, the main parties have invited us forward to sit closer to the front.
There is widespread recognition – at last – that technology can and must play a major role underpinning some of the major reforms needed in the UK in the next five years, in the economy, health and social care, national security, education and welfare.
The IT community has, justifiably, pointed to the lack of digital literacy in Parliament, urging MPs to become more aware of how technology can help deliver the changes they all call for. But all three of our panelists – digital economy minister Ed Vaizey, shadow digital government minister Chi Onwurah, and the LibDems' Julian Huppert, agreed that IT itself needs to become more politically aware too – "The challenge for the tech industry is to meet politicians half way," said Vaizey.
And they're right. For the digital community, your time is now – the doors are open at last. There has never been a better opportunity to engage with the UK's political leaders and show them how technology can make all our lives better.
---
February 6, 2015 10:28 AM
Uncategorized
The financial services industry has yet to experience the digital disruption that radically changed other sectors, such as retail and media. But the influence of the commoditisation of communications, processing power and storage – more popularly known as the internet and the cloud – is going to hit finance too, that much is inevitable and unstoppable.
Arguably, the 2008 crash protected the banking industry from such disruption – increased regulatory scrutiny made it impossible for new entrants and restricted innovation from existing players. But everyone can see the cracks emerging from the lack of digital investment – those ageing, batch-processing mainframe transaction engines at the core of every major bank were simply not designed to handle real-time web and mobile services.
Governments have realised too, that they need to introduce more competition to the market, to reduce the dependence on the global players that let down the world economy so badly.
And what is the one, proven way to increase competition, and break down barriers to entry? It's technology, of course. Once you could sell online without the cost of a physical store, it transformed retail. Once you could publish content on the web without the cost of a printing press, paper and ink, it transformed the media.
We are seeing the emergence of new, challenger banks based on digital technology, which do not suffer from the complex, legacy IT that the incumbents depend on. Also, banks find some of their services being cherry-picked by the new tech giants – payment services such as Apple Pay, for example, not to mention Paypal. Research suggests more of us will use smartphones to pay for things than credit or debit cards by 2020.
Some banks are responding, of course. Barclays is pushing hard on new mobile services, and even providing training in branches for children to learn coding. Santander is going further, and taking on the cloud suppliers at their own game, offering cloud storage to corporate clients. If data is the new currency, there's a logical progression to store it with your bank, even if the chances of one bank building the scale of cloud infrastructure needed to compete with Amazon, Google or Microsoft is unlikely.
Banks still control the global flow of money – but trends like Bitcoin are starting to demonstrate that even here, technology can offer alternatives.
The big finance players are vulnerable – even if they don't want to see it – in the same way as Woolworths, Blockbuster, Comet and others were vulnerable and missed the digital boat. Expect the banks to go through a decade now that will change their industry as much as the last 10 years has done for so many other sectors.
---
January 30, 2015 3:52 PM
Apple
,
CIO
,
digital
,
iPhone
,
smartphone
,
Smartwatch
It's been impossible to ignore the biggest technology headline of the week – especially as it became the biggest business headline in many places too. Apple declared the largest quarterly profit in corporate history – not bad for a company dismissed as a failure 15 years ago and derided as behind the times when it launched its first smartphone.
Apple sold 74.5 million iPhones in the last three months of 2014 – that means 1% of all the people in the world bought an iPhone. You can't say anything other than it was a remarkable achievement – perhaps the zenith, so far at least, of the consumer technology revolution.
I must admit I wasn't convinced by the iPhone when it first launched. I feel the same way about the Apple Watch, which means it's guaranteed to be an instant blockbuster product.
Apple's success has been widely attributed to its focus on product design – making tech cool, fashionable and desirable for the first time. But great design underpins the real reason Apple has changed the tech world – it made the technology secondary, invisible even.
People bought iPhones in their millions because they didn't need a user manual – the intuitive nature of the product meant they looked at its utility not its functionality or technicalities. Even the simplest Nokia phones in the past typically needed you to read through the manual first. That's also a contributor to why Google Glass failed – it was the complete opposite of invisible.
Technology works best when you don't notice it. The suppliers that realise this will be the winners from the digital revolution – I'm not sure, for example, that IBM, HP and Microsoft quite get this yet.
The smartest CIOs that Computer Weekly meets get this – and in some respects, it's what makes them stand out from their IT leadership peers. If your CEO notices your technology, it's usually because it's gone wrong, or when it causes endless frustration to use. "We need to turn that irritant into something that has value," as one such CIO said to me recently.
Technology is great, we all love it, and it's a part of our lives. But the technology that works best – and in a corporate environment in particular – is invisible. For IT to lead in business, it needs to disappear.
---
January 22, 2015 12:58 PM
Android
,
Apple
,
Azure
,
IOS
,
Microsoft
,
Microsoft Office
,
Office 365
,
Operating systems
,
Satya Nadella
,
Windows
,
Windows 10
,
WIndows Phone
The software company with 14% share of the global operating systems market announced the latest version of its flagship product this week. It's called Windows – you might have heard of it.
It's not that long ago – barely six or seven years – that Microsoft could claim that Windows ran on more than 90% of all the computers in the world. Since those computers disappeared into our pockets, its global influence has plummeted like no product ever before. More than 90% of PCs still run Windows – but that's a declining market.
Of course, those statistics don't tell the true story of Windows today, and in particular of the Windows 10 launch this week. A 14% market share or not, Windows is still every bit as important as iOS and Android – especially for business technology buyers – even if it has failed to extend its PC dominance into the mobile market.
Perhaps the most important reaction to the latest announcements was not the product reviews, but the widespread acknowledgement that, under CEO Satya Nadella, Windows 10 proves conclusively that Microsoft is a very different company than it was under his predecessor, Steve Ballmer. Nadella has taken the company a long way in his first year in charge.
We now have Office apps for Apple and Android devices – anathema in the Windows-centric Ballmer world – and this week we even have the first version of Windows that will be given away for free, albeit only for its first year, and to Windows 7 and 8 users. Better to get that user base onto Windows 10 for nothing than lose them to non-Microsoft devices.
Most of the coverage of the 10 launch focused on the mobile and consumer features, but actually much of the work went into satisfying the enterprise buyer, with advancements in security, cloud and mobile device management.
The failure of Windows Phone compared to iOS and Android hasn't dented Microsoft's revenue or share price, and corporate sales of Windows and related products on PCs remain the bedrock for the Seattle supplier. The HoloLens "holographic" headset will excite gadget lovers, but will be much less important to IT managers than the claimed software portability for Windows 10 applications across every device from smartphone to tablet to PC.
Much like Windows 7 was the operating system everyone hoped Vista would be, it looks like 10 will make up for the botched job that was Windows 8. So, most importantly for Microsoft, Windows 10 ensures it stays firmly in the plans of its corporate customers. And yet…
For Microsoft to really prosper in the new age of mobile and cloud, it still has to shake off some old habits. The 12-month giveaway for Windows 10 will be welcomed, but there are too many lucrative Software Assurance deals in place for Microsoft to make Windows free forever, like iOS, Android or Apple's OS X for Macs. The company described its approach to supporting 10 as "Windows as a service", which implies it is slowly moving towards a pay-as-you-go or subscription service, rather than the complexity of Software Assurance – a move already evident with Office 365.
If Microsoft really wants to win IT managers over once and for all, a radical simplification of its software licensing would be the number one priority.
The availability of Office on rival mobiles was a big step to existing in a multi-vendor world – but was also a defensive measure to protect Office revenues against the "bring your own device" (BYOD) trend in corporate IT. Ease of integration between Microsoft's enterprise products has always been its biggest attraction for IT managers, but the future is far more heterogeneous than that and IT leaders would far prefer to see more Microsoft products unbundled and better able to integrate with rival software.
I would expect that in five years' time, Office will be a far more strategic product for Microsoft than Windows. You will only pay for the PC version of Windows, and that market will be a lot smaller as more employees use tablets for work – even if they are Windows tablets, where the operating system will be effectively free, with corporate integration features charged extra.
Windows is still too important for Microsoft to ever admit this, but the operating system is no longer the long-term future for the company – that's going to be Azure and Office 365.
The new, different Microsoft is welcome and necessary, and Nadella deserves plaudits for making it happen so quickly. But a lot of this is about playing catch -up – all he has done is bring the company back up to date, and brought back a little of its old buzz. The Microsoft of the near future is going to be even more different yet.
---
January 16, 2015 11:09 AM
Data protection
,
Encryption
,
Hacking
,
privacy
,
RIPA
,
Security
,
snooping
It doesn't feel that long ago that the information security community were bemoaning the lack of attention they received from the government, national press and wider public. No danger of that happening now, is there?
Data protection, privacy and surveillance are leading front pages and parliamentary debates, particularly after recent high-profile incidents such as the Sony Pictures hack and internet snooping by the intelligence services.
The Paris terror attacks have brought widespread calls from politicians for greater powers to monitor our internet activities, countered by privacy campaigners pointing out the terrible irony of terrorism causing a reduction in our civil liberties as a result.
David Cameron's naïve and careless call to outlaw "communication between people which we cannot read" has rightly led to criticism of what would be a technically unfeasible and highly dangerous attempt to ban encryption.
I can remember writing nearly 15 years ago that privacy would be the defining challenge of the internet era, and so it has proved.
Nobody can argue that targeted electronic surveillance is anything but a good thing for fighting crime and terrorism, but blanket recording of all our communications – even if it is only the meta data – on the basis the data is stored "just in case" is self-evidently a step too far in a liberal democracy.
When the Regulation of Investigatory Powers Act (RIPA) was passed in 2000, many observers warned that its loose language and broad powers could be misused. Politicians assured us that no such thing would happen, relying on the common sense and altruism of the authorities.
Fifteen years later, we have seen how the law has been abused, just as those experts warned, with councils citing RIPA to snoop on parents trying to get their children into schools outside their catchment area, and the police using it to uncover journalists' emails and expose their legitimate sources.
Let's not forget too, that the French authorities already have greater surveillance powers than the UK, and it was still not enough to prevent the Paris attacks by known extremists.
There is no easy solution, and none will be found in knee-jerk reactions or a tribal approach that creates a binary debate when nuance is needed. Both politicians and public need to understand the arguments and issues, and to reach an informed consensus on how best to balance privacy and national security. That debate is not currently taking place, and more education and awareness is needed before it can be conducted sensibly and fruitfully.
This, then, is the opportunity for the information security community. They are, finally, in the centre of the debate they have always called for. They need to lead, to educate and to listen – and most importantly, we and the UK authorities need to listen to them.
---
January 8, 2015 5:24 PM
Big Data
,
Cloud Computing
,
digital
,
Digital skills
,
innovation
,
Internet of Things
,
Mobile
It's usual at this time of year for journalists to make predictions – something I've tended to avoid as a fool's game beset by needless optimism, over-excitement or the patently obvious. But for 2015, I'll make an exception and offer one forecast as a counterpoint to some of the hyperbole you will no doubt have come across.
My prediction is this: nothing much particularly different will happen in technology in 2015.
Yeah, I know, a bit dull. Sorry.
We will continue to hear a lot about the buzzwords we heard a lot about in 2014 – cloud, mobile, big data, digital, internet of things, wearable technology – all of which are at different stages of adoption and maturity, and all of which will continue their merry progress along those paths.
The giant Consumer Electronics Show in Las Vegas this week was dominated by announcements related to the internet of things (IoT), but nothing that is going to break through into the mainstream this year. Wearables will get plenty of headlines, particularly when the Apple Watch goes on sale, but aside from the inevitable Apple fanboys and early adopter geeks, it's not going to set the world alight yet – the form factor is too unproven.
Cloud adoption will continue to grow – as it continued to grow in 2014. Mobile will continue to expand in enterprise IT, as it did last year. Big data will still be big, but mostly for the big companies with big budgets. More companies – and government bodies – will come to realise their future is digital, and wend their way in that direction at varying rates of change. But these are all journeys that are well underway, and are mostly unstoppable trends now.
Having said all that, we are on the cusp of something very big. Not this year, I suspect, but starting in 2016, and then progressing over the subsequent two or three years, such that in 2020 we will look back on this five-year period as a dramatic time of change – the time the digital revolution really accelerated.
Today, we're still waving red flags in front of motor cars to warn passers-by, in terms of where we are in that revolution. But the digital equivalent of the Ford Model T is very close. It needs cloud to gather more trust, mobile to be more secure, data to be better protected, and the internet of things to commoditise. It needs digital skills to be more widely available, and companies to be confident enough in the economy to invest again in innovation – although many will not, and will fall by the wayside as a result, including some very big names.
So spend 2015 doing what you're doing, but in the process take a deep breath and get ready, because the inevitable, unstoppable and dramatic acceleration of the digital age is getting very close.
---