Jun 6 2008 9:25AM GMT
Tags:
I loved the BBC's coverage of broadband speeds this week. On Tuesday morning they got 30,000 people to participate in their broadband speeds exercise, resulting in this interactive map. A mash-up of comments and recorded speeds of broadband connections around the UK.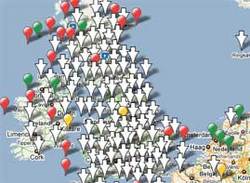 Ofcom has also announced that it is investigating broadband speeds this week… coincidence or good timing on their behalf? Or did they know the BBC was to be devoting a lot of effort into this issue this week?
Well who knows, but this is a big issue not just for consumers, but for any business who wants to deploy a flexible working policy and encourage some home working of its employees.
Also see JP Kamth's blog for more on this and a video on Ofcom.