---
December 22, 2009 12:53 PM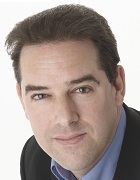 Profile: Bryan Glick
Broadband
,
Facebook
,
Government IT
,
IT Strategy
,
privacy
At this time of year, the web is full of reviews of 2009 and forecasts and predictions for the New Year in IT.
Twelve months ago I did exactly that - suggesting nine priorities for IT managers...
December 17, 2009 10:12 AM
Microsoft
Today (17 December) I've seen two Google Chrome ads, both in traditional offline formats.

One was a cover wrap on Shortlist, a weekly giveaway aimed at male London commuters. The other was a billboard as I walked out of Sutton station in Surrey.

Google, one of the world's...
---
---
December 10, 2009 4:25 PM
2010
So we conducted some random vox pop videos at Le Web in Paris about think the biggest developments in the real time web in 2010.

As we pull together the video footage into a nice neat video package, I've picked out some people's views as "food for thought" as it were. These were ones...
---
December 10, 2009 4:11 PM
iPhone
,
mobile apps
Is it possible to make money from mobile apps? Yes, according to Le Web's panellists on the question - but there are plenty of potential pitfalls and obstacles.
It may not be all that easy, but what's most important is the fact that the market is growing - in five or six years' time, Team...
---
December 10, 2009 1:17 PM
E-commerce
,
Google
It turns out publishing companies are not the only ones to dislike Google's dominance - e-commerce companies don't like having to rely on the search engine for their traffic and revenue either, and one even called it "a new tax on the internet".
Xavier Court, co-founder and VP of...
---
---
December 10, 2009 10:10 AM
Companies are failing to keep up with the pace of change on the internet and need to follow three steps to keep up, according to Jeremiah Owyang, a partner at the Altimeter Group who spoke at Le Web conference in Paris today.
He said the real time web is no longer quick enough, and that...
---
December 9, 2009 6:21 PM
Google
,
Marissa Mayer
Marissa Mayer, VP for search products and user experience at Google, spoke today at Le Web in Paris about the big problem facing publishers on the internet - how to make money in an age where consumers expect free content.
News Corp's Rupert Murdoch has gone on the offensive...
---
December 9, 2009 4:31 PM
Google
,
Meyer
,
news
,
online
Google said it respected the copyright of publishers and doesn't want to lose any from its index.

Marissa Meyer, VP at Google, told delegates at Le Web conference in Paris, that it respected publishers' copyright.

"Google wants to be as comprehensive a search as possible,...
---