---
July 29, 2009 3:00 PM
social media
,
twitter
It's taken twitter three years, but at last its changed its homepage.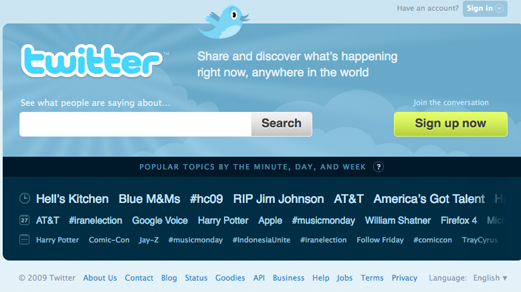 RSS Feed

Email a friend
July 29, 2009 9:46 AM
IT jobs
,
Swine flu
# tweetmeme_style = 'compact';
Careers in IT have been hit badly by the recession. Employers have shed staff at unprecedented rates, companies have accelerated their plans to move IT offshore, and vacancies for job hunters have been few and far between.

But...
---
July 27, 2009 1:35 PM
twitter
I have written a lot of blog posts about twitter and am a massive supporter of the medium as a communication tool, but it seems that twitter itself has forgotten the art of communication.

My colleague Rebecca Thomson has been working very hard to build up her profile in the technology...
---
---
---
July 17, 2009 12:22 PM
Cloud Computing
,
Google
Cloud computing is over head. No longer just on the horizon, exciting analysts and marketing people, but a looming presence.
This can be read as a Microsoft versus Google showdown. We care little for that. It is good that Google, with its cloud-based applications, its browser, and its...
---
July 16, 2009 9:06 AM
f1
Congrats to Steve Gasson, a software programmer from Kent, who was crowned the winner of ComputerWeekly's F1 racing game with a winning time of 20.37 seconds.
Steve translates user requirements into detailed specifications doing his day job but is a car nut outside of work. He said: ...
---
---
July 10, 2009 11:41 AM
Europas
,
Start up
,
Techcrunch
Well it was interesting night at TechCrunch's Europas in London last night.

It was good fun and as always met some really interesting and innovative people like Divinia from
---
July 8, 2009 6:36 AM
Collaboration
,
Creativity
,
twitter
Isn't it time that IT departments lost the command and control mentality particularly as we move to a new business paradigm that is more open to collaboration.

I have been to several talks recently that have insisted that organisational change is key to businesses adopting a more...
---